Tourney prepares Lady Eagles for season's end
January 3, 2018 - 2:59 pm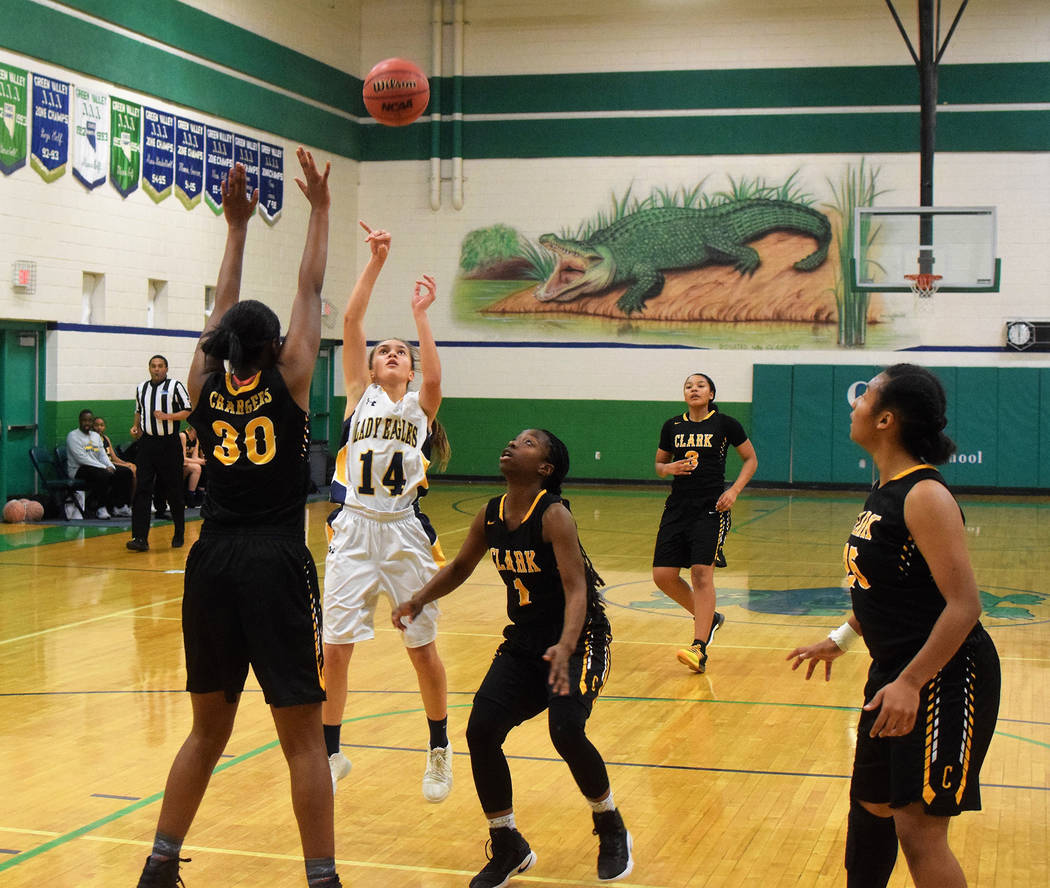 Despite going 1-3 in the Gator Winter Classic at Green Valley High School, Boulder City High School girls basketball coach Dave Estes found several positives from the Lady Eagles' winter break slate.
Playing tough in losses to 4A opponents Coronado (52-47) and Clark (46-40), which both figure to make the postseason in their respective leagues, the Lady Eagles played stretches of their best basketball of the season. Estes said he is hopeful that will continue once league play resumes.
"Honestly, I couldn't be prouder of the effort the girls gave," he said. "We played some high-quality teams, especially Coronado, who is always a playoff contender in the higher classification. I definitely think this will give the girls confidence heading into league play, after knowing that they can compete with just about anyone."
Catching Coronado off guard in the first half, the Lady Eagles stormed out to a 28-20 lead behind an array of outlet passes to open shooters under the basket.
Pushing the ball up the court in transition, junior forwards Setia Cox (13 points) and Hannah Estes (8 points) were the main beneficiaries of open shots, while primarily ball handler sophomore guard Madison Manns scored a game-high 14 points.
"I think we surprised them early and got a few easy baskets in transition," coach Estes said. "The girls definitely gained some confidence on offense, moving the ball around in space. I liked what I saw out of them."
After gaining the edge early against Coronado, the Lady Eagles came from behind against Clark with a 16-10 third quarter run before running out of gas in the closing minutes.
Manns led the way with 11 points, while sophomore guard Keely Alexander scored 10 points.
Holding a 38-37 lead after a 3-pointer from Hannah Estes with 2:50 remaining, the Lady Eagles would only score one more basket the remainder of the fourth quarter, missing on several game-winning shot opportunities.
"Every game is obviously a learning experience," Dave Estes said. "This learning experience was about finishing around the basket late in games. We had several opportunities to win. Hopefully, next time we close it out."
Finding a way to pick up a 41-39 victory against Northern Nevada challenger Yerington, the Lady Eagles overcame a one-point first-half deficit behind 13 points from Alexander and 9 points from Manns.
In the Lady Eagles' 35-24 loss to Dixie (Utah), Manns scored 11 points.
Traveling to Pahrump Valley on Monday, the Lady Eagles will host Southeast Career Technical Academy on Wednesday.
Contact Robert Vendettoli at BCRsports@gmail.com.
Upcoming games
Monday, Jan. 8, at Pahrump Valley, 3:30 p.m. junior varsity, 5 p.m. varsity
Wednesday, Jan. 10, vs. Southeast Career Technical Academy, 5 p.m. junior varsity, 6:30 p.m. varsity