Tourney losses spur on softball team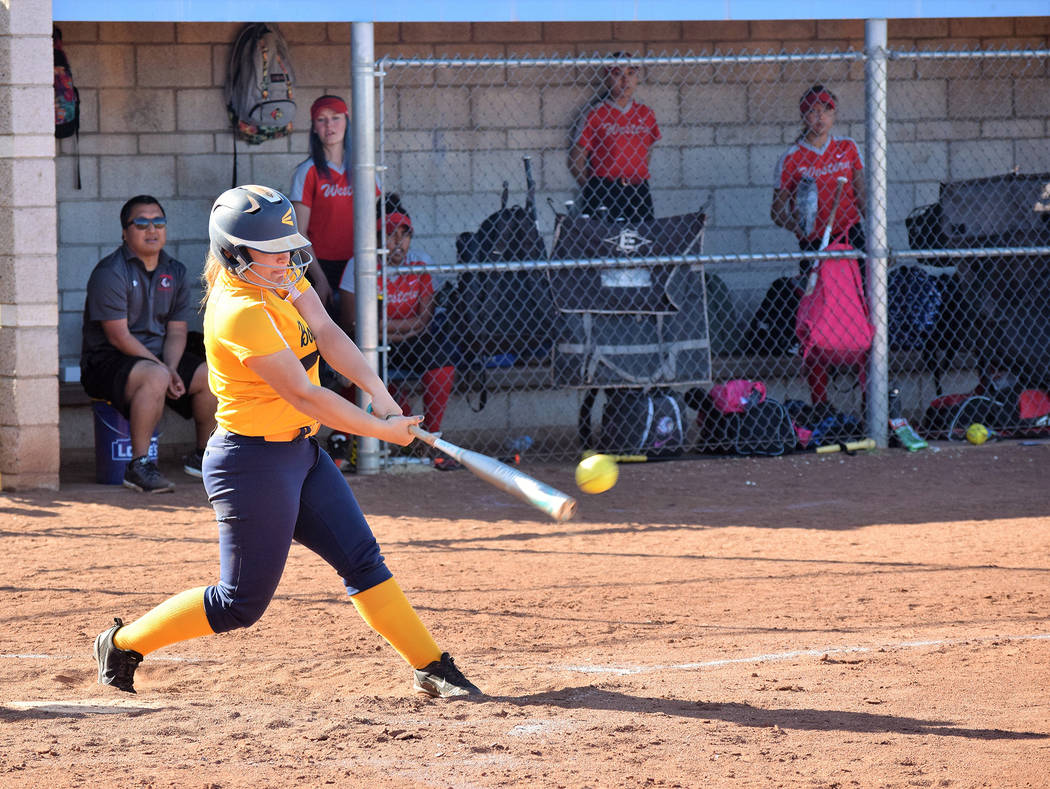 After a rough trip to Cedar City, Utah, members of Boulder City High School softball team took their frustrations out on Western on Monday, routing the Warriors 17-0.
Without their star pitcher Bailey Bennett-Jordan, the Lady Eagles left the March Warm-Up Tournament with a 1-4 slate, before Monday's shutout victory.
"It was a game of some good hits and only two errors. It's nice to come back with that win after a long weekend of ups and downs at the St. George tournament," said head coach Angelica Moorhead.
Throwing two scoreless innings, Bennett-Jordan earned the win, allowing no hits while striking out six batters.
Junior pitcher Abby Giunta threw three scoreless innings of relief, allowing one hit with five strikeouts.
The Lady Eagles started with seven runs in the first inning, behind senior Micayla Gegen, who finished the game 2-for-2 with a double and three runs batted in. Seniors Jerra Hinson (2-for-3), Jordan Moorhead (2-for-5) and Lily Osman (1-for-2) and sophomore Ashley Wishard (1-for-4) each tallied two RBIs.
Despite four losses in Utah — 15-0 against Knight, 17-5 against Cedar, 13-9 against Juab and 21-9 against Uintah — the Lady Eagles' hot hitting continued to put runs on the board.
Osman finished 2-for-2 with two RBIs against Cedar, while adding a three-run home-run against Juab.
Giunta provided a 2-for-3 performance against Uintah with four RBIs, while junior Marleena Mills finished 2-for-4 with a two-run home run against Juab.
In their lone win of the tournament, a 13-12 slugfest against South Summit, Moorhead was awarded with victory after pitching three innings where she allowed three runs on four hits, with four strikeouts.
Grinding out the victory, Hinson, Mills, Moorhead, Osman, Wishard, sophomore Ellie Ramsey and freshman Brooke Baker all had an RBI.
"Not having Bailey in St. George hurt us, but we need to be ready to support whoever is in the circle at any moment," coach Moorhead said. "It wasn't necessarily the pitching that hurt us, but the defense that didn't take place once the pitchers did their job. Defensive errors are the big trouble for us right now, but we are working on them so we can tighten it up and be ready for league play and everything that follows."
"If we can continue to put the ball into play and keep the pop ups to a minimum, we can keep scoring plenty of runs. Our team has a great group of hitters. We need to stay hot on offense and keep the defense error free," she added.
Boulder City will host Cheyenne today.
Contact Robert Vendettoli at BCRsports@gmail.com.
Upcoming games
Today, March 22, vs. Cheyenne, 3:30 p.m. varsity; at Cheyenne, 3:30 p.m. junior varsity