Tourney helps Lady Eagles learn from mistakes
August 29, 2018 - 4:22 pm
Updated August 30, 2018 - 12:46 pm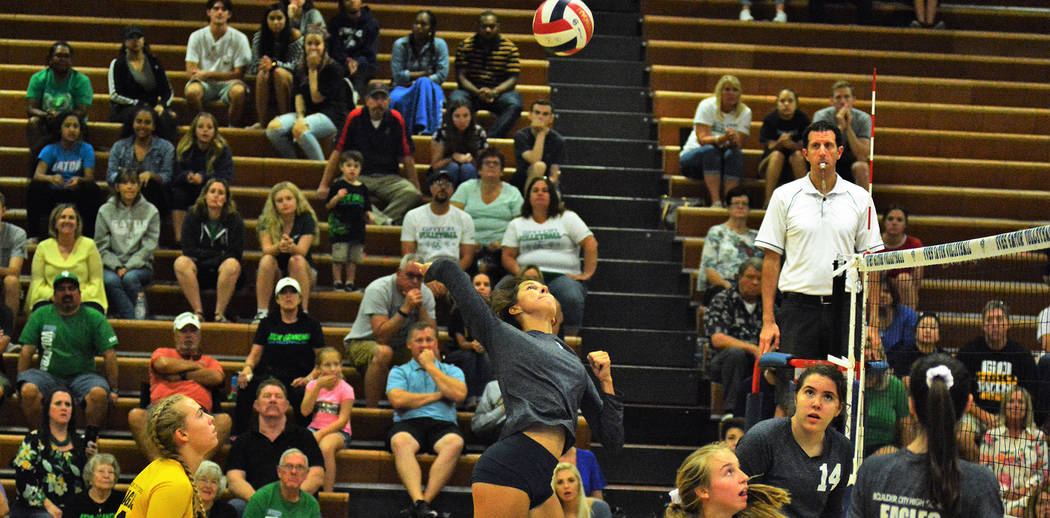 Boulder City High School's girls volleyball teamed opened its season with excitement, finishing 7-3 after the first week of play.
Despite playing seven 4A and three out-of-state opponents, the Lady Eagles are clicking on all cylinders as they look to defend their 3A state championship.
"The girls have been playing really hard," head coach Kurt Bailey said. "They've been playing together as a team and it's really fun to watch. A lot of these girls have been playing together the past few seasons and on club so they're familiar with each other. I think we have the chance to be really good."
No where was that more evident than Tuesday night on the road at 4A Foothill when the Lady Eagles swept the Falcons 3-0, winning 25-20, 25-19, 25-18.
After losing 2-1 to Foothill on Saturday in the Las Vegas Invitational, the Lady Eagles corrected their mistakes to take down the Falcons on Tuesday, highlighted by 12 kills and five digs from sophomore Kamry Bailey and eight kills from junior Sierra Orton, including a game-clinching third-match strike.
Sophomore Ava Wright fueled the rebound effort with 25 assists and six digs.
"Losing to Foothill was tough in the tournament but in the long run it only helped us see where we could improve," Wright said. "This team is very good at adjusting last minute, which was shown in tonight's game because we took what we learned from the tournament, changed a few things at practice the next day and ultimately came out with the win."
The victory was one of five this past week against 4A challengers, defeating Green Valley 3-0 in their season opener on Aug. 23, while picking up Las Vegas Invitational wins over Desert Oasis 2-0 and Arbor View 2-1 on Friday, Aug. 24, and Centennial 2-0 on Saturday, Aug. 25.
"We've had a great start to this season so far," Kamry Bailey said. "Even last year we weren't beating these big 4A teams. "The Las Vegas Invitational really helped us understand that if we play our game, we can beat even the best teams. It helped us a lot with our confidence moving forward in the season."
Finishing the Invitational with a 5-3 record, the Lady Eagles also picked up 2-0 victories over San Dieguito Academy (California) on Friday, Aug. 24, and Sanger (California) on Saturday, Aug. 25, while losing 2-0 to 4A Coronado and Skyline (Utah) on Saturday, Aug. 25.
Kamry Bailey leads the team offensively with 86 kills, while Orton (42 kills), junior Reagan Herr (41 kills) and senior Setia Cox (23 kills) have all been involved early on for Wright, who has generated 195 assists after the first week of play.
Defensively, Wright and Kamry Bailey each have 46 digs, while sophomore Rachel Krumm has 40 digs and freshman Zoey Robinson has 30 digs.
Sophomore Kelsi Robinson leads the team in blocks with 25, while Orton and Herr have 17 and 16, respectively.
Kamry Bailey leads with 21 serving aces, while Wright and Zoey Robinson have generated 19 and 18, respectively.
Playing against another 4A team tonight, Aug. 30, the Lady Eagles will host Basic.
Contact Robert Vendettoli at BCRsports@gmail.com.
Upcoming games
Thursday, Aug. 30, vs. Basic, 5 p.m. junior varsity and freshmen; 6 p.m. varsity