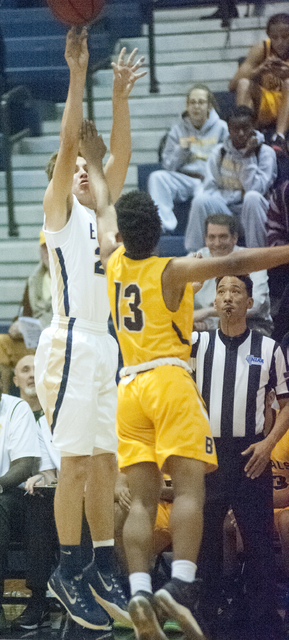 As expected, the Boulder City High School boys basketball program has struggled against 4A opponents, dropping Tuesday's contest to Bonanza 56-47, but have found a silver lining in its performance following a 3-1 stint in the Lake Mead Holiday Classic.
"When we play the larger schools, obviously we want to win, but we're more concern with playing better teams and learning from those experiences," head coach John Balistere said. "Preseason games like these are the only way we're going to get better come league time. We struggled in the opener against Valley and then did fantastic against competition our own level at the Lake Mead Holiday Classic. Right now our plan is working."
Defeating 3A Northern Nevada opponents Spring Creek 53-41 and Fernley 61-46 and 2A perennial power The Meadows 44-40, the Eagles' only loss came to eventual tournament champions and conference rivals Virgin Valley 53-48 in a hard-fought overtime game.
"I really liked the way the boys played this week," Balistere said. "They showed a lot of heart, a lot of grit. We moved the ball especially well, even in our Virgin Valley loss. I couldn't be happier with how the team played."
Making it to overtime with the improved Bulldogs, the Eagles got an expected 16 points from senior forward Justus Green, who enters the week averaging double figures in points, but also got nice contributions from sophomore guard Karson Bailey, who added 16 points as well.
"Looking back at the Virgin Valley game, it really came down to stretches," Balistere said. "Who had the hot hand and when did you have it. What stands out more to me from that contest is that you saw we were more than just Carson (Balistere) and Justus scoring the ball. We also got really nice contributions from our other Karson (Bailey) and Tanner (Montgomery)."
While Carson Balistere and Green are the only two Eagles to enter the week averaging double figures in points, with 14.6 and 10.8 apiece, coach Balistere said he wouldn't be surprised to see at least one or two more Eagles adding their names to the mix, with Bailey having a great start to the season averaging 9 points per game and Montgomery, who's always a threat, to lead the team in points.
"Being versatile on offense, feeding whoever has the hot hand, that's how we're going to win ball games," Balistere said. "We have four or five guys who I'm confident can score in double figures every time we step out onto the court. One night it could be Justus, the next it could be Carson or Tanner. When we're moving the ball and finding open shots, that's when we're going to be dangerous."
That was evident more than ever in the Lake Mead Holiday Classic, with Montgomery scoring 9 points against Spring Creek and juniors Clayton Pendleton and Billy Ferrence each scoring 6 points against Fernley.
"We really showed a lot of heart during the tournament," Carson Balistere said. "We played more like a team, moved the ball around more and got each other involved. We need to stay consistent and play our game. Spread the ball out, keep a good pace. I liked what we did this past week."
Hoping to continue to have success against 3A opponents once their preseason slate is over, the Eagles will travel to 4A opponent Basic on Monday, before getting into a consistent rhythm of 3A opponents.
Against Bonanza on Monday, Bailey and Pendleton led the way, each contributing with 13 points, while Balistere, Montgomery and Green had 8, 7 and 6 points, respectively.
Contact Robert Vendettoli at BCRsports@gmail.com.
Upcoming games
■ Monday, at Basic, 3:30 p.m. junior varsity; 6:30 p.m. varsity
■ Wednesday, vs. Pahrump Valley, 3:30 p.m. junior varsity; 6:30 p.m. varsity