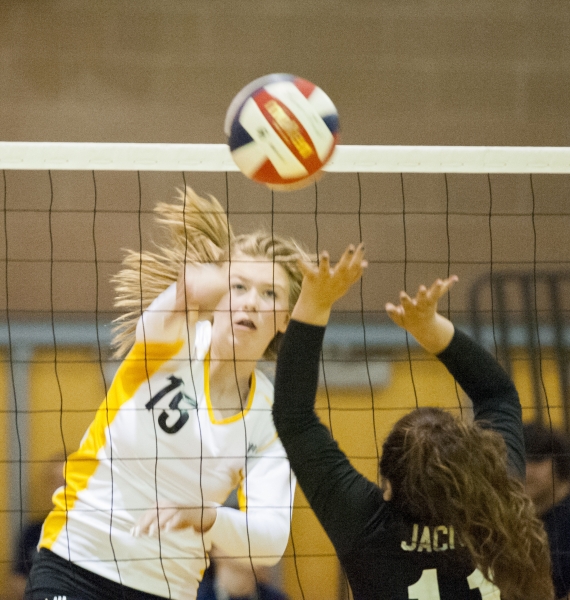 Heading into today's match with Moapa Valley, head coach Cherise Hinman and the Lady Eagles know how important a win is to their season.
A win on the road against the Pirates would mean the Lady Eagles would get to host a playoff game next week rather than having to hit the road for the entire postseason. A loss for the team, well let's just say that's not on the current mindset of the Lady Eagles' starters.
"We're going to go in there and take care of business," said senior libero Bayden Huxford. "We beat them once and we'll beat them again."
It's been that type of attitude from their senior captain that has dictated the girls' play, since losing out on first place just a little over a week and a half ago to Virgin Valley.
Following up their heartbreaking loss in Mesquite to the Bulldogs, the Lady Eagles have been dominant throughout their last two league contests, knocking off both Sunrise Mountain and Chaparral 3-0.
"The attitude has been different this past week," Hinman said. "We've played very well the past two nights, including changing up our defensive sets, so we're hopeful that will take us into Moapa on a good high. We feel like we're at a good point right now, the girls are certainly confident and they know what they need to do."
Against the Division I-A Sunrise fifth-place Miners on Oct. 21, the Lady Eagles won in straight sets, 25-5, 25-21, 25-17, behind an all-around effort.
Sophomore Maggie Roe led the girls with 15 kills against Sunrise Mountain, followed by six digs, three aces and a block, while senior Jaden Wood added six kills, 10 digs and five aces. Huxford led the girls with 17 digs and a pair of aces, while Tarah Cox led the Lady Eagles with 23 assists and eight aces.
The Lady Eagles followed that effort up Tuesday on senior night with another shutout over a league opponent, sweeping sixth-placed Chaparral in straight sets, 25-8, 25-9, 25-14.
"It was a very fun yet emotional night," Roe said. "I'm going to miss the seniors a lot because I grew up playing with them. It was very nice for us to come out and be dominant during our last home game."
Roe finished the night with nine kills and three aces as one of the lone nonseniors to contribute against the Cowboys. Wood had 11 kills and five aces, while Cox added 16 assists and two aces, and Huxford added 10 aces and nine digs.
"It was really nice to see us come together and play well on senior night," Hinman said. "It was nice to get all of our seniors some playing time, as well as some of the younger girls. Tonight was a well-rounded win for us, especially with all the emotions of getting our manager Aubrey Jorgensen some playing time at the end."
Now with all the emotions of senior night behind them, Hinman and the Lady Eagles are ready for the challenges that lay in front of them today on the road against Moapa, as well as heading into the postseason.
"This is a special group we have here this year," Hinman added. "We set goals at the beginning of the year to advance throughout postseason play and the first step of that goal takes place against Moapa. They've been one of our biggest rivals dating back since we were in AAA and if we want to meet Faith Lutheran and Virgin again in the playoff, we're going to have to go through them first."
The Lady Eagles (23-9 overall, 10-2 league) won their previous match against Moapa Valley earlier in the month 3-1, recovering from losing the first set 23-25 to sweep the Pirates 25-20, 25-19, 25-22.
Contact Robert Vendettoli at BCRsports@gmail.com.
^
Upcoming games
Today, at Moapa Valley, 5 p.m., junior varsity; 6 p.m., varsity