Three Eagles named to All-Southern Nevada baseball first team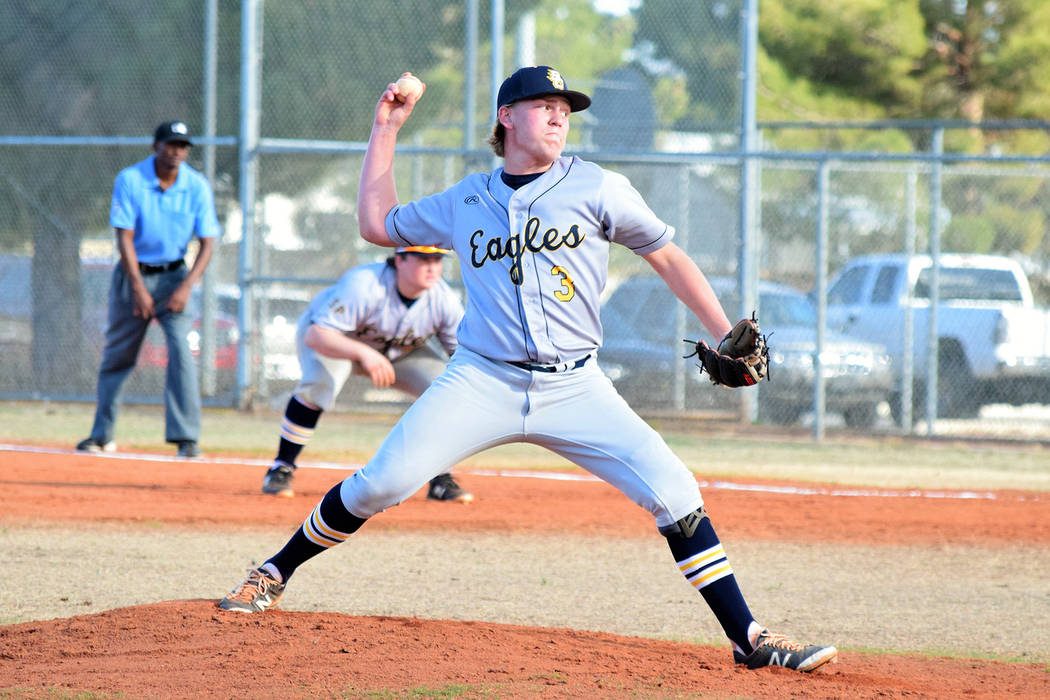 Three Eagles senior baseball players were selected to the 3A All-Southern Nevada first team after helping lead Boulder City High School to its fourth consecutive state tournament appearance.
The infield trio of Rhett Armstrong, D.J. Reese and Chafton Temple each contributed heavily to keep the Eagles' dominance alive and were rewarded for their efforts.
"I honestly can't tell you how much these seniors deserved this," head coach Ed McCann said. "They led the way for us this season, not only on the field with their play but with their attitude in the dugout. We could always count on these guys to be leaders for our club."
Leading the team with a .430 batting average at the plate, Reese ended his season with 23 runs batted in, seven doubles and 25 stolen bases. On the mound the four-year varsity letter winner compiled a 3-2 record with a 3.23 earned run average and 32 strikeouts in 32 innings.
"D.J. is a tough out, probably the toughest out in the league I think," McCann said. "He's always done what it takes to get the job done. Every time we needed him to step up he does."
A two-way star for the Eagles, McCann said Armstrong provided a key clutch gene multiple times this season, finishing with a .356 batting average with 21 RBIs, nine doubles and a triple. On the mound, Armstrong finished with a 5-2 record with a 1.38 ERA and 52 strikeouts in 55 2/3 innings.
Adding another high quality bat to the lineup along with dynamic base running, Temple batted .358 with a team-leading 27 RBIs, 14 doubles and 25 stolen bases.
"Both of those guys were really key for us this season," McCann said. "Rhett was clutch for us all year and always came up with big hits when we needed it. When we got Chafton eligible he did the same thing for us — making an impact with his legs and causing havoc for opposing pitchers."
Making the 3A All-Southern Nevada second-team from the Eagles' infield group was freshman Joey Giunta, who has the potential to follow the seniors' path as the next great Eagle. Batting .340 with 17 RBIs and two doubles, Giunta also compiled a 3-2 record on the mound with a 3.19 ERA and 21 strikeouts in 26 1/3 innings.
"Joey is absolutely fearless," McCann said. "With his demeanor out there, you would never know he's a freshman. He comes out every game as a seasoned veteran. His nerves never show, he lives for the big moment. He's very worthy of this recognition and will only get better."
Senior outfielder Teddy Lobkowicz (.337 batting average, 26 RBIs, 10 doubles and 16 stolen bases) and junior catcher Jimmy Dunagan (.388 batting average, 16 RBIs and four doubles) also made the 3A All-Southern Nevada second team.
"Teddy was big for us all year long," McCann said. "I've seen a lot of improvement in him, coaching him this year after coaching against him last year.
"Jimmy Dunagan has also gotten better his year. He gets mad when he's not in the lineup. That's the kind of kid you want. One of the most coachable kids I've ever had. I think it's his ability to learn that made him capable of being great."
Rounding out the Eagles' accolades, freshman pitcher Troy Connell was named second team All-Sunrise, after compiling 3-0 record with a 3.67 ERA and 14 strikeouts in 21 innings.
Contact Robert Vendettoli at BCRsports@gmail.com.