Tennis stars shine: undefeated boys, girls teams easily advance in playoffs
October 4, 2017 - 3:11 pm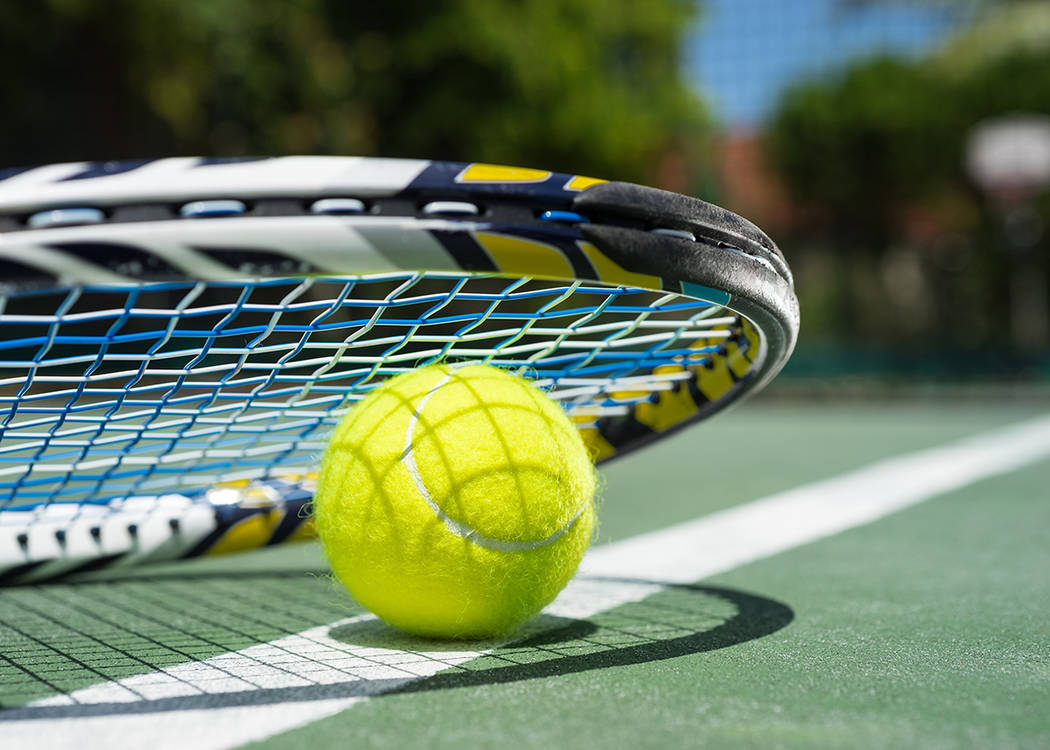 Very rarely can a team sit out its best singles competitor and play each of its starters just one set and come away with a clean 18-0 sweep. Boulder City High School boys tennis is the exception following Tuesday's 3A opening-round playoff victory against Mojave.
Because the Rattlers had to forfeit both a singles and doubles slot, boys head coach Rachelle Huxford was prepared to go with a more relaxed lineup against Mojave as the Eagles gear up for tougher postseason challenges ahead en route to returning to the 3A state tournament.
"We have been preparing for these matches since the conclusion of state last year," Huxford said. "The boys have been playing well and I expect they will continue to play well. We have some tough matches ahead of us and we are up for the challenge."
Flexing her depth Tuesday, sophomore starters Connor Mikkelson and Breton Erlanger each looked sharp picking up decisive victories, while senior reserve Sam O'Berto and sophomores Braden Soileau and Norbert Barker-Roca all finished 1-0 against the Rattlers, earning valuable postseason playing time.
In doubles competition, the deepest stable of duos in the 3A looked impressive, with sophomores Boen Huxford and Preston Jorgensen, senior Tanner Montgomery and junior Karson Bailey, and senior Clayton Pendleton and sophomore Ty Pendleton all finishing 2-0.
Doubles reserve senior Adam Clary and freshman Ethan Speaker finished 1-0.
Electing to go the more traditional route in the girls first-round matchup with Adelson School, Lady Eagles head coach Jami Pappas used her regular singles lineup to come away with a dominant 18-0 victory.
Finishing 3-0, junior Olivia Goodfellow and sophomores Tegan Pappas and Olivia Mikkelson locked down singles competition, while the Lady Eagles mixed it up it doubles play.
Getting each of her starting units some practice before the next round, junior Natalie Bowman and sophomore Katelyn Fox, senior Jillian Gentz and junior Heather Patterson, and sophomores Sophia Morris and Olivia Leavitt each won their lone matches before the subs finished out the day.
Flexing off their own depth, Jami Pappas made sure each player played at least a match, with the duos of freshman Stephanie Bowman and Emily Strong, junior Kali Martin and sophomore Rebecca Mulheron, and senior Kristine Roenn and sophomore Lucia Heras all finishing 2-0.
"This was definitely a good confidence builder for all our girls," Jami Pappas said. "It always promotes so much team spirit when the second string can go in and have success. The girls get so excited for each other. Wins like this solidify our team, and everyone gets pumped up for the next match."
Postseason play continues it's rapid pace with today's regional championship match at the Darling Tennis Center, scheduled at 8 a.m. for the boys and 11 a.m. for the girls.
Results from the Eagles' second-round matchups against Desert Pines will appear in next week's issue along with any results from today's regional championship match.