Tennis-playing twins take tourney play to heart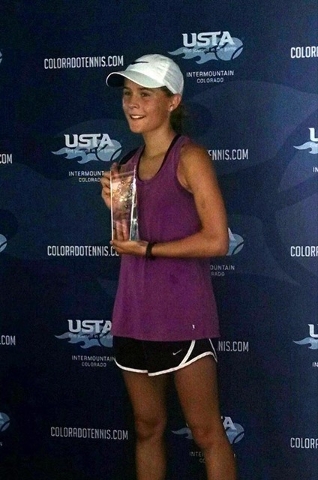 With high hopes of becoming collegiate players in the coming years, 14-year-old twins Connor and Olivia Mikkelson of Boulder City are on the right track, especially in light of their performances at the Zonal Team Championships in Colorado Springs, Colorado, July 7 to 11.
Representing team Intermountain, which consists of players from Colorado, Idaho, Montana, Nevada, Utah and Wyoming, the twins were part of the boys and girls 12-player rosters, having each earned a high enough ranking from sectional tournaments throughout the year to qualify.
Playing on the U.S. Air Force Academy courts, Olivia's team placed fourth out of 12 teams, while Connor's team finished the tournament in sixth place.
"This past week was such an amazing experience for them," the twins' mother, Michelle Mikkelson, said. "To be a part of such a wonderful team atmosphere, filled with some of the top players from each state, was a wonderful opportunity for them. Not only with each player highly talented, but they were all great teammates. Everyone really picked each other up this past weekend, regardless of the outcome."
A honor to be selected individually, the twins said they were happy to be selected together, noting how rare of an opportunity it was.
"This was such an amazing experience for both of us," Connor said. "Even though we were on separate teams, we really rooted for each other. It's such a honor to know we both made it. We're both happy with how everything played out."
Finishing tournament play with three wins for her team, Olivia said the experience has given her more confidence.
"There were a lot of great players this weekend at the tournament," she said. "I went out there and gave it my all. I'm happy that I could contribute to my team."
Showing she was more than just a great competitor, Olivia also received the Sportsmanship Award during the Zonal Team Championships banquet Sunday, held at the academy's football banquet hall.
Picking up a victory for his boys team, Connor noted the competition in his age bracket was steep, but that playing the best competition will only make him a better player.
"I was happy that I was able to pick up a win for my team," Connor said. "You always want to win as many games as possible, but sometimes it better to learn from your mistakes in order to get better."
Far from just a tennis tournament, the twins were able to soak up knowledge from Air Force Academy tennis players, cadets and Falcons tennis coach Kim Gidley.
"This weekend was about more than playing tennis," Michelle Mikkelson said.
"Along with playing against great competition and making new friends, both Connor and Olivia were surrounded by great people who want them to succeed in more than just on the tennis court."
Preparing each day to hopefully fulfill their dreams of becoming collegiate athletes, Connor and Olivia practice rigorously with their grandfather Marty Hennessy, head tennis pro at the Westgate Las Vegas, in order to improve their placings at national competitions.
"He's taught us everything we know," Olivia said. "He's been teaching us the game since we were 4 years old and we've been in love with tennis ever since. We're excited to get better each day."
Set to become freshmen this year at Boulder City High School, the twins haven't ruled out playing for the high school program, but for now have chosen to focus on playing nationally in hopes of attracting college recruiters.
Contact Robert Vendettoli at BCRsports@gmail.com.