Teams' dominance in water reflected in all-league honors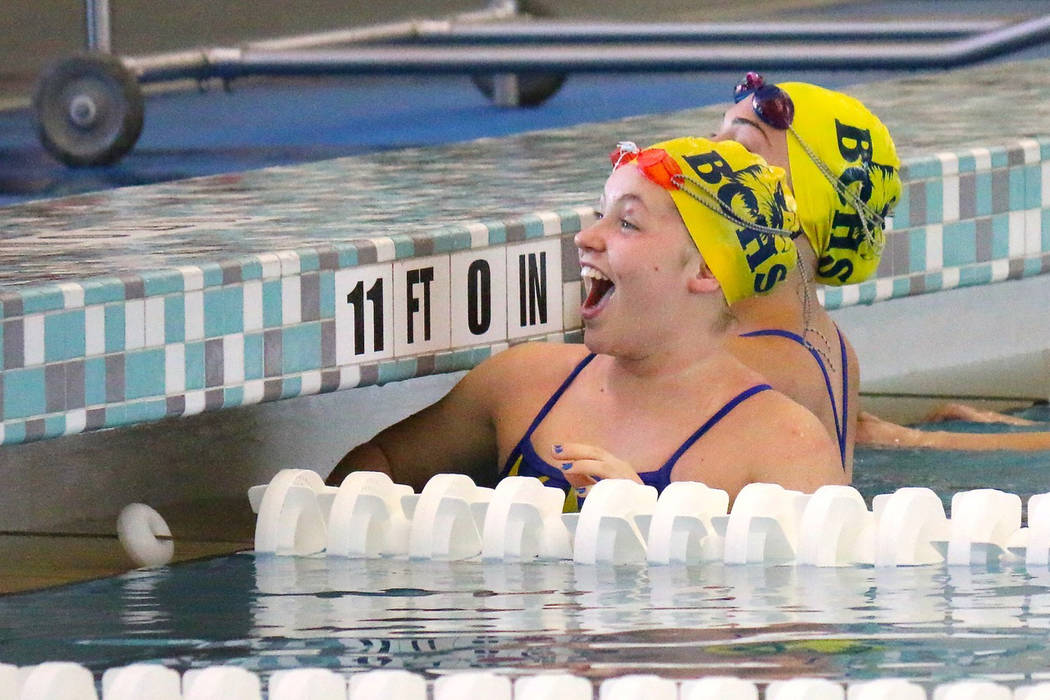 Dominating the 3A Southern Nevada swim landscape, nearly the entire roster for Boulder City High School's girls and boys swim programs made either the 3A All-Sunrise League first or second teams.
"The kids did a great job this year, and I hope their success encourages even more athletes to come out for swim," head coach Sara Carroll said. "Our huge numbers help our dominance, and the support and friendships they form add to that dominance."
Claiming the 3A state championship this season for the sixth consecutive season, the Lady Eagles featured 12 first-team members after going undefeated this season.
"I'd say our program is great," junior Rose Pouch said. "We work hard and always have our goals in mind, so it's not surprising that most of our team made the Sunrise team. We all deserve to be there."
Defeating Northern challenger Truckee 170-150 in the state final, senior Gwynn Miller, juniors Aimee Garcia, Rose Pouch, Annika Freiburger, Ashleigh Wood and Lily Gibson, sophomores Quinci Thomas, Audrey Selinger, Tegan Pappas and Megan Johnson and freshman Daphne Thompson and Katie Gray were all first-team selections.
Pouch, who was named the girls swimmer of the year during the Las Vegas Review-Journal's Best of Nevada Preps awards June 3, set a pair of state meet record times in the 100-yard butterfly (55.63) and 200-yard individual medley (2:03).
Garcia also won a pair of events at state: the 200-yard freestyle in 1:54.68 and the 500-yard freestyle with a time of 5:03.77.
Freiburger finished second at state in the 100-yard breaststroke with a time of 1:08.85.
Making the second team for the Lady Eagles were senior Jillian Porter, junior Samantha Wagner and freshmen Abbi Matthews and Jessie Fernandez.
"This team has a great legacy of winning, so we, as a team, encourage everyone to reach their highest potential and help us keep the legacy alive," Garcia said. "We also have a great coach that always pushes us to be the best we can. It would be impossible to do without Sara Carroll."
For the boys, senior seniors Clayton Pendleton, Andre Pappas and Robbie Leavitt, juniors A.J. Pouch and Chandler Larson, sophomore Alejandro Garcia and freshmen Joseph Purdy, Ethan Porter, Seth Woodbury and Bret Stewart were first-team selections.
"Our program is definitely something special," A.J. Pouch said. "It's not something that you come across often. Each year we get guys that want to be there, want to win and want to be the best. Although we may not have gotten our goal this year at state, it's just fuel for us next year. I really am excited and proud of our guys for making the all-region team; but if you were to know them like I do, then you'd know that they don't want to stop there. I know that next year every guy that made the region team is trying to make the all-state team."
Finishing as the boys swimmer of the year runner-up, A.J. Pouch set a pair of state meet records, placing first in the 100-yard breaststroke (55.35 seconds) and 200-yard individual medley (1:50.46).
Earning second-place finishes for the Eagles at state were Larson (100-yard backstroke; 57.66 seconds) and freshman Purdy (500-yard freestyle; 4:49.27).
Earning second-team league honors were senior Jacob Jones, juniors Ty Pendleton and Jonas Hanson and freshman Charlie Larson.
Contact Robert Vendettoli at BCRsports@gmail.com.