Team undefeated going into final match
October 31, 2013 - 4:02 am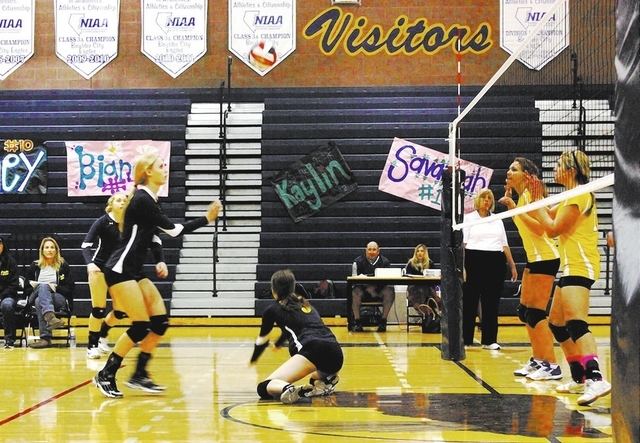 The Boulder City girls volleyball team will try to finish undefeated in the Sunrise League tonight when they travel to play their final match of the season at Chaparral.
The match begins at 6 p.m.
Coach Cherise Hinman hopes there will be no Halloween upset against a team that wears black and orange and got the best of the Lady Eagles in last year's regional tournament.
"We expect a very tough match from Chaparral, as we do from all our league opponents," Hinman said. "We have to play like we can so that we carry momentum into the region tournament. Our plan is to stay focused and play one match at a time. We don't want to get ahead of ourselves, but the girls know the goal is to win region and state."
The Lady Eagles, 18-9 overall and 10-0 in the Sunrise League, have already clinched the No. 1 seed from the league when the Southern Region Tournament begins Tuesday.
The top four teams from the Sunrise and Sunset leagues advance to the regional tournament. A year ago, the Lady Eagles won their quarterfinal opener against Cheyenne but were upset in the semifinal round by Chaparral.
Boulder City will play its region opener Tuesday against Clark or Cheyenne as the Sunset League's No. 4 seed. It won't be final until after tonight's matches.
But first is the match with Chaparral (12-8 overall and 7-3 in Sunrise League).
"We are feeling good about our team heading into region but we have to stay focused. We have worked hard to prepare to play and win all the important matches at this point," senior Kendall Miller said. "We know how important tonight is against Chaparral and we know how important Tuesday's match is going to be."
The winner and runner-up at the regional tournament earn berths in the Division 1-A State Championships on Nov. 15 and 16 in Las Vegas.
"The goal all season has been to reach the state tournament," senior hitter Whitney Barlow said. "We have one match to finish in the league play and then it's playoff time. We remember what happen last season and we are determined not to let someone ruin our season, again.
"This team worked hard to find its chemistry through the first half of the season and now we are playing real well together. The goal has always been the state final."
The Lady Eagles are hoping to return to the state championship tournament for the fourth time in five years after missing their chance last season.
The Lady Eagles reached the state championship match in 2011 where they lost to Truckee. Boulder City last won a state title in girls volleyball in 1989.
On Oct. 23, Boulder City swept Sunrise Mountain 25-18, 25-22, 25-18. On Tuesday, the Lady Eagles played a match against Virgin Valley in Mesquite.