Swimming standouts look for continued success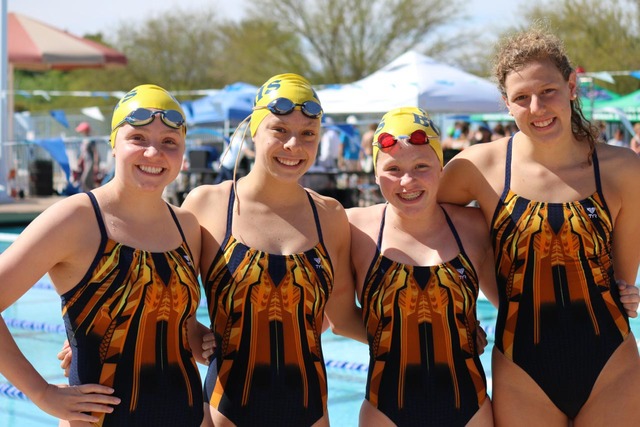 Following standout seasons with the Lady Eagles girls swim program, recent Boulder City High School graduates Mandy Gebhart, Montana Lloyd and Abby Sauerbrei are gearing up for their last summer circuit with their club team, Desert Storm.
Guiding the Lady Eagles to their fifth consecutive 3A state championship in May, the trio are hoping their prep success translates this summer before each heads off to college in the fall.
Setting state records at the 3A state championship, Gebhart, who has signed with Division I's University of Utah, placed first in the 200-yard freestyle and 500-yard freestyle with times of 1:49.73 and 4:54.54, respectively.
Lloyd, a commitment of Division I's University of Houston, capped off her prep career with first-place finishes in the 200-yard individual medley (with a time of 2:08.07) and the 100-yard backstroke (57.37 seconds). Sauerbrei, who signed with the Division II program Grand Valley State University in Michigan, was a part of the Lady Eagles' winning 200 and 400 freestyle relay teams.
"Swimming this summer is very essential in being prepared for when I start training in college," Lloyd said. "When I do get to school, we start training right away, and staying in shape this summer while also bonding with my club teammates before I leave has been such an important part of my summer. I know with all the training I've done, I'll be prepared for anything they throw at me at Houston."
The girls are currently competing in the LA Invitational at the University of Southern California in the 17-18-year-old age bracket. Swimming against multiple Division I recruits, Lloyd said she was up to the challenge.
"The LA Invitational is one of my all-time favorite meets," she said. "Competing with the swimmers that come to this meet is always so much fun. Many Olympians actually make an appearance at this meet each year, so it's fun to compete against them. We're hoping to have good results swimming at USC."
Looking forward to spending time on the Southern California campus for the third time, Sauerbrei said she will relish the opportunity to use the Trojans' state-of-the-art facilities one last time.
"Being at the USC campus, it is such a unique experience, getting to stay in the dorms and swim in an excellent facility that Olympians have trained at … I am greatly looking forward to swimming against a talented group of swimmers and getting to do it at a top-notch facility," Sauerbrei said.
Joining them will be junior Aimee Garcia and sophomore Quinci Thomas, who will swim in the 15-16-year-old age bracket.
After they each won a state relay championship in May, Garcia with the 200 freestyle team and Thomas with the 400 freestyle team, both swimmers are expected to lead the Boulder City program to continued success next season.
"Aimee and Quinci are very talented swimmers and great leaders," Sauerbrei said. "I am confident that they, along with the other returning swimmers, can keep the winning tradition alive. Even though there is a big senior group leaving, there are still so many talented swimmers returning that will help the legacy continue."
Preparing for the team's Far Western Championship meet in San Jose, California, at the end of July, all five swimmers are hopeful to bring their prep success with them to their club program.
Results from the LA Invitational will be posted in next week's issue.
Contact Robert Vendettoli at BCRsports@gmail.com.