Strong pitching gives Eagles baseball team an edge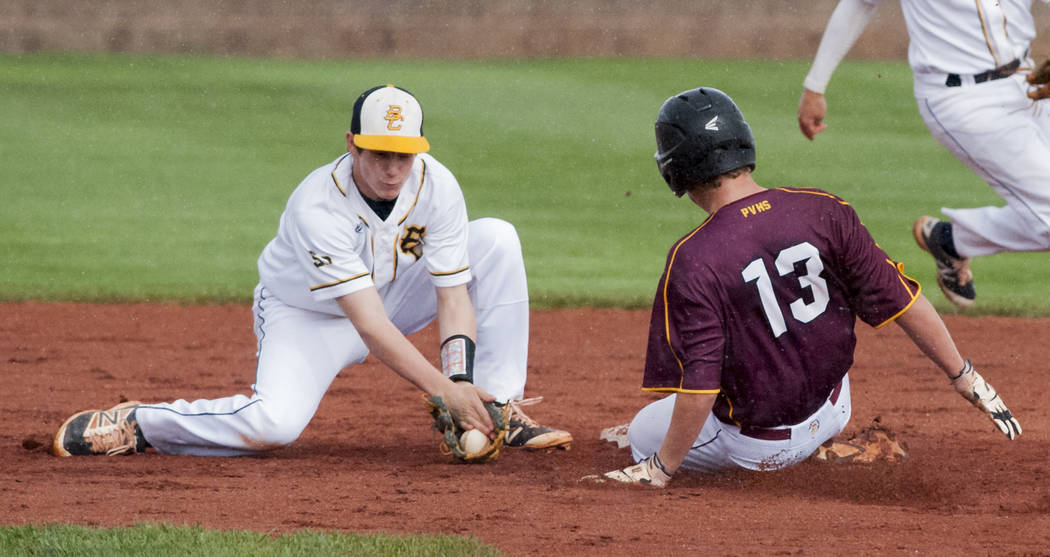 Picking up momentum since their 21-7 outing against Mojave on March 20, Boulder City High School's baseball program has hit more consistently, hanging 12 runs on both Pahrump Valley and Sunrise Mountain this week.
"We have been playing better lately and the timing is perfect," head coach Bobby Reese said. "We do need to continue to improve, but the guys attitudes are great and they understand they can get better and have been working hard to improve."
Defeating Pahrump Valley on March 22, the Eagles overcame brief rainy weather conditions to pick up a 12-5 victory over the Trojans.
"Pahrump was a tough game with the rain, but we managed to play as a team by making the important plays and we swung the bats well," senior Jake Hubel said. "The preseason is over now. Our swings are just short of where they need to be, but they are awake now."
Tallying 14 hits against the Trojans, senior Noah Higgins hit 3-for-4 with three runs batted in, while sophomore Sean Jones finished 1-for-4 with a pair of RBIs.
Hubel was dominant on the mound pitching 4 2/3 innings, allowing two hits with five strikeouts in the winning effort.
"We have been very pleased with our pitching," Reese said. "I think so far pitching has been our strongest part of our game. We have a lot of guys we can count on to step on the mound and get the job done."
Managing a 12-2 victory over Sunrise Mountain on Tuesday, the Eagles collected 13 hits against the Miners, scoring three runs in both the sixth and seven innings to put the close game out of reach.
"Our team has been improving, but we need to work on scoring more runs earlier and not leaving so many runners on base," Hubel said. "We are excited our lineup is back to full strength with Preston (Van Diest) back."
Making up for lost time, senior Preston Van Diest settled in early in his first game, batting 3-for-4 with four RBIs and a triple, while juniors Rhett Armstrong (2-for-5, one triple), Nolan Herr (1-for-3, one double) and D.J. Reese (2-for-2, one triple) each drove in two runs each.
"Preston will obviously have a positive impact on our lineup," coach Reese said. "He gives us the big bat we have been missing. Preston has always been able to hit since he was 6, so it's nice to get him back in the mix." Putting in a solid effort on the mound as well, D.J. Reese picked up the win after allowing six hits and four strikeouts in five innings, while Herr dominated the Miners with five strikeouts in his two innings of relief.
Closing in on the preseason, the Eagles (5-5) will host Desert Pines today, before starting league play on Friday against Southeast Career Technical Academy.
Contact Robert Vendettoli at BCRsports@gmail.com.
Upcoming games
Tuesday, vs. Desert Pines, 3:30 p.m. home varsity, away junior varsity
Friday, vs. Southeast Career Technical Academy, 3:30 p.m. home varsity, away junior varsity
Tuesday, vs. Moapa Valley, 3:30 p.m. away varsity, home junior varsity