Strong offense subdues Western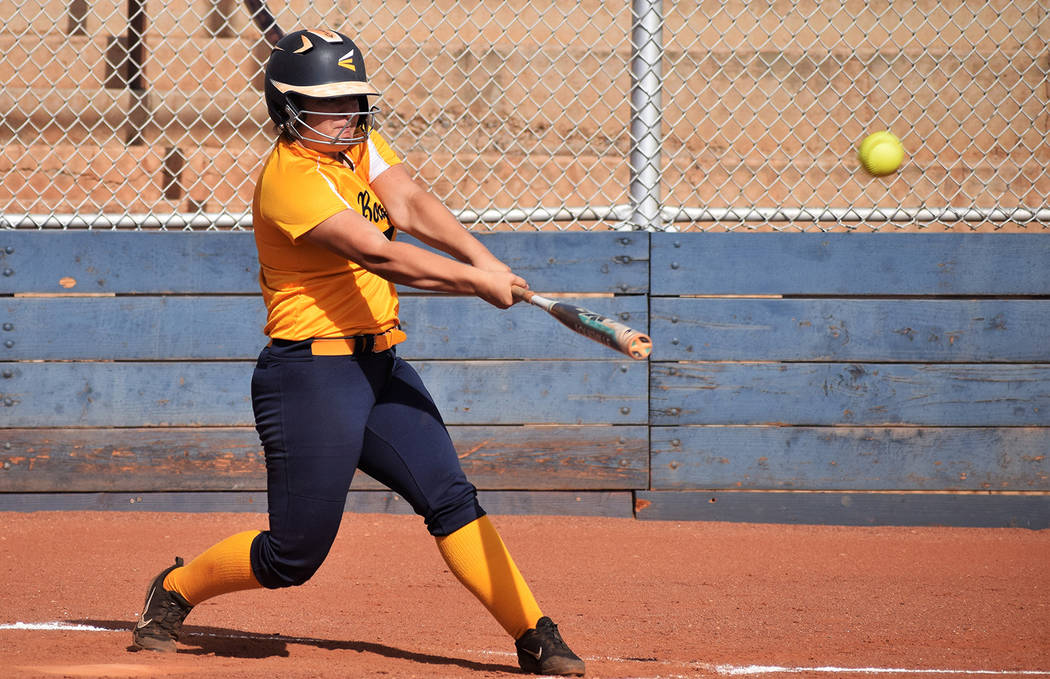 Boulder City High School softball team members showcased their offensive firepower Tuesday, defeating Western 19-0 in the first round of the 3A Southern Region playoffs.
Scoring 12 runs in the first inning, the Lady Eagles followed their explosive opening with a seven-run second-inning effort to rout the Warriors in three innings.
"This was a great way to start the playoffs for sure," coach Angelica Moorhead said. "We have been on a roll and need to keep it that way. Our mood is relaxed and focused and the girls are ready."
Coming out firing from the start, the Lady Eagles collected 17 hits through two innings, making their way through the lineup three times.
Forcing Western to use three pitchers to find an answer to stop arguably the hottest offensive team in the 3A, the Lady Eagles have now scored double-digits runs in seven of their last nine games.
"Right now everyone is on their A game," senior Bailey Bennett-Jordan said. "Most of us are seniors and we're hungry to finally win a state championship. Everyone's doing a great job of seeing the ball and hitting the ball."
Finishing the day 2-for-3 at the plate, Bennett-Jordan also picked up the win as pitcher against the Warriors after allowing one hit with three strikeouts.
Senior Lily Osman continued her end-of-the-season tear hitting a home run in her fifth consecutive game. Finishing 3-for-3 at the plate with three runs batted in, Osman doubled in the first inning, before hitting a three-run shot to deep left center field.
Also contributing in the slugfest, sophomore Ashley Wishard finished 3-for-3 with three doubles and three RBIs, while seniors Jerra Hinson (2-for-3, one double), Jordan Moorhead (2-for-3) and Summer Coyle (1-for-3) each finished with two RBIs.
Junior leadoff hitter Ryann Reese finished the day 3-for-3 with an RBI and double apiece.
With strong pitching and an ample amount of run support, Angelica Moorhead likes the team's chances of contending for a state tournament berth.
"We need to keep those bats moving one game at a time," she said. "We definitely want to be playing on Saturday to make it to the big game next week. This is a big week for us, we just need to stay positive, focused and work hard for one another."
The team faced Pahrump Valley after deadline Wednesday. Coverage of the Lady Eagles' remaining postseason will appear in next week's issue.
Upcoming games
Today, May 10, at host sites (higher seeds)
Game 9: Team TBD (loser 8) vs. Team TBD (winner 5), 3:30 p.m.
Game 10: Team TBD (loser 7) vs. Team TBD (winner 6), 3:30 p.m.
Game 11: Team TBD (winner 7) vs. Team TBD (winner 8), 3:30 p.m.
Friday, May 11, at Boulder City High School
Game 12: Team TBD (winner 9) vs. Team TBD (winner 10), 4 p.m.
Game 13: Team TBD (loser 11) vs. Team TBD (winner 12), 6:30 p.m.
Saturday, May 12, at Boulder City High School
Game 14: Championship, Team TBD (winner 11) vs. Team TBD (winner 13), noon
Game 15: If necessary, to follow