Strong defense helps Lady Eagles basketball team defeat Chaparral
January 24, 2018 - 4:39 pm
Updated January 24, 2018 - 4:55 pm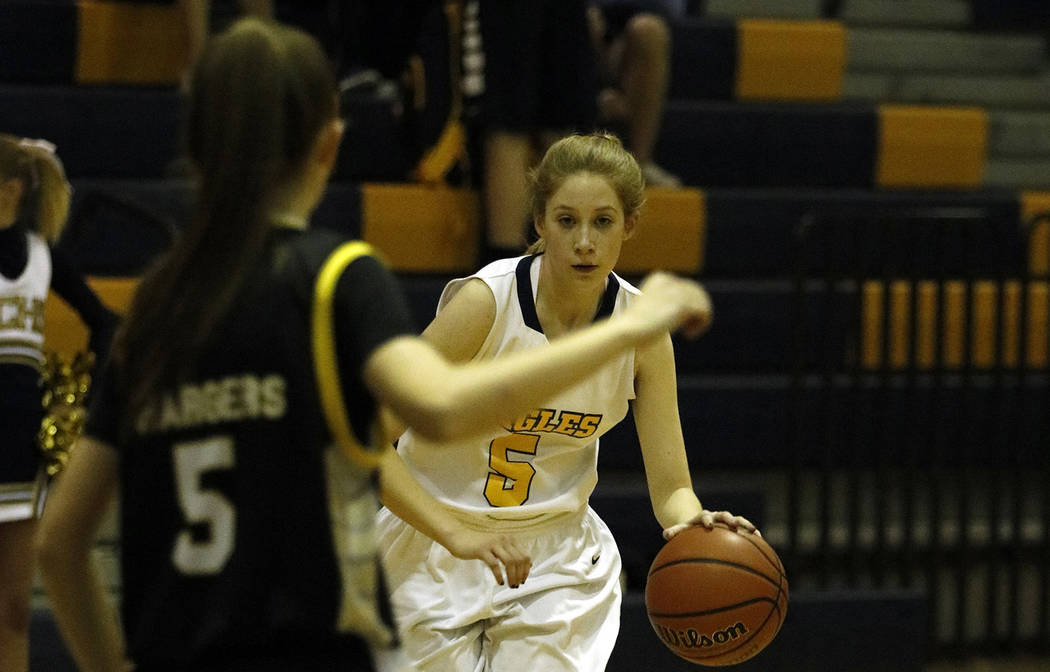 Putting together an impressive league resume, Boulder City High School girls basketball improved to 5-2 after a 56-39 victory over Chaparral on Jan. 18.
Ahead 24-19 at the half, the Lady Eagles used a strong second-half surge to run away from the Cowboys, capitalizing on runs of 20-13 and 12-7 in the third and fourth quarters, respectively.
"We worked really hard for that win," senior Jerra Hinson said. "Before the game we knew that Chaparral was going to give us good competition and we came out prepared for that. After the first half we knew that we could do better on the offensive end as well as the defensive end. We came more energized and ready to show Chaparral what we've got."
Playing with grit on defense, head coach Kirk Estes said he was impressed with the Lady Eagles' effort on the defensive glass, not allowing Chaparral opportunities for second-chance baskets.
"We really picked it up on the defensive side of the ball," Estes said. "We frustrated Chaparral by stepping in and protecting our basket so they weren't able to drive in and get layups. What also helped us was the last time we played, they shot 36 free throws because they offensively rebounded the ball so well, so we've really been working on defensive rebounding. This game we did a really good job boxing out and securing our side of the floor."
By the time the game ended, Chaparral only shot six free throws.
While Boulder City's defense frustrated the Cowboys offensively, the Lady Eagles were in sync with three players scoring in double figures.
Leading the way with a game-high 14 points, sophomore guard Madison Manns provided her best game of the season, followed by 12 points from sophomore guard Keely Alexander.
Working down low, sophomore forward Ellie Howard scored 10 points, while junior forward Setia Cox scored 8 points.
Hinson and junior forward Hannah Estes each scored 4 points for the Lady Eagles, which scored a season-high 56 points.
"I thought we came out and played Boulder City basketball," Cox said. "Especially in the second half, we showed good effort and played as a team. We made more of our shots and played more aggressive."
In the thick of the playoff race in the 3A Sunrise, the Lady Eagles also got extra game reps this past week, taking on 4A Clark despite suffering a 47-32 loss.
With the game not counting toward playoff seeding, Hinson said she thinks it still will be beneficial down the road for the team.
"Clark is a really talented 4A school," Hinson said. "Playing a team like them gives us higher level competition and gives us the chance to try new things with a faster-pace game. We learned that we could compete at that level."
Alexander scored 11 points, while Cox and Manns scored 8 and 7 points, respectively.
Getting back to league play, the Lady Eagles will host Somerset Academy-Sky Pointe on Friday, followed by a Tuesday road game at Virgin Valley.
Monday the Lady Eagles will host a nonleague game against Pahrump Valley.
Contact Robert Vendettoli at BCRsports@gmail.com.
Upcoming games
Friday, Jan. 26, vs. Somerset Academy-Sky Pointe, 5 p.m. junior varsity; 6:30 p.m. varsity
Monday, Jan. 29, vs. Pahrump, 3:30 p.m. junior varsity; 5 p.m. varsity
Tuesday, Jan. 30, at Virgin Valley, 3:30 p.m. junior varsity; 5 p.m. varsity