State volleyball champs: BCHS ends 28-year drought against longtime rival
November 15, 2017 - 4:25 pm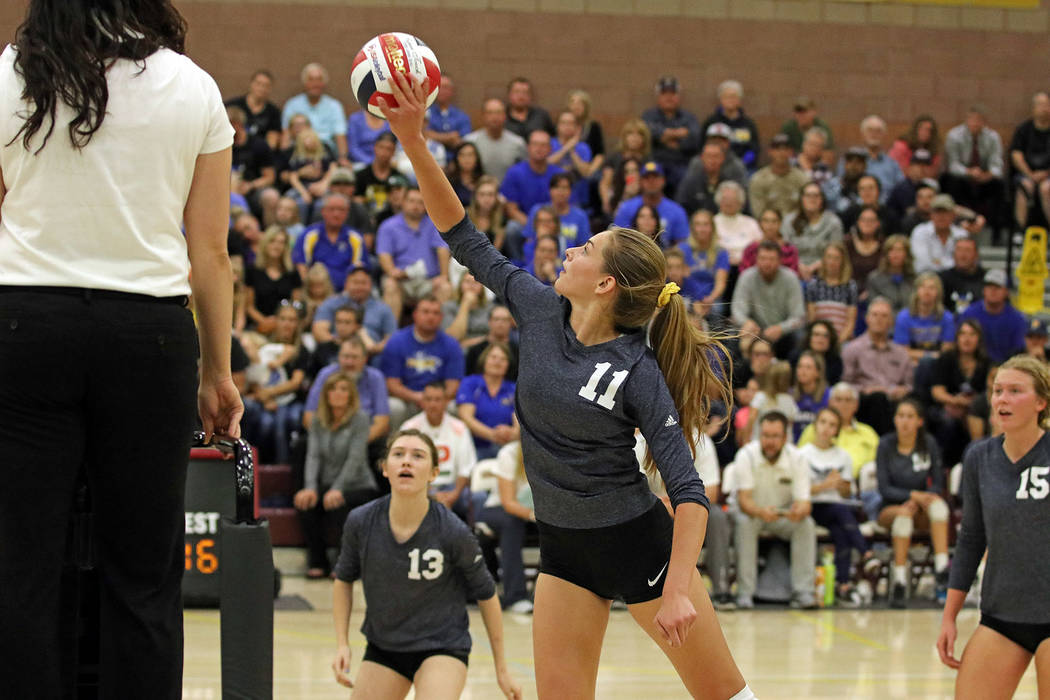 In what felt like a home game atmosphere Saturday at Faith Lutheran High School, senior Boulder City High School star Maggie Roe sealed the girls volleyball team's first 3A state championship since 1989, giving the Lady Eagles match point in the fifth set over rival Moapa Valley for a 3-2 victory.
Leading the Lady Eagles with 27 kills, 11 assists, seven digs and four blocks, Roe brought down a thunderous strike in the game's final moments, bringing what appeared to be a sold-out crowd of Eagles faithful to their feet in excitement.
"I'm so happy we were able to pull through and win," Roe said. "There has been a long history of our rivalry with Moapa, and all of that showed in our play and in the student sections. The atmosphere was intense." It was a "very fun game."
The Lady Eagles dropped both regular season contests to the Pirates but were able to rally back in the postseason for a pair of victories, capturing the 3A Southern Regional Championship and state championship after Saturday's 17-25, 27-25, 14-25, 25-16, 15-12 come-from-behind victory, finishing their season against their toughest opponent.
"There is nothing better than beating your rival in the final game of the season," freshman Kamry Bailey said. "Coach (Cherise) Hinman told us before state to treat each set like a test. Props to Moapa. They played tough, but we brought our A game."
Playing above and beyond, Bailey was a key figure in ending the Lady Eagles' state championship drought, tallying 22 kills offensively with six digs. She was set up a majority of the night from freshman Ava Wright, who led the way with 34 assists. The underclassman duo shined brightest on the 3A's biggest stage.
"Kamry is such an amazing player," Wright said. "She came out strong and finished strong in the state final. She told me before the game, 'I want to win so bad,' and I had no doubt in my mind that she would do everything in her power to help the team be successful."
The Lady Eagles got all-around contributions from their supporting cast. Junior Ashleigh Wood came up huge defensively with 11 digs, while senior Jerra Hinson added three blocks.
Brought in to add depth for the state championship quest, freshman Kelsi Robinson proved the moment wasn't too big for her, adding three key blocks to fuel the victory over the Pirates.
"Over the past 28 years since we won our last state title, there have been some pretty outstanding teams that came close to the state title but didn't quite finish it," Hinson said. "It feels amazing to know that we were able to push hard at the end of the season and capture it.
My team worked so hard for this win, and the fact that we had six freshmen on the team when we accomplished this is crazy, because the things my underclassman teammates are going to accomplish these upcoming years are going to be monumental."
Defeating Northern challenger Truckee in the 3A state semifinals, Roe tallied 25 assists and 24 kills, while Bailey tallied 27 kills and 15 digs.
Another key freshman added to the state tournament roster, Rachel Krumm broke out with 10 digs in the semifinals, giving the Lady Eagles another key piece to build around for the future.
"Winning the first state championship in 28 years was so amazing, especially since I'm only a freshman and still have three more years left," Wright said. "We're losing a few key seniors, but with a lot of time and effort, we could make the returning team into something great. I'm so excited to see where the next three years takes Boulder City volleyball."
Contact Robert Vendettoli at BCRsports@gmail.com.