Star swimmer heading to Lone Star State
September 21, 2016 - 2:11 pm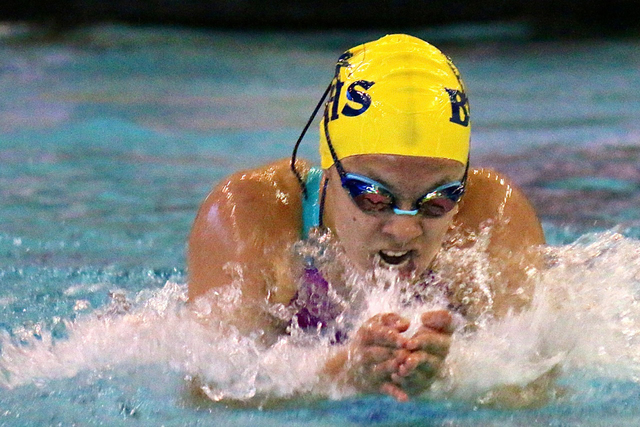 Ever since she can remember, Boulder City High School senior Montana Lloyd has always desired to swim. It was her desire that made her a two-time champion in the 200-yard individual medley and the 100-yard backstroke. It was her passion for the sport that helped her break records with her club team Desert Storm Swimming, and it was her dream of swimming at a Division 1 college that earned her a spot on the University of Houston's swimming team next fall.
Lloyd verbally committed to the Cougars and is allowed to sign her letter of intent in November. She is expected to be an immediate contributor to a team bursting with young talent.
Lloyd had received a number of offers from other universities, but fell in love with Houston during a visit to the campus.
"I took a trip in July and that just sealed the deal," Lloyd said. "I didn't even visit anywhere else. I met the coaches and the swimmers and they just created such a welcoming environment and made me feel like part of the team. I knew I had to come here."
Desert Storm head coach Bill Carroll has coached Lloyd for seven years and said he was not surprised to see her commit to a Division 1 university.
"I have been coaching her for years and she is the hardest working kid I have ever coached," Carroll said. "She does whatever I ask her to and I can't think of a swimmer who deserves this scholarship more than her."
Lloyd's high school coach Sara Carroll expressed the same sentiment.
"She worked hard her whole life so she could have this opportunity," Sara Carroll said. "I was not surprised at all that Montana was getting all this interest from top colleges."
Lloyd said one of the hardest things about going to Houston is leaving behind her longtime coach.
"It will be hard to leave because Bill has taught me so much," she said. "He knows me a lot better than other people do and I can't thank him enough."
Bill Carroll said he would miss Lloyd, too.
"It is really bittersweet because you can't really replace her as far as leadership skills and the relationship she created on this team," Carroll said. "I am happy for her though. It was a no brainer that a great school like Houston would take her."
The idea of collegiate swimming both scares and excites Lloyd.
"It will be different swimming at a D1 school," Lloyd said. "Everyone is good at that level and it makes me nervous sometimes, leaving home to face competition like that, but I am also really excited about the new challenge."
Lloyd may be ready to swim at the collegiate level, but luckily for the Carrolls they get to use her skill and leadership for one more season.
Contact reporter Max Lancaster at mlancaster@bouldercityreview.com or at 702-586-9401. Follow him on Twitter @MLancasterBCR.