Sports roundup: Volleyball starts league play with three-set victory
September 14, 2017 - 10:48 am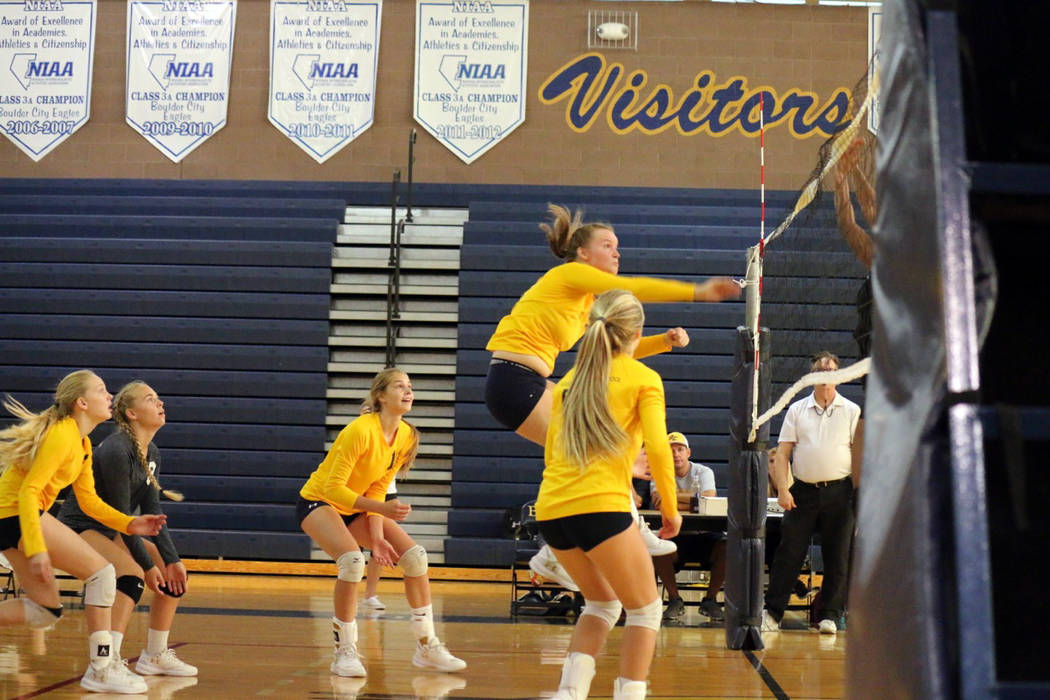 Starting league play off strong on Sept. 6, Boulder City High School girls volleyball opened with a convincing three-set home victory over Chaparral.
Defeating the Cowboys 25-11, 25-9, 25-6, the Lady Eagles, behind the offensive threat of senior Maggie Roe and defense of senior Jerra Hinson, were dominant from the get go. Always looking for perfection however, head coach Cherise Hinman said she'd still like to see a better effort from the girls.
"We were really sloppy at times against Chaparral," Hinman said. "Scoreboard says we dominated and we did, but that's because these girls are so talented. We're working in a few freshmen this year so obviously we're not always gonna be perfect at times. I'd really like us to be though after the regular season."
Generating a game-high 17 kills, Roe led the Lady Eagles with six serving aces, two blocks and a dig.
Hinson added a team-high four blocks, five serving aces and three blocks, while freshman Ava Wright led the Lady Eagles in assists (22) and serving aces (nine) against the Cowboys.
Also taking on a pair of 4A competitors, the Lady Eagles blanked Las Vegas 25-12, 26-24, 25-22, before suffering an uncharacteristic sweep at the hands of Basic 18-25, 21-25, 17-25.
"The only way we're going to learn to get better is to suffer a loss like this to Basic," Hinman said. "We let them outplay us. Too many mental errors, too many mistakes. It's unfortunate to get swept by a team you should beat. I'm hopeful the girls will move forward from this game."
Against Las Vegas, Roe led the Lady Eagles with 11 kills and 10 assists, while freshman Kamry Bailey added 10 kills and five digs.
Prepping for their fifth annual Boulder City Invitational, the Lady Eagles will host a handful of 4A programs this weekend, hoping for one final test before the heart of their league schedule begins.
"I've always said the only way you're going to get better is to play better competition," Hinman said. "We have a lot of good teams coming here this weekend; I'm hopeful we'll be up for the challenge. We'll see how we stack up after this weekend."
Boys and girls tennis
Continuing to sweep their way though league competition, both Boulder City High School tennis programs seemed primed for extended postseason runs after dominating rival Virgin Valley on Tuesday.
Sweeping the Bulldogs 18-0, the boys have given up one point throughout five league matches, looking like a serious state tournament contender in the process.
"We have been working really hard preparing for the postseason," boys coach Rachelle Huxford said. "The boys are excited for a second shot at the title. I know they have what it takes, we just have to keep our focus and finish out the season one match at a time."
Dismantling the Bulldogs, senior Andre Pappas led all singles players with a 3-0 finish, while sophomore Connor Mikkelson finished 2-0.
Senior San O'Berto and sophomores Michael Erlanger and Braden Soileau each finished 1-0.
Matching their intensity through doubles play, the duos of sophomores Boen Huxford and Preston Jorgensen, senior Tanner Montgomery and junior Karson Bailey, and senior Clayton Pendleton and sophomore Ty Pendleton each finished 2-0.
Almost as dominant as the boys, the Lady Eagles routed the Bulldogs 16-2 behind strong play from their revamped singles lineup.
Juniors Olivia Goodfellow and Natalie Bowman finished 3–0, wile freshman Emily Strong provided a strong singles performance with a 2-1 record.
Moving her top two singles players to doubles for the day, the sophomore pairing of Olivia Mikkelson and Tegan Pappas finished 2-0, along with the duo of junior Heather Patterson and sophomore Katelyn Fox.
"A lot of our girls stepped up today," girls coach Jami Pappas said. "I'm starting to learning which pairing work best and where to put our girls for the best results."
Hoping for more league success, the Eagles will travel to Southeast Career Technical Academy today, followed by a home match with Moapa Valley on Friday and Del Sol on Monday.
Boys soccer
Tying with Somerset-Sky Pointe on Tuesday 1-1, the Eagles rebounded nicely from a 4-1 loss to Basic earlier in the week.
Looking for every point they can get in league play to end a postseason drought that dates back to 2012, senior Alex Krausman tied the game for the Eagles in the second half on an unassisted goal.
Unable to stop the 4A Wolves on Sept. 7, the Eagles stopped the shutout in the second half with an unassisted goal by senior Caden Mendiola.
Hosting Virgin Valley at 3 p.m. today, the Eagles have a busy slate this week with four games. The Eagles will host Pahrump Valley at 10 a.m. Saturday, followed by a road game at Southeast Career Technical Academy on Monday and a home against Moapa Valley on Tuesday.
Girls soccer
Exploding for a 9-3 offensive showcase against Somerset-Sky Pointe on Tuesday, the Lady Eagles advanced to 2-0 to start league play.
Looking much improved offensively this season, the girls finished the first half 4-0.
Sophomore Makenna Arboreen led the way with four goals. Gaining contributions from the entire roster, sophomore Madison Manns scored a pair of goals, while senior Kamryn Dolph, Jaydin Darling and junior Maggie Clary each scored on a goal apiece.
Making crisp passes throughout the day, senior Rebecca Smith led the way with three assists, while Darling, Arboreen, Manns and sophomore Trinity Oeland each added an assist.
Rebounding from Friday's 2-0 nonleague loss to Pahrump Valley, the Lady Eagles figure to be contenders for a postseason berth in the 3A Sunrise after their hot league start.
Heading into the heart of their league schedule, the Lady Eagles will travel to Virgin Valley for a game at 3 p.m. today, followed by a home game against Southeast Career Technical Academy on Monday and a road game against Moapa Valley on Tuesday.
Cross-country
Placing second behind 4A power Coronado (18 points) the girls Boulder City High School cross-country program proved it could compete with larger schools on Tuesday at Sonata Park.
Finishing with a team score of 59, the Lady Eagles edged out Desert Oasis (65) and Silverado (109) behind a fifth-place finish from senior Sierra Selinger, who led the way with an overall time of 20:12.
Sophomore Audrey Selinger placed 13th with a time of 22:36, while senior Camille Torgesen finished 14th with a time of 22:49.
"I think the girls are running really well," head coach Staci Selinger said. "I liked how close Audrey and Camille finished together and Sierra had a great race out in the front pack."
Rounding out the Lady Eagles' core of runners was junior Brynlee Campbell (30th place, time of 26:24), freshman Sophie Dickerman (36th place, time of 27:58) and senior Agnese Palpacelli (42nd place, time of 29:50).
On Saturday at the 48th annual Larry Burgess-Las Vegas Invitational at Sunset Park, Audrey Selinger finished seventh in the small-school race with a time of 20:39, while Torgesen finished 23rd with a time of 22:44.
While the girls are clicking on all cylinders to start the season, the boys are still trying to find their footing but are making strides.
Finishing fifth with an overall team score of 130, freshman Ethan Porter led the Eagles with an 18th-place finish, finishing with a time of 18:11, while junior Elias Woodbury finished 21st with a time of 18:24.
Junior Justice Tillman finished 51st with a time of 19:59.
"Ethan and Elias raced well Tuesday with Justice closing right behind them" Staci Selinger said. "I like how they are grouping up and pacing together. They are running faster each race and we'll get those groups moved further up in the pack. I'm happy with the progress they're making."
Contact Robert Vendettoli at BCRsports@gmail.com.
Upcoming games
Volleyball
Friday, Sept. 15, BC Invitational, 3 p.m.
Saturday, Sept. 16, BC Invitational, 9 a.m.
Tuesday, Sept. 19, vs. Virgin Valley, 5 p.m. junior varsity, 6 p.m. varsity
Boys and Girls Tennis
Today, Sept. 14, at Southeast Career Technical Academy, 3 p.m.
Monday, Sept. 18, vs. Del Sol, 3 p.m.
Tuesday, Sept. 19, at Silverado, 3 p.m.
Girls Soccer
Today, Sept. 14, at Virgin Valley, 3 p.m. varsity, 4:30 p.m. junior varsity
Monday, Sept. 18, vs. Southeast Career Technical Academy, 3 p.m. junior varsity, 4:30 p.m. varsity
Boys Soccer
Today, Sept. 14, vs. Virgin Valley, 3 p.m. varsity, 4:30 p.m. junior varsity
Saturday, Sept. 16, at Pahrump, 10 a.m. varsity
Monday, Sept. 18, at Southeast Career Technical Academy, 3 p.m. junior varsity, 4:30 p.m. varsity