Sports Roundup: Losses don't tell true story of soccer program's improvement
September 7, 2016 - 1:58 pm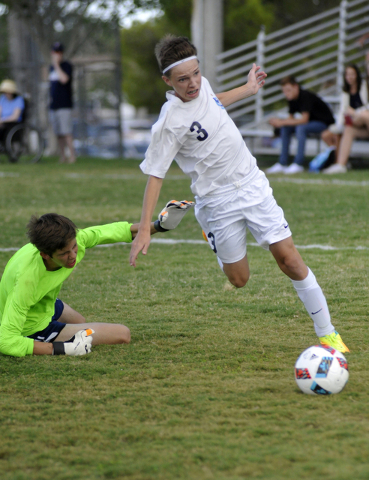 Boulder City High School's boys soccer program dropped to 0-3 this week, but team members were able to hold their heads high knowing they put a better product out on the field.
Following a dismal 2-15 season last year under head coach Chad Smith, who is in his second year with the program, the Eagles have looked well-improved this season despite the final game scores.
Squaring off against 4A opponent Desert Oasis on the road Tuesday, an improved Eagles' defensive unit was able to hold the Diamondbacks to only two goals during their 2-0 shutout, a sign that better overall play is taking place.
Highlighted by a senior Hunter Dale goal in the Sept. 1 2-1 loss to 2A program Adelson School, the Eagles seem to be on the right track after allowing six goals to 4A program Coronado in their season opener.
Hopeful to continue improving each week, the Eagles will host Pahrump Valley on Wednesday in their last preseason game before starting league play the following week.
Cross-country
A few runners for Boulder City High School's boys and girls cross-country programs had solid showings Saturday while participating in the 4A-laden Palo Verde Labor Day Classic.
"We only chose to send a few select runners based off of condition and who we thought would benefit most from this race," head coach Canaan Petersen said. "Overall I'm happy with how our kids did."
For the boys, senior Tyler Campbell led the way for the Eagles with a 22nd-place finish, recording a season best time of 18:26.6.
Recording a personal best on Saturday, junior John Krausman placed 39th with an overall time of 19:05.5, while senior Caleb Shamo placed 89th with a season best time of 21:34.8 and senior James Embro placed 90th with a season best time of 21:37.5.
"I'm very proud of how the boys did overall," Petersen said. "Our times can still improve toward the back end of the season, but for now they're right where they should be. Everyone is working very hard and it shows each week when they keep improving."
For the Lady Eagles, junior Sierra Selinger led the way in the upperclassman's race with a 15th-place finish with a time of 22:18.4, while younger sister Audrey Selinger finished 20th in the underclassman's race with a time of 23:33.8, nearly three minutes better than last week's seventh-place finish in league competition.
"We're really lucky to have both Selinger sisters in our program," Petersen said. "Obviously we know what Sierra can do, but watch out for Audrey because she's improving fast. She's a great addition to our program."
Taking another step toward preparing for a grueling league season, the Eagles will participate Saturday in the Larry Burgess-Las Vegas Invitational, where Petersen is hopeful to continue to see progression for each of his runners.
Tennis
It's been a great start to the season for school's boys and girls tennis programs, each of which enter tonight's contest with Moapa Valley standing atop the 3A Sunrise league at 3-0.
Winning in dominating fashion, the boys have nearly destroyed their opponents on the court, defeating Virgin Valley 15-3, Southeast Career Technical Academy 17-1 and Del Sol 18-0.
"Everyone in our group has played well," first year boys coach Rachelle Huxford said. "Even our bench has been successful. We're working to keep our momentum alive during league play. The boys are really focused on getting to the regional playoffs and hopefully the state tournament."
Coming into today's contest with the Pirates, the Eagles' trio of singles players, juniors Andre Pappas and Sam O'Berto and freshman Bretton Erlanger, have all posted 3-0 records, proving to be the strength of the team.
In doubles competition, the Eagles' trios of juniors Garrett Leavitt and Clayton Pendleton, junior Tanner Montgomery and sophomore Karson Bailey, and freshmen Boen Huxford and Preston Jorgensen have also posted 3-0 records thus far. Huxford and Jorgensen have yet to drop a match point this season.
For the girls, the Lady Eagles also have swept through their league competition, outlasting Virgin Valley 13-5, Southeast Career Technical Academy 14-4 and Del Sol 12-0.
"We've have played so well to start the season," senior doubles player Kyra Yamamoto said. "We're very happy with how our team is doing so far. Everyone has shown high energy and emotion for the game so far."
Sweeping their way in singles competition has been the duo of freshman Tegan Pappas and sophomore Natalie Bowman, who have given the Lady Eagles a solid pairing to rely upon in close matchups.
The returning senior doubles unit of McKenna Frazier and Yamamoto also looks strong midway through year four together, posting an undefeated record through three contests.
Looking to show that both first-place programs are real, the Eagles will host second-place Moapa Valley at 3 p.m. today in a contest that could decide the division early.
Contact Robert Vendettoli at BCRsports@gmail.com.
Upcoming Games
Boys Soccer
■ Wednesday: vs. Pahrump, 3 p.m. varsity, 4:30 p.m. junior varsity
Girls Soccer
■ Today: vs. Durango, 3 p.m. varsity; 4:30 p.m. junior varsity
■ Wednesday: at Pahrump, 3 p.m. varsity; 4:30 p.m. junior varsity
Tennis
■ Today: vs. Moapa Valley, 3 p.m.
■ Saturday: at Chaparral, 3 p.m.
■ Tuesday: at Virgin Valley, 3 p.m.
Cross-country
■ Saturday: Larry Burgess Invitational at Sunset Park, 8 a.m.
Girls Golf
■ Today: vs. Green Valley at Legacy, 3 p.m.
■ Tuesday: vs. Green Valley at Boulder Creek Golf Club, 10 a.m.