Sports Roundup: Girls soccer stars recognized
December 28, 2016 - 2:38 pm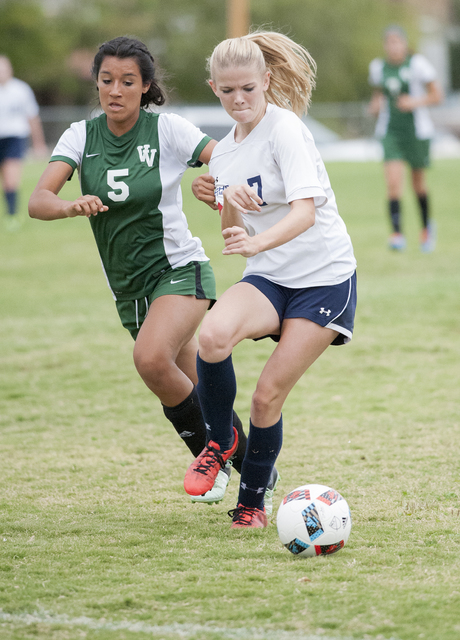 Coming off a drastically improved season in which the Boulder City High School's girls soccer team earned its first playoff berth since 2012, the program fielded five players who received postseason accolades.
Freshman midfielder Madison Manns headlined the accolades, earning 3A All-Southern Region first-team honors, after recording eight goals and three assists for the 6-9 Lady Eagles.
Earning second-team 3A Southern Region honors, senior defender Alexus Pohe was nominated for her stellar play on the Lady Eagles' defense that forced a pair of shutouts on the season. As solid passer as well, Pohe also garnered three assists on the year.
Both Manns and Pohe also received 3A Sunrise League first-team honors.
Receiving second-team honors for the league were senior defender Julia Davidson and senior forward Jordan Trobiani, along with freshman midfielder Trinity Oeland.
Teaming with Pohe, Davidson formed one of the league's top defensive units, with Trobiani (nine goals and one assist) and Oeland (two goals and two assists) teamed with Manns to provide the Lady Eagles with offensive firepower.
Cross-country
Coming off an 11th-place finish at the 3A state championship meet in November, Boulder City High School girls cross-country star, junior Sierra Selinger, was named a Nevada all-state honorable mention selection.
"I am honored to be recognized once again this year and excited to be in such good company," Selinger said. "The (Las Vegas) Review-Journal puts on an amazing recognition dinner for us athletes. I was happy to end the season better than expected and am excited for the track season."
Battling through injuries throughout the season, Selinger highlighted her season at the 3A Southern Region meet, placing first with a personal record of 19:50.6.
Placing 11th at state with a time of 20:14.0, Selinger also placed first once this season in the Southeast Career Technical Academy meet on Aug. 30 with a time of 24:51.0, while placing fourth at the Southern Division finals with a time of 22:30.4 on Oct. 15.
On a 3-mile course at the Larry Burgess-Las Vegas Invitational at Sunset Park, Selinger placed fourth with a time of 20:33.5.
Boys basketball
Opening up the Paloma Valley Winter Shootout in Menifee, California, on Tuesday against California's Citrus Hill, the Eagles fell 73-37, dropping to 4-7 on the season.
Giving up 45 points in the first half, the Eagles showed improvements in the second with the defensive adjustments allowing only 28 points.
Leading the scoring charge, senior forward Justus Green scored nine points, while junior guard Carson Balistere and sophomore guard Karson Bailey watched added eight points.
Having a solid outing as well, junior Thomas Lobkowicz scored five points.
Continuing play in the tournament, the Eagles will play Paloma Valley today, followed by an unknown opponent Friday.
Girls basketball
Competing in the Gator Winter Classic at Green Valley High School on Tuesday, the Boulder City High School girls basketball program dropped a pair of contests to Northern Nevada opponent Fernley and Dimond (Alaska).
Hanging tough with Fernley in their opener 33-23, the Lady Eagles had their hands full against Dimond, falling 72-22.
Leading the way in scoring throughout both games, freshman guard Madison Manns scored 11 points against Fernley and six points against Dimond, while freshman guard Keely Alexander scored six points against Dimond as well.
The Lady Eagles will wrap up tournament play today against an unknown opponent.
Contact Robert Vendettoli at BCRsports@gmail.com.