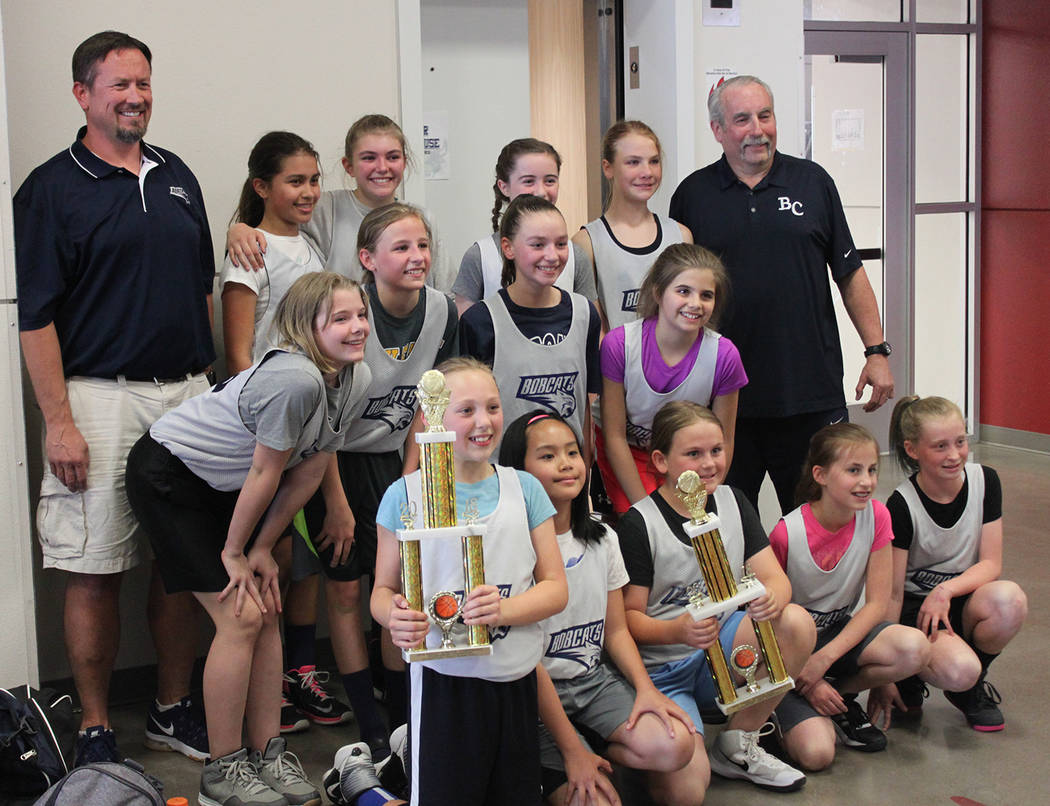 Lady Junior Bobcats win basketball playoffs
The girls Junior Bobcats basketball team from Garrett Junior High School defeated Innovations International 31-28 on April 19 to win the 2018 Valley Athletic Conference playoffs. The team finished the regular season as 2018 co-champions of the conference's elementary girls division.
Julia Carmichael was the leading scorer with 8 points in the championship game. Alexis Farrar and Haley May added 6 points apiece. Chiara Steffes and Kiley Flowers scored 4 points each, and Addie Doane scored 1.
"What an exciting game," Coach James Konst said. "We were down by nine in the third quarter and fought back to win by three at the buzzer. The girls played so hard and never gave up. The fans were so excited and loud that it was deafening."
The Junior Bobcats played well all season and finished with a 13-1 record.
The members of the team are Allie Beal, Julia Carmichael, Eliana Danko, Addie Doane, Alexis Farrar, Kiley Flowers, Aubry Kilar, Haley May, Sophia Muelreth, Gillian Samonte, Chiara Steffes, McKenzie Trobiani and Sierra White.
Konst is the head coach of the girls team and is assisted by coach Brian Lemmel.
The Junior Bobcats, featuring fifth- and sixth-graders, helps train players before they join the Garrett Bobcats team, which competes against middle schools throughout the Clark County School District. That team finished in third place with a record of 12-6.
The Junior Bobcats boys team competed in the Middle School Division this year and finished in fifth place in the Valley Athletic Conference with a 3-5 record.
The members of the team are Troy Higley, Tyler Lemmel, Ike Pappas, Bret and Sean Pendleton, Roman Rose, Max Roy, Bruce Woodbury and Luke Wright.
Lemmel is the head coach of the boys team and is assisted by Konst.
Tryouts for the Junior Bobcats begin in December, and the season runs from February through late April.
"We will be looking for solid basketball players for the 2019 season before you know it," Konst said. "Congratulations to both teams on another excellent season, and especially the girls for winning the championship and becoming VAC League co-champions."
Soccer camp coming to Boulder City
This summer local soccer players ages 3 to 16 can learn more about the game from international coaches.
A camp presented by Challenger Sports and Boulder City Parks and Recreation will be held Aug. 6-10 at Pratte Soccer Field at Veterans' Memorial Park, 1650 Buchanan Blvd.
Attendees will participate in a regimen of ball-handling skills as well as Camp World Cup, a daily tournament. In the tournament, the players will represent a World Cup team and earn extra points for creating chants, wearing team colors, creating flags and learning as much as possible about their chosen country's culture.
"Our British Soccer summer camps and year-round coaching programs boast an incredible team of coaches from Australia, New Zealand, Holland, Brazil, USA and Canada as well as our traditional team of Brits from England, Scotland, Northern Ireland, Ireland and Wales," said Sean Lines, regional director for Challenger Sports. "This diversity of experiences and cultures reflects the truly global nature of the sport of soccer, and we are proud to share the best practices from around the globe with the many players, parents and coaches we work with throughout North America."
Campers will also have access to iChallenge, a digital app that has information and videos on a variety of soccer skills.
To sign up or for more information, go to www.challengersports.com or contact Lines at 760-945-2109 or slines@challengersports.com.