August 19, 2015 - 1:41 pm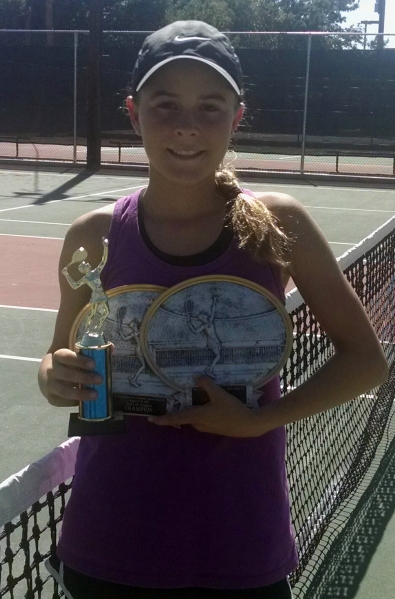 Mikkelson wins three titles at tennis tourney
Olivia Mikkelson of Boulder City came home with several trophies after competing in the United States Tennis Association's inaugural Val Vista Lakes End of Summer Junior Open tennis tournament Aug. 13-16 in Gilbert, Ariz.
She won every division she entered. The tournament attracted 84 players from throughout the Southwest.
In the girls 16 singles, Olivia played her first match against Emily L. Smith, winning 6-3, 6-2. She advanced to the quarterfinals, defeating No. 4 seed Allison Yu 7-5, 6-2. In the semifinals, she played No. 2 seed Sabrina A. Boever and won 6-0, 6-2 to advance to the finals, where she beat the No. 1 seed, Alexa R. Cooke, 6-3, 3-6, 10-4.
In the girls 18 singles division, Olivia beat Elisa Magtoto in the semifinals, 6-3, 6-2, to advance to the finals, where she defeated Kyla A. Spisak 6-1, 6-4.
Additionally, Olivia played in the girls 18 doubles with Lorelei Glidden of Tempe, Ariz. They defeated Magtoto and Spisak in the semifinals 8-4, then advanced to the finals, where they won 8-4 against Stephanie Burckhard and Anne E. Carsey.
Olivia is the daughter of Cory and Michelle Mikkelson of Boulder City. She is starting the eighth grade this fall and is home-schooled with the No Quit Tennis Academy.