Speedway opens track for quarter midgets, flat karts
August 30, 2017 - 2:29 pm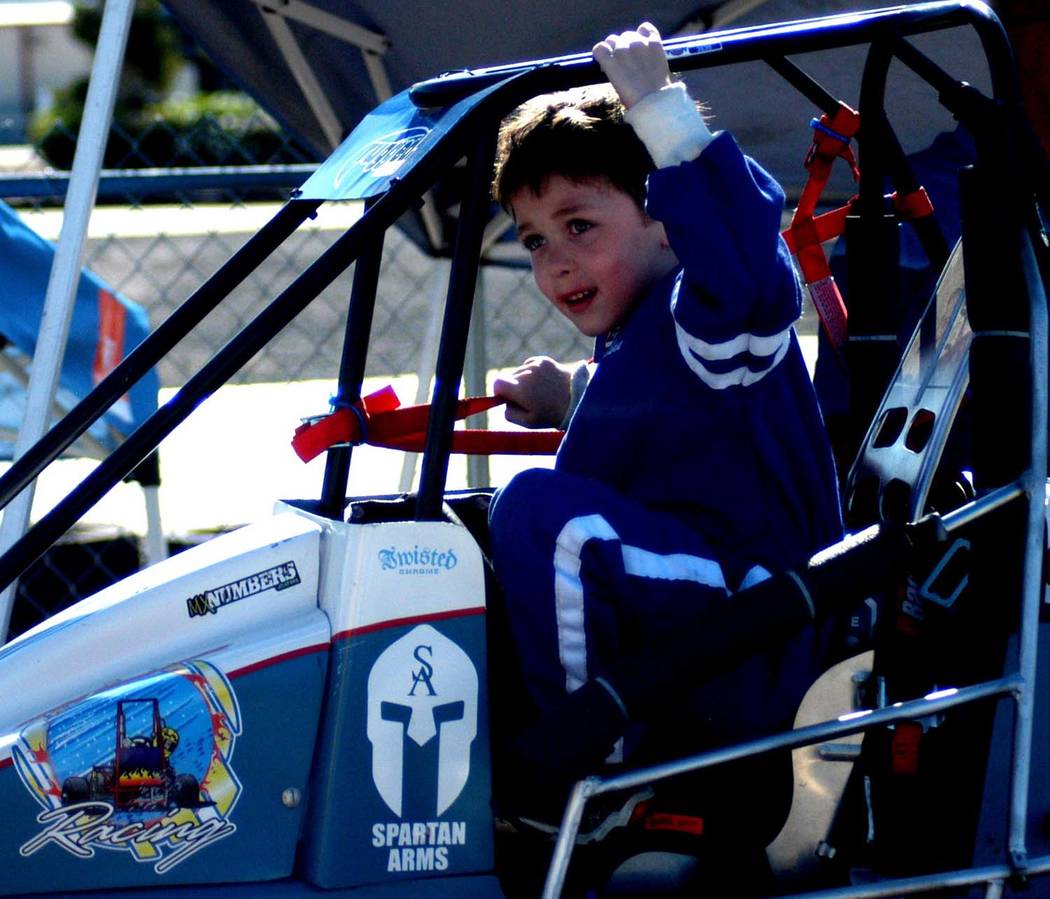 Boulder City Speedway will be getting busier as a new racing club is holding lessons and regular races there.
The 1/10-mile track has been around for about 17 years, according to Jeff Hobbs, president of Las Vegas Quarter Midget Champion LLC.
The speedway is in Boulder City on Quail Street near the airport and veterans cemetery.
Recently, Hobbs and the Las Vegas Quarter Midget and Southern Nevada Open Wheel Racing Association began using it for races and lessons.
"It was formerly an exclusive 1/4-scale RC (remote-control) car track, but we have adapted it to also race quarter midget race cars. … Now, we not only run the RC cars but also the QMs and karts," he said.
A quarter midget is a race car for children ages 5 to 16 that is one-fourth the size of a full midget car. Its maximum speed is usually 45 miles per hour.
"The cars are built really, really strong," Hobbs said. "The kids wear fire suits and protective gear, and the cars have safety features."
Currently, there are 12 to 14 quarter midgets that race at the speedway. In addition, the club has a variety of classes for children at different skill levels.
The club also has flat kart racing. A flat kart is like an oval-shaped go kart. Racing of those is open to anyone 5 and older.
Hobbs said a lot of parents and older siblings of quarter midget racers race the flat karts.
"It's a family affair," he added. "Everybody's racing. … We're really family-oriented. Kids are first and adults are second."
Todd and Julie Pratt are one of those families. They and their 10-year-old son, Levi, all race at the speedway.
"My husband did it as a kid, and it's something fun we can do with the family," she said.
She said that racing is one of the few things in terms of sports that her family can all be a part of and have fun.
In addition to the classes, the club is hosting the Boulder City Race Series, which kicks off Saturday, Sept. 2, and will include races in the fall, winter and spring. Points are awarded to those who win and place in the races, and the points count toward the state championship.
To participate in a quarter midget or flat kart race, there is a $35 entry fee per car. Drivers also can practice the day before the races for $20 per car.
Admission for spectators is $5.
For this weekend's event, practice and time trials are scheduled from noon to 7 p.m. Saturday, and the race is set to begin at 9 a.m. Sunday.
Participants must be members of Southern Nevada Open Wheel Racing to race flat cars and the United States Auto Club to race quarter midgets.
For more information, go to http://lvqm.webs.com.
Contact reporter Celia Shortt Goodyear at cgoodyear@bouldercityreview.com or at 702-586-9401. Follow her on Twitter @csgoodyear.