Solid pitching leads Eagles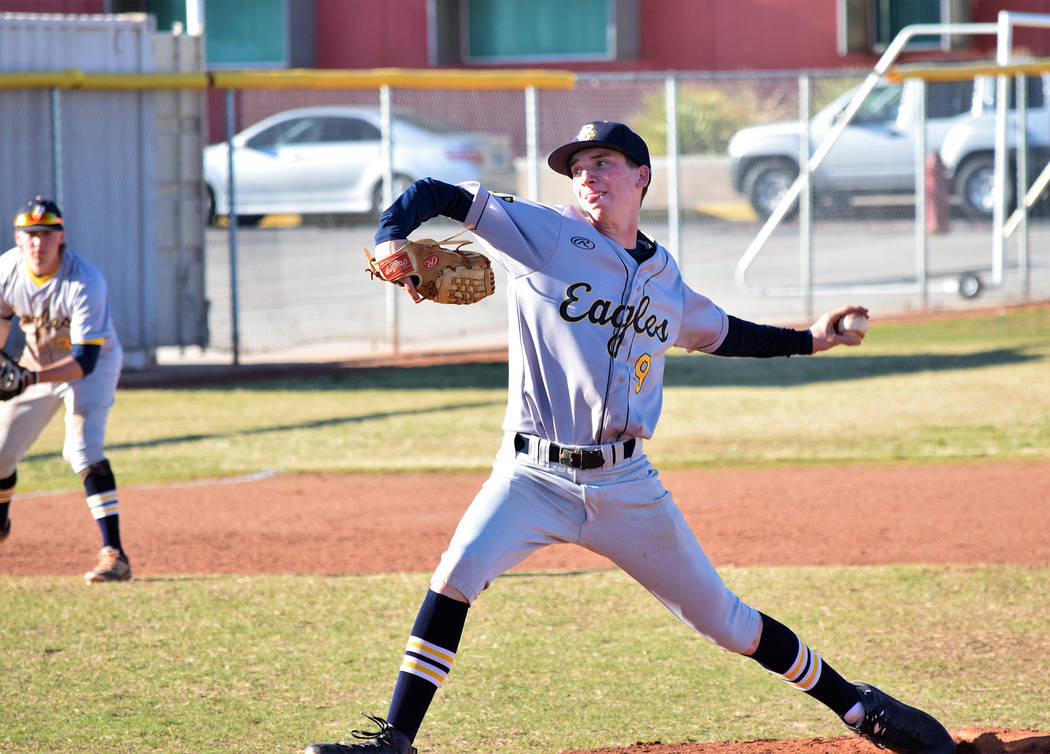 Gaining momentum from their experience in Pine View, Utah, over the weekend, the Boulder City High School baseball team looks to turn the page early in the season with a two-game winning streak.
Defeating Timpview 13-4 on Saturday after losing their first three contests in Utah, the Eagles came out Monday against Western with a new sense of life, routing the Warriors 12-0.
Behind solid pitching from senior Teddy Lobkowicz, 12 hits from their lineup and a lively atmosphere in the dugout, the Eagles resembled the two-time defending 3A state champions head coach Ed McCann thought he was inheriting when he took over the program.
"I'll tell you what, I couldn't be prouder of the way they've played this past week," McCann said. "We went to Utah and, yeah, we lost some games, but being the smallest program there, we gave a lot of teams a run for their money. We're learning as we go, but most importantly, this team right now is having fun. Losing, I think, humbled them, so now we're slowly building, and it's great."
Playing their best baseball to date Monday, the Eagles' bats got the job done after a scoreless first inning. They scored two runs in the second inning, three runs in both the third and fourth innings and four runs in the fifth inning to mercy rule the Warriors.
Lobkowicz got some breathing room early on the mound, and the newly named starter was able to pitch with confidence Monday knowing his lineup was there to back him up.
Knocking in two runs apiece, senior Anthony Pacifico (1-for-3) and junior Jimmy Dunagan (1-for-1) provided the Eagles with power at the plate.
Seniors Rhett Armstrong (2-for-4), D.J. Reese (1-for-3) and Lobkowicz (2-for-4) and juniors Travis Hungerford (2-for-3) and Shaun Jones (1-for-3) each added an RBI.
"When we're swinging the bats the way we're capable of, it takes a load off of everyone," Lobkowicz said. "It doesn't matter if someone's having a bad pitching outing or if our defense isn't playing well. We know we can win games with our bats, so that carries the team."
Taking pressure off the team as well, Lobkowicz was nearly flawless in his five-inning shutout, allowing only two hits while serving seven strikeouts. Primarily a relief pitcher last season, Lobkowicz said his arm is getting stronger, along with his confidence to start games and finish consistently.
"I'm learning how to go deeper into games," Lobkowicz. "I'm physically more dominant than I was a year ago, so I have confidence that I can pitch effectively and go the distance now."
Continuing to build momentum from their 13-4 victory against Timpview, Pacifico led the way with three RBIs, finishing 2-for-4 at the plate with a double, while Lobkowicz (1-for-1), Reese (2-for-3) and Hungerford (1-for-3) each added an RBI.
Armstrong earned the victory Saturday, throwing four innings where he allowed four runs on six hits with four strikeouts.
Staying competitive in Utah despite being the smallest program in the tournament, the Eagles played well in losses to Cedar City (4-2), Sky View (7-4) and Pine View (9-5).
Armstrong finished 3-for-4 at the plate against Sky View, while Pacifico (1-for-3) and freshman Joey Giunta (1-for-2) each added an RBI.
Lobkowicz finished 1-for-3 against Pine View with an RBI double.
"I liked the way we played in Utah," McCann said. "I really think this could be the turning point in our season. Tough losses make you stronger. They help you build. I hate losing more than anything, but when you know the players gave you everything they had, what can you do? We were in every ballgame and just ran out of pitching at certain spots. Knowing these guys and what they're made of, I think we have the potential to be great at the end of the season."
Hoping to capitalize on their potential, the Eagles will host Cheyenne today before heading to the 4A-laden Grizzly Invitational on Monday.
Contact Robert Vendettoli at BCRsports@gmail.com.
Upcoming games
Today, March 22, vs. Cheyenne, 3:30 p.m. varsity; at Cheyenne, 3:30 p.m. junior varsity
Monday, March 26, Grizzly Invitational, 9 a.m. varsity
Monday, March 26, Las Vegas High School JV Invitational, junior varsity
Tuesday, March 27, Grizzly Invitational, 9 a.m. varsity
Tuesday, March 27, Las Vegas High School JV Invitational, junior varsity
Wednesday, March 28, Grizzly Invitational, 9 a.m. varsity