Softball team's loss to Virgin Valley heartbreaking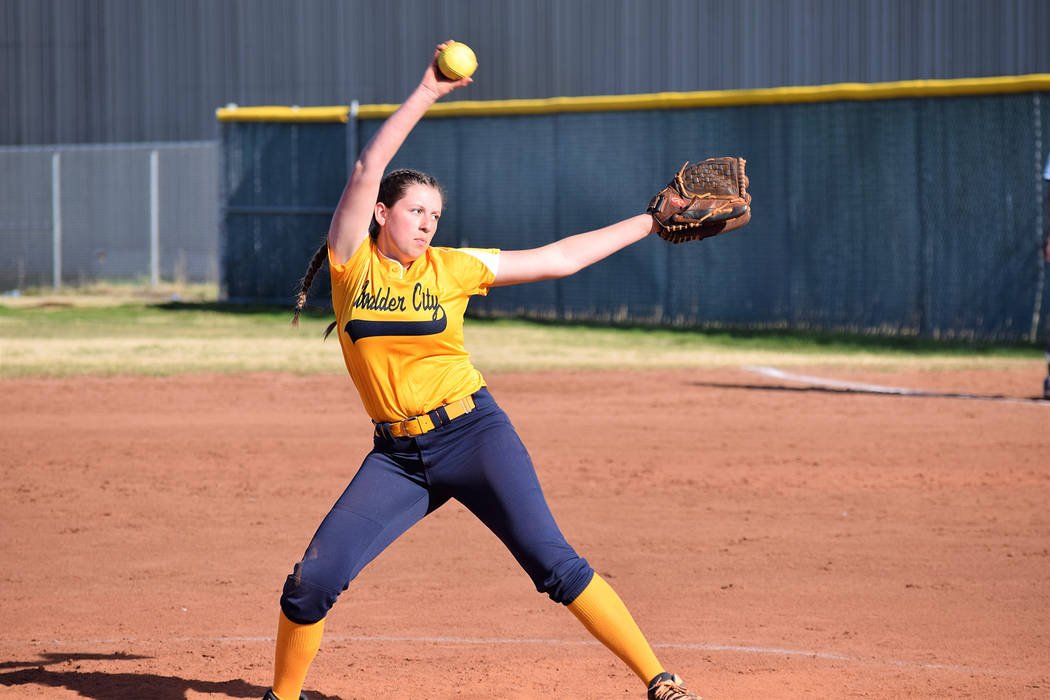 Previously controlling their own destiny in the 3A Sunrise League, Boulder City High School's softball players will now have to play nearly flawlessly from here on out after Monday's, April 23, heartbreaking 13-11 loss to rival Virgin Valley.
"It definitely was a tough loss, kinda like what the heck happened," head coach Angelica Moorhead said. "We were slow to start and just couldn't get it going. We had some errors; they were hitting the ball in the gaps and we just struggled. We need to get our heads on straight and not be so complacent. We talked about it and know what we need to do."
After giving up three runs in the first inning, the Lady Eagles got their bats going in the top of the third inning, with a four-run rally to take the lead, before pitching woes doomed their hopes.
Playing without star senior pitcher Bailey Bennett-Jordan, the Bulldogs rallied back with a three-run third inning and two-run fourth inning to regain the lead. After the Lady Eagles tacked on three runs in the top of the fifth to cut the deficit, the Bulldogs answered back with a five-run fifth inning.
Junior starter Abby Giunta was charged the loss after allowing six runs off of four hits in three innings. Senior reliever Jordan Moorhead gave up seven runs in three innings off of six hits in three innings.
Doing their best to not let their loss affect them, senior Jerra Hinson said she feels confident the Lady Eagles will put Monday behind them and get back to playing at an elite level.
"It's very important for us to rally back and we will," Hinson said. "It's unfortunate we lost to Virgin Valley but after a loss like that in league play its important for us to realize we're a great team and not let that loss define us. We will focus on the remaining regular season games and look forward to the regional tournament."
Hinson (2-for-4, one home run) joined Jordan Moorhead (2-for-4) and sophomore Ashley Wishard (3-for-4) as Lady Eagles who drove in a pair of runs each against the Bulldogs.
Showcasing their talents, especially offensively the game prior, the Lady Eagles routed Del Sol 21-6 on April 19, collecting a season-high 25 hits.
"Our offense had a very productive game," senior Lily Osman said. " It takes a lot of pressure off the pitcher when we can put a lot of runs on the board. We try to show support for whoever is in the circle, both defensively and offensively."
Finishing the game 5-for-6 at the plate, Osman drove in a game-high five RBIs with a home run and double apiece. On fire this season, Osman leads the Lady Eagles in batting average (.623) and RBIs (34).
"Every game I go out there trying to do better than I did the game before," Osman said. "I'm just trying to help my team by hitting runs in and getting on base."
Following Osman's lead, Giunta (2-for-4, four RBIs) and senior Micayla Gegen (3-for-3, three RBIs) provided their best games of the season, while Hinson finished 3-for-6 with two RBIs and a pair of doubles.
Giunta was awarded the win against the Dragons after throwing a complete game, allowing six runs on 13 hits.
Playing for a shot at first place before Monday's loss to the Bulldogs, the Lady Eagles are now tied with Chaparral for second place in the league standings.
With a road game at Moapa Valley on Friday, April 27, and a home game against Chaparral on Monday, April 30, looming, this week's slate of games will determine whether the Lady Eagles host a home playoff game this season.
"Our goal is to finish strong to get a home game during playoffs and continue it to the state tournament," coach Moorhead said. "As I always tell them, we have to take it one game at a time. They have to want it and I know they do. They just need to put all the pieces of the puzzle together."
Contact Robert Vendettoli at BCRsports@gmail.com.
Upcoming games
Friday, April 27, at Moapa Valley, 3:30 p.m. varsity; vs Moapa Valley, 3:30 p.m. junior varsity
Monday, April 30, vs. Chaparral, 3:30 p.m. varsity; at Chaparral, 3:30 p.m. junior varsity
Wednesday, May 2, vs. Del Sol, 3:30 p.m. varsity; at Del Sol, 3:30 p.m. junior varsity