Softball star heads north; Osman signs with Tritons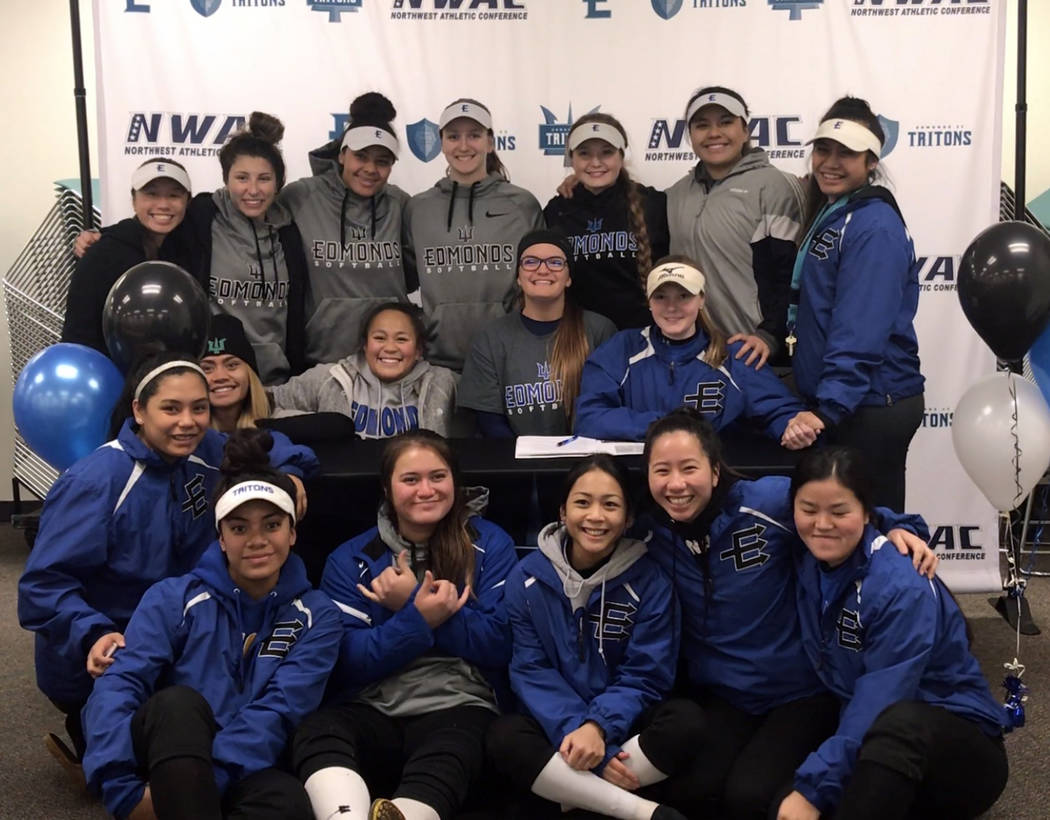 When Boulder City senior softball star Lily Osman flew to Lynwood, Washington, to sign her national letter of intent with Edmonds Community College in January, she knew her collegiate decision was a home run. Literally.
Fulfilling her dreams and signing with the Tritons, Osman took the field later that day with her future program eager to get a feel for the atmosphere. Nervous but poised, Osman treated the experience like a regular day at Bravo Field, hitting a home run in her first at bat.
"I was so nervous to play with them, but it all went away pretty fast," Osman said. "I was ready to play all day."
Excited for more than just her playing career with the program, Osman said her decision was an easy one to make, checking off all her desires for her future collegiate destination.
Focusing primarily on the Pacific Northwest area throughout the recruiting process, Osman followed her childhood ambitions for a change of scenery, but a familiar home feel. Osman said she fell in love instantly when she arrived at Edmonds.
"I've wanted to go to the Pacific Northwest since I was 12," she said. "When my club ball coach told me Edmonds was interested, I researched the school and the area and went for a visit in October. Everything immediately fell into place."
Lynwood is 16 miles from downtown Seattle, feeding into scenery and culture she hopes to take in during the next two years.
"When we went for our visit I immediately fell in love with Seattle," Osman said. "I love the weather, the culture and the view. I feel like I fit right in. Lynwood is a great town, also. It has the small- town feel that I will miss when I leave here."
Edmonds ranks as one of the top junior collegiate programs in the country, sporting a Division I atmosphere.
In 2011, the college spent $2.5 million renovating Triton Field, an on-campus multisport field-turf complex that is regarded as arguably the best facility in the Northwest Athletic Conference. A step up from her Boulder City stomping grounds, the program includes a state-of-the-art indoor hitting facility the team uses throughout the winter.
Matching its high-quality facilities with a winning attitude, the Tritons finished 35-10 last season under head coach Sheryl Gilmore and are already 8-1 this season. A four-year letter winner with the Lady Eagles, Osman said she hopes to integrate into the winning culture that rarely recruits players from outside its Hawaiian pipeline and Washington area.
"I'm excited about going to Edmonds, their program is awesome and they do very well in their conference," Osman said. "My main focus will be getting my degree in sports medicine but I really want to continue playing ball. Attending a junior college will allow for more playing time. I hope to excel and be picked up by one of the many universities in the area."
A proven bat throughout her first three seasons with the Lady Eagles, Osman has blossomed into one of the 3A classification's top power hitters, with a .365 batting average, 81 hits, 75 runs batted in, 15 doubles and 10 home runs.
"I'm always happy when a player from our program or any other program receives a scholarship," said Boulder City head coach Angelica Moorhead, who has watched Osman grow from budding freshman star to collegiate signee. "She has worked hard to get where she is. Putting in the extra time gave her that extra boost to get to the next level. We wish her the best of luck playing in college."
Contact Robert Vendettoli at BCRsports@gmail.com.