Softball: Pitchers duel lets Bennett-Jordan shine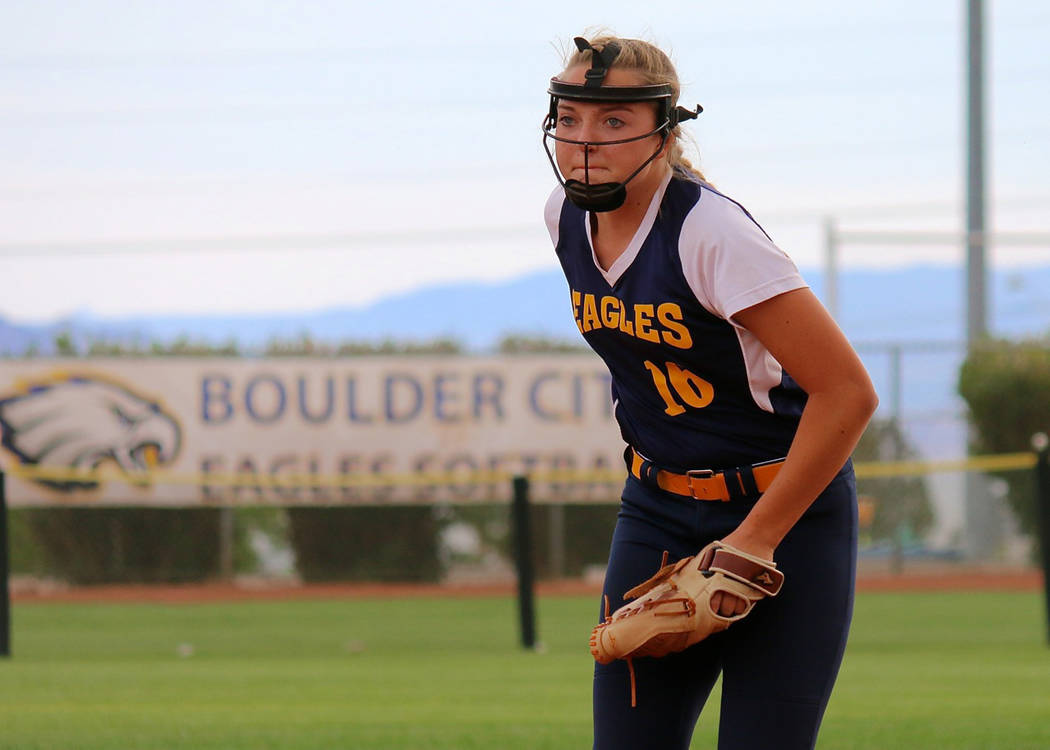 Expecting to get run ruled on Friday, Boulder City High School's softball program nearly picked up its biggest win of the season, before falling 1-0 to 4A program Sierra Vista.
"Even though we lost, I believe Friday will give us a lot of confidence moving forward," junior Bailey Bennett-Jordan said. "After talking to the parents during the week, a lot of them thought we were going to be run ruled by them. We all came out determined to prove them wrong. It's upsetting that we couldn't close it out, but we played a great game for sure."
Bennett-Jordan entered a shutdown pitchers duel with Sierra Vista senior Kalei Watkins that intensified in the sixth inning when Sierra Vista's Taylor DeGuzman scored the game's lone run on a wind-aided fly ball.
Pinch running for Watkins, who reached base on a walk to start the inning, DeGuzman scored from first base on Mia Buranamonti's fly ball to right field that got caught up in the wind and fell to the grass, before Lady Eagles freshman Elly Ramsey threw the ball to home.
Looking to even the score in the bottom of the sixth, Bennett-Jordan doubled off Watkins to start the inning, followed by successful bunts by junior Micayla Gegen and sophomore Ryann Reese to load the bases.
Squandering an opportunity to even the score, senior Alea Lehr was called out at home plate on a questionable call for the inning's final out, after pinch running for Bennett-Jordan.
Tagging on third base with two outs, Lehr dashed toward home plate with what appeared to be the game's tying run. Instead, the home plate umpire claimed Lehr had missed the bag, giving the Mountain Lions a third out.
"There are many different perspectives on whether or not she stepped on home plate," Bennett-Jordan said. "As a pitcher you hope the blue rules in your favor, however you also want the right call. It is tough because it can affect the team in multiple ways. I think as a team we will try to improve and work on this at practices that way when it comes to games, we will know how to handle the situation."
Charged with the loss, Bennett-Jordan's outing against the Mountain Lions was anything but, striking out nine batters while allowing just four hits.
"I honestly was scared knowing that they have some strong hitters," Bennett-Jordan said. "I made sure I talked to my catcher throughout the game and did my best to control the innings. This game not only gave me confidence, but showed me even more that my team is there to back me up."
Using their April 6 9-0 league victory over Chaparral to help fuel her against the Mountain Lions, Bennett-Jordan was near perfect on the mound against the Cowboys, throwing a no-hitter with 10 strikeouts and only one walk.
Junior Lily Osman had her most productive game of the season against the Cowboys, finishing 1-for-4 with four runs batted in and a home run.
Sitting 3-0 in league play, the Lady Eagles rested during spring break, before returning to play Monday against host Del Sol.
Contact Robert Vendettoli at BCRsports@gmail.com.
Upcoming games
Monday, vs. Del Sol, 3:30 p.m. home varsity, away junior varsity
Tuesday, vs. Southeast Career Technical Academy, 3:30 p.m. away varsity, home junior varsity.
Wednesday, vs. Virgin Valley, 3:30 p.m. away varsity, home junior varsity