Softball field dedicated in McMahon's memory
October 24, 2018 - 5:59 pm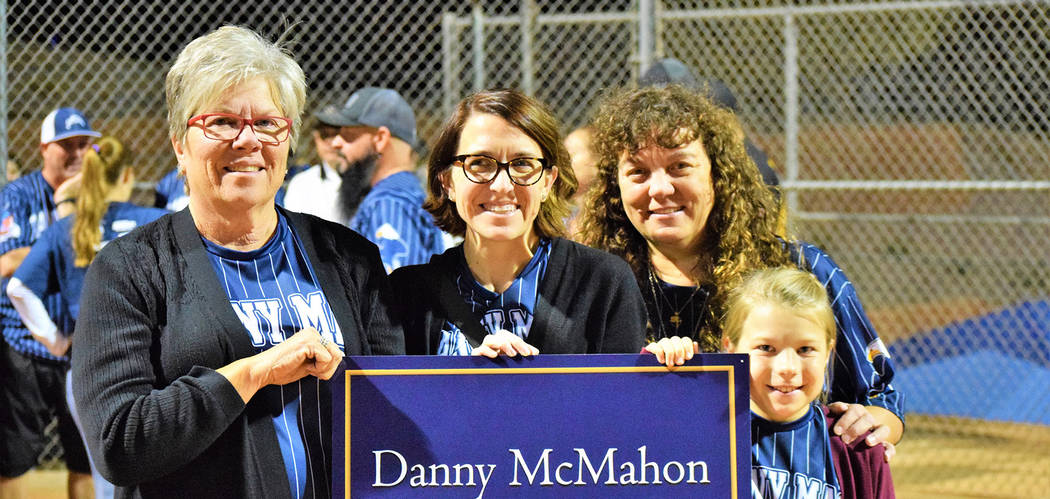 The life and commitment of local softball enthusiast Daniel McMahon was celebrated at Hemenway Valley Park on Oct. 18 when a softball field was dedicated in his memory.
McMahon, who died Aug. 12, 2017, was remembered by family, friends and colleagues for his 40-year affiliation with the sport as a player of slow-pitch softball and umpire for the National Softball Association, United States Specialty Sports Association, Southern Nevada Officials Association and Amateur Softball Association. He was inducted into the National Softball Association Sports Hall of Fame as an umpire in 2005.
His wife, Judy, daughter Kesha and granddaughter Adisynne were on hand to watch the dedication and hear tributes about his devotion to the game.
"Dan was an amazing man who loved the game of softball," said Roger Hall, director of parks and recreation for Boulder City. "He spent many nights umpiring on this field doing what he loved to do, and he would be very honored to have a softball field named after him. This is a tribute to a man and his passion to the game of softball."
Among those attending the dedication ceremony was Marty Lalley, head of the Nevada Softball Association for more than three decades.
"I spent a lot of time working softball tournaments with Danny," said Lalley, who had been friends with McMahon since 1978. "There wasn't a park in this town that we didn't work; a lot of the tournaments we ran I couldn't have run them without Danny being there with me all weekend long. He was a good friend. I miss him every day. I wish he was here."
McMahon was also revered for his time as a player.
"Dan and his teammates were some of the best players in Las Vegas at the time," Hall said. "One of the first things opposing teams would do when Dan got up to bat was back up onto the infield grass. Dan and his teammates could really crush the ball and hit many home runs outside of Bravo Field."
A true heavy hitter, Hall shared his fondest memories of McMahon's playing days.
"There use to be 50-foot elm trees that lined the outfield of Bravo Field," Hall said. "When we heard that Dan and his team were coming to Boulder City we ordered triple the amount of softballs because we knew what was about to happen. Dan would get up to the plate and with a mighty swing would crush the ball up and over the trees and land them into the infield of Whalen Field. There were so many home runs hit by Dan and his team that we had to keep people off of Whalen field during the tournaments because we were afraid they'd get hit."
McMahon was even better at hitting it off with people and forming relationships, according to those who worked with him.
Boulder City High School Principal Amy Wagner gave an emotional speech about the man loved by everyone at the school, where he worked for 15 years.
"Dan was an amazing man who loved Boulder City High School," she said. "He was at many games, most of the time as an official, but I'll never forget how quick he always was to give words of encourage after a missed play or a dropped ball. He was quick to let that student athlete know that that moment didn't define them. He embodies qualities that we talk about a lot at Boulder City High School and that's part of being a team, being a team member. His presence is missed every day on our campus. This type of dedication to a town that he loved, a game that he loved is amazing. It's a great night that we get to dedicate this field in his honor."
Contact Robert Vendettoli at BCRsports@gmail.com.