Soccer coach: Team full of talented players
August 22, 2018 - 4:31 pm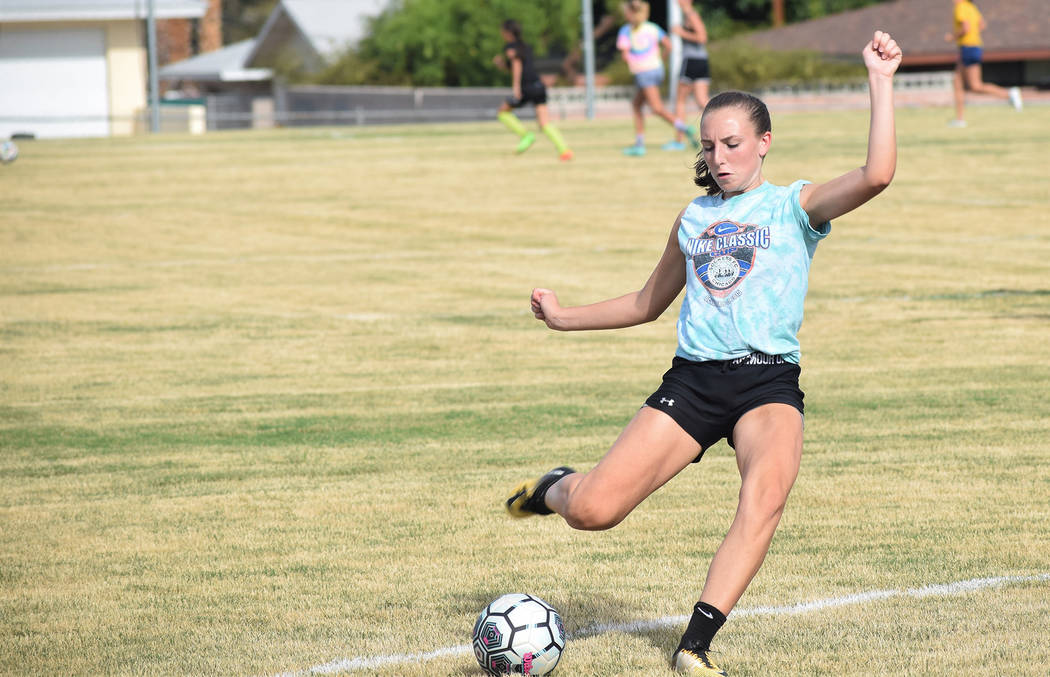 Boulder City High School's first-year girls soccer coach Arnold Oeland doesn't see it possible for his girls to be shut out once again after narrowly missing the postseason a year ago.
"When I look at this roster, I see a lot of talent," he said. "We have a lot of girls who are returning and who have been playing soccer at a high level throughout the summer. I'm excited to see everybody come together this season. If we play like I know we're capable of, I don't see how we don't make the playoffs."
The Lady Eagles are led by junior Madison Manns, who scored a team-high nine goals with five assists last year.
"We're very lucky to bring Madison back," Oeland said. "She's proven the past two (seasons) that she can score and lead our team in goals. I feel like this year we have more pieces to put around her, and our goal is to have a few Madisons out there. We want to get our goal scorers free so they can get open shots."
Looking to lend a helping hand on offense, junior captain Makenna Arboreen returns after scoring eight goals last year, while junior Trinity Oeland (one goal) and senior Lily Gibson are also expected to contribute.
Oeland said he is excited about offensive player sophomore Sophia Legat, who has shown a knack for putting the ball in the back of the net this summer.
"Sophia is still learning the game, but she's always a natural striker," Arnold Oeland said. "Her natural ability is something that takes years of practice. We're still getting her up to speed on the game of soccer as a whole, but if she gets a hold of the ball, man is she talented with it."
Gibson and seniors Elizabeth Taggard and Malia Davis are expected to be a power trio for the Lady Eagles' defense, while freshman goalie Quincy Gibson has been praised for making heads up play throughout the summer with her pumalike reflexes.
Finishing 6-8-1 a season ago, the Lady Eagles will host 4A Eldorado in their home opener at 3 p.m. today.
Boys soccer
Returning 12 players from a season ago, including 10 starters, hopes are high for Boulder City High School boys soccer program.
Sophomore striker Julian Balmer headlines the returning players for the Eagles, which ended last season with a 5-10-2 record. He lead the team with seven goals.
"I have high expectations for the team this year," Balmer said. "With an improved squad and a new field, I think most people will definitely expect us to win more and play more composed. I intend to help the team achieve that and I believe the playoffs should be a very possible milestone for us this year."
The team's last appearance in postseason play was 2013.
Joining him on offense will be juniors Noah Dent and Mason Hood, who each generated four assists last season, and senior Caden Mendiola (one goal).
Sophomore Brett Stewart is expected to be in the goal again this season after generating 1½ shutouts last season.
The Eagles open their season Tuesday at Adelson School.
Contact Robert Vendettoli at BCRsports@gmail.com.
Girls Soccer
Thursday, Aug. 23, vs. Eldorado, 3 p.m., varsity; 4:30 p.m., junior varsity
Boys Soccer
Tuesday, Aug. 28, at Adelson, 3 p.m. varsity