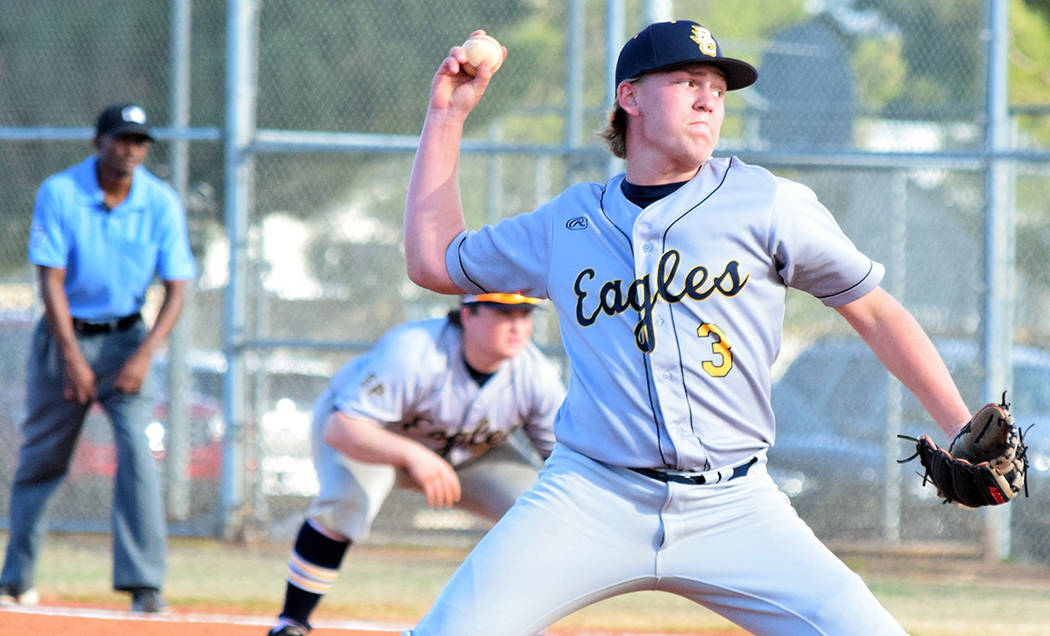 Playing far from their championship caliber pedigree, Boulder City High School baseball coach Ed McCann issued a warning to his team after the Eagles' 5-2 loss against Desert Pines on Tuesday, March 13.
Falling to 1-4 on the season, McCann said the Eagles will start executing at a higher level after being outscored 39-15 during the first week of play.
"A little dose of humility is good for the soul," McCann said. "What I think is going to happen is we're going to get better from this. Our lack of effort both from the coaches and players won't happen again. The guys hate to lose as much as I do. I expect them to give me nothing but their best, like I'm going to give them my best."
Entering Tuesday's outing against Desert Pines with a hangover from the 4A-laden Bengal Varsity Tournament that included double-digit losses from Faith Lutheran (12-2) and Shadow Ridge (15-0), the Eagles looked sloppy against the Jaguars from the start.
Trailing 3-0 heading into the top of the third, junior Jimmy Dunagan scored the Eagles' first run, followed by senior D.J. Reese in the fifth inning on an RBI from senior Anthony Pacifico.
Bringing the Eagles within a run in the fifth inning at 2-3, Pacifico hit a breaking ball through the gap to finish the day 1-for-3 at the plate.
Reese finished 1-for-4 and Dunagan finished 1-for-3.
Unable to capitalize on their momentum, however, the Jaguars rallied for two runs in the bottom of the fifth off Reese after freshman pitcher Troy Connell walked three batters in his third of an inning.
Connell was credited for both earned runs, while senior starter Rhett Armstrong was charged the loss after allowing three runs on five hits with four strikeouts in four innings of work.
"We're not going to take anything for granted from this game," McCann said. "I put a few guys in bad spots and that's my fault. We'll take this loss and learn from it. All of us."
Looking back on this past week's play before they head to Utah for the weekend, the Eagles found positives from their 7-0 victory against 4A Legacy on Friday, March 9, and a 7-4 loss against 4A Shadow Ridge on Saturday, March 10.
"We're not playing to the level that we want to be at, but it's early in the season," McCann said. "We did have a few nice moments this weekend. The guys played great against Legacy and we had fun. I know winning is in their DNA. We just have to get it out of them on a consistent basis."
Throwing seven scoreless innings, Reese and Armstrong combined for a no-hitter against the Longhorns.
Earning the victory, Reese threw four innings with a strikeout, while Armstrong threw three innings with four strikeouts.
Junior catcher Shaun Jones finished 2-for-2 against Legacy with a double and three RBIs, while Reese finished 2-for-3 with two RBIs.
Against Shadow Ridge, Dunagan finished 1-for-2 with a two-run home run despite the 7-4 loss.
The Eagles travel to Cedar City, Utah, today for the Desert Hills Invitational.
Contact Robert Vendettoli at BCRsports@gmail.com.
Upcoming games
Today, March 15, at Desert Hills Invitational in Utah, 2 p.m. varsity
Today, March 15, Slam Academy at home, 3:30 p.m. junior varsity
Friday, March 16, Desert Hills Invitational in Utah, 2 p.m.
Saturday, March 17, Desert Hills Invitational in Utah, 10 a.m.
Monday, March 19, at Western, 3:30 p.m. varsity, vs. Western, 3:30 p.m. junior varsity
Wednesday, March 21, vs. Mojave, 4 p.m. varsity, at Mojave, 4 p.m. junior varsity