Season sees tough start as Lady Eagles fall 50-34
November 30, 2016 - 2:01 pm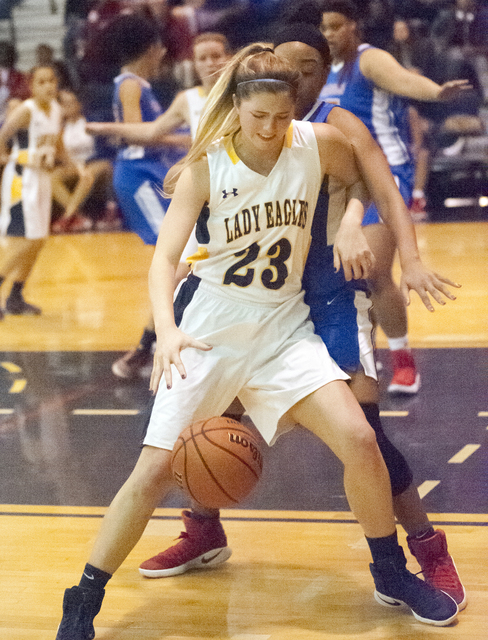 Life for the Boulder City High School girls basketball program got a little tough for the Lady Eagles on Tuesday, squandering a 4-point, first-half lead to the Vikings, before ultimately falling 50-34.
"We came out and attacked early and often," said assistant coach Kirk Estes, who will be filling in for head coach Paul Dosch for an undisclosed time period. "We moved the ball really well, got some opening looks during the first half and just put points on the board. The second half for some reason, we just couldn't get past their defensive schemes. I like the energy overall from them though."
Competing for the firs time in four seasons without former star guard Megan Morton, who earned 3A Sunrise League player of the year honors the past two seasons, Estes said the girls' offensive rhythm might take a little time to gel correctly, but noted that the Lady Eagles did a solid job at times creating opportunities.
"We're young at a lot of positions, which leaves us with some inexperience," Estes said. "The past few years the offensive game plan has been to get the best player in the conference the ball as many times as possible and let her create for herself. This year, we don't have that luxury so it's important for us to keep everyone in the offense involved and get as many good looks at the basket as well can."
In her varsity debut, freshman guard Madison Manns showed great poise in the offense, leading the team with 10 points, while adding three assists, three rebounds and a steal. A slashing guard who created a handful of and-one opportunities off of layups, Manns is expected to be one of the key contributors this season.
Also expected to be a key contributor, senior forward Julia Worrall added 7 points for the Lady Eagles, but did her best work Tuesday on the glass, pulling down a game-high nine rebounds along with an assist and a steal.
"I thought both of those girls did a great job tonight leading us," Estes said. "Julia was very active on the boards throughout the night and, for a freshman, I thought Madison did a really nice job keeping her poise and constantly attacking the basket, trying to make scoring opportunities."
Also providing the Lady Eagles with a solid debut, freshman Keely Alexander looked like she belonged during her backup minutes, pouring in 6 points with a rebound, including a late first-half layup that she converted off of a steal to give the Lady Eagles their first lead of the night 20-19.
With the team's youth movement in full effect, a pair of returners also generated solid performances. Junior forward Jerra Hinson had 5 points, two rebounds and a steal, and senior guard Alea Lehr had 4 points, two rebounds and two steals. Sophomore Hannah Estes added four rebounds and an assist.
Looking to find contributions from a variety of players, the Lady Eagles got a first-hand look at the new supporting cast, minus one important piece with returning sophomore guard Setia Cox sidelined with an injury. She is expected to be back before league play begins.
"Overall I liked what our girls brought to the table and I can't wait for them to get a few more games under their belts and really start meshing together out there," Estes said. "When Setia comes back, that's just another girl who can add points for us and contribute. Each game we're looking to improve; each game were going to fight to the end and give it our best efforts. If were going to win games, it's going to be because of that."
Looking to get their first win of the season, after playing the 4A Vikings, the Lady Eagles will face off against 2A opponent Calvary Chapel at 12:30 p.m. today in the Lake Mead Holiday Classic.
Contact Robert Vendettoli at BCRsports@gmail.com.
Upcoming games
Today, Lake Mead Holiday Classic, 12:30 p.m. vs. Calvary Chapel
Tuesday, vs. Bonanza, 3:30 p.m. junior varsity, 5 p.m. varsity