Schaper named region golfer of the year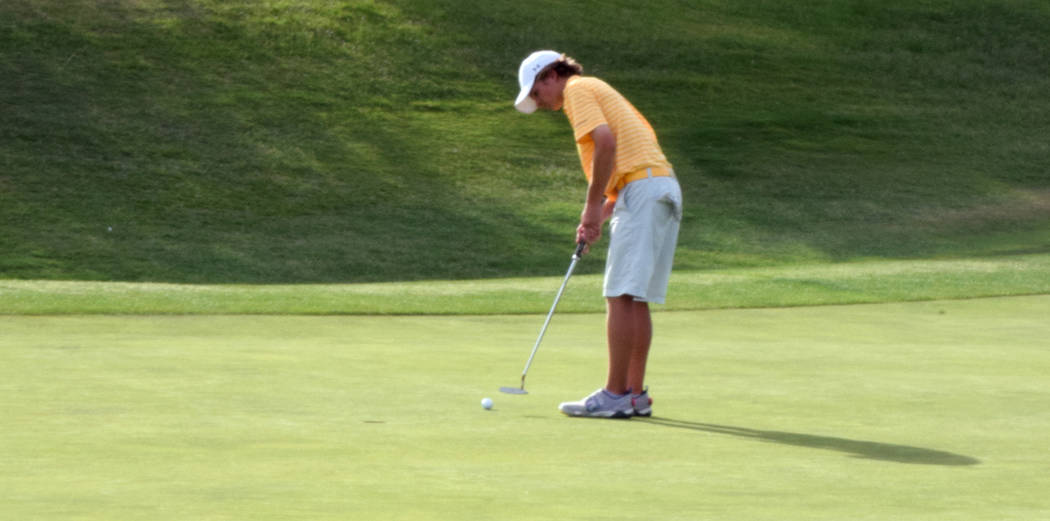 Blake Schaper, a freshman at Boulder City High School, was named the Class 3A Southern Region player of the year after placing third at the 3A state golf meet with an overall score of 152.
"It's honestly such a tremendous honor," Schaper said. "I owe this award to all of my teammates who pushed me to only get better each day in practice. Going up against great players helped make me a better player."
Finishing as the 3A Southern Region champion May 8 at Boulder Creek, Schaper shot a par 144 over the two-day event. A star from the moment he stepped on the green for the Eagles, he led the league with six first-place finishes this season.
"I really think Blake made strides as a golfer this year," said head coach Andy Schaper. "We thought he would come in and be able to contribute right away, but the season he put together for himself was very impressive. If he keeps working on his game, the sky could be the limit for his potential."
For his efforts, Blake Schaper was named a 3A All-Southern Region selection, along with senior Jackson Wright and freshman Kyle Carducci.
Finishing as the 3A individual state runner-up May 15, Wright shot the best score of his four-year prep career with the Eagles, shooting a 151 on the par-144 course. Wright finished his senior season with one first-place finish, five second-place finishes and one third-place finish.
"I honestly thought this was Jackson's best year," Andy Schaper said. "His state tournament performance was such a pleasure to watch. It couldn't have come at a better time for him. Being a four-year guy, Jackson has worked so hard to improve each season. He deserves this honor."
While Wright is departing from the program, Carducci is just getting started and is filled with potential, coach Schaper said. Finishing in 23rd place at state with a score of 176, Carducci made strides throughout the season with two third-place finishes and two fifth-place finishes.
"Kyle has all the tools to be special," Andy Schaper said. "It honestly wouldn't surprise me by the time they're seniors that Blake and Kyle are battling it out for the state title. I'm fortunate to have him for a few more seasons."
Featured on the 3A All-Southern Region second team were sophomore Dustin Landerman and junior Kevin Phelps.
"We had a solid core of five this year that battled it out each week to see who was going to be one of our top four scorers," Andy Schaper said. "They both worked extremely hard to find their place in the rotation, and it paid off for them."
Placing 26th at state, Landerman generated a third-, a fourth- and a fifth-place finish this season. Phelps, who placed sixth at the 3A Southern Region meet, finished with a first-, a second- and a third-place finish.
All five golfers were also named first-team All-Sunrise selections.
Contact Robert Vendettoli at BCRsports@gmail.com.