Schaper earns coach of year honor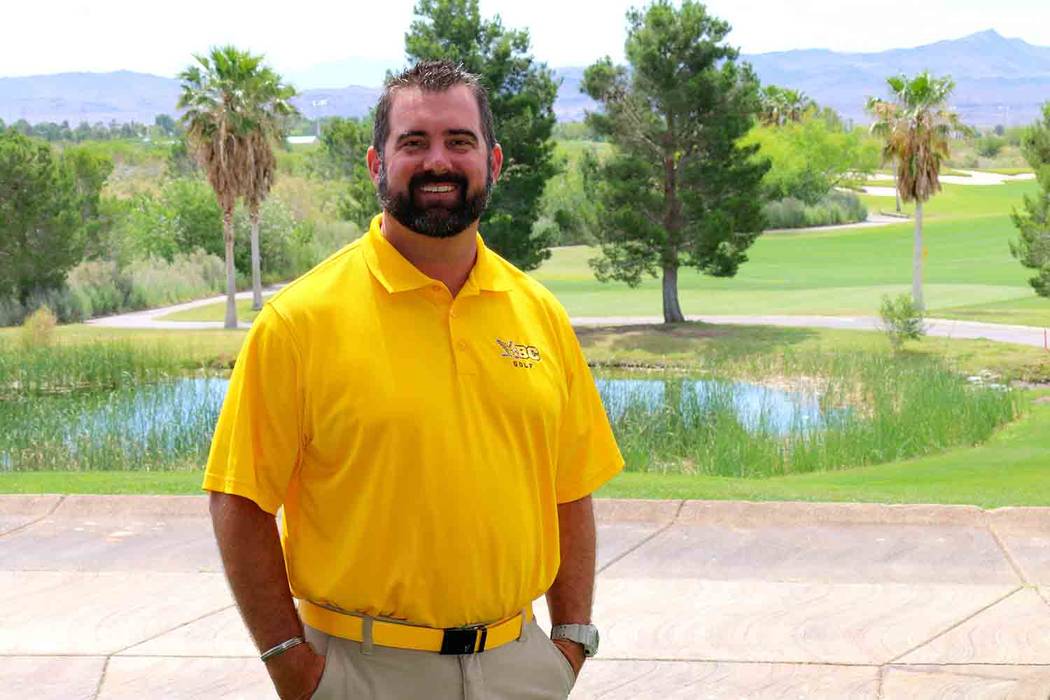 Placing five golfers on the 3A All-Southern Region team, Boulder City High School was rewarded for its phenomenal play under first-year head coach Andy Schaper.
Earning the 3A coach of the year award, Schaper guided the program to its first 3A state runner-up finish since 2007, finishing with an overall team score of 869 behind only northern competitor Spring Creek (815).
Schaper took over as the coach of the boys team this year after guiding the girls team for several seasons.
"I'm very proud of the boys and the way they played," Schaper said. "I just give them instruction. They're the ones who have to go out and put the ball in the hole. We've had a great season, and the boys deserve all the praise they've gotten."
The feeling is mutual.
"Having coach Schaper this year was amazing," said senior Kyler Atkinson. "I feel like he really helped us improve and definitely made a big impact on not only me but the entire team. He really pushed us throughout the course of the season, and in the end it benefited us. He made each of us better."
Earning a spot on the All-Southern Region first team, Atkinson ended his prep career tied for second with Pahrump Valley's Austen Ancell at the 3A state championship with a score of 154, trailing only Spring Creek's Daniel Mahlke. Finishing day one in fourth place with a score of 79 on the par-71 course, Atkinson scored a 75 on day two.
Atkinson finished first in five of six league matches this season while finishing second at the 3A Southern Region meet behind 3A golfer of the year Ancell.
"I was happy with the way my year went," Atkinson said. "I played solid at both region and state, so there isn't too much to complain about. Being an Eagle has been amazing. It's taught me a lot, not only as a golfer but also as a person. I was surrounded by great coaches and great teammates all four years, and I wouldn't change anything. I had a great four years."
Joining Atkinson on the first team were senior Cade Neilson and junior Jackson Wright.
Finishing in eighth place for the Eagles at the state meet, Wright proved he's capable of leading the team next season, finishing with an overall score of 164. Finishing his prep career, Neilson shot a 177 to finish 13th.
Throughout league play, Wright garnered single second-, third- and fourth-place finishes as well as five fifth-place finishes, while Neilson finished second, third (twice), fourth (twice) and fifth.
"It's a great feeling to place so many golfers on the All-Region team," Atkinson said. "I'm extremely proud of my team and how hard they worked. Finishing as the top team in Southern Nevada is definitely a great accomplishment for us and was a great way to finish the year."
Earning second-team honors for the Eagles were senior Samu Jancuk, who finished 16th at the state championship meet with a score of 180, and sophomore Kevin Phelps, who finished 28th with a score of 207.
Throughout league play, Jancuk garnered a third, two fourth-place finishes and two fifth-place finishes. Making his way up the rankings late in the season, Phelps became a player at the state meet when he improved his day one score of 118 to 89.
Atkinson, Neilson, Wright, Jancu and Phelps also made the All-Sunrise League first team, while freshman Dustin Landerman was named to the second team.
Contact Robert Vendettoli at BCRsports@gmail.com.