Safety No. 1 issue for summer activities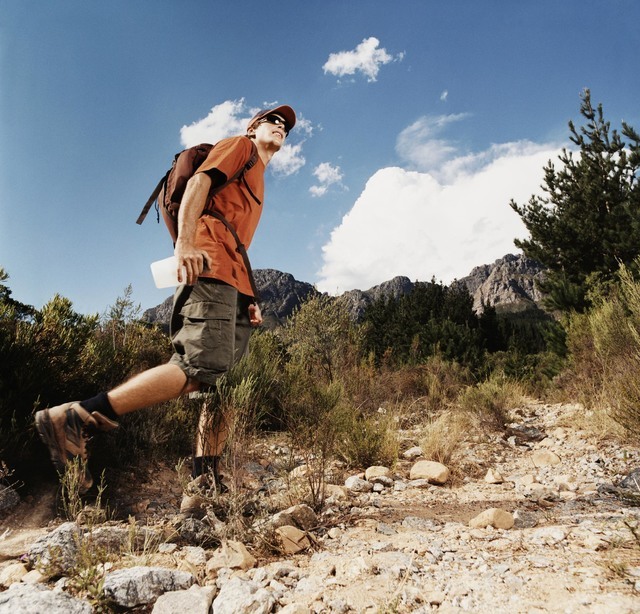 With temperatures hitting an extreme of 100 degrees on average in Boulder City during the month of July and what is expected to be most of August, the coaching staffs at Boulder City High School along with their players have all agreed that acclimating themselves to the heat early is their first order of business this month as they get set for organized practices.
"Heat acclimation in Nevada is very important," head football coach Chris Morelli said. "With the way this heat has been brutal this summer, it's very dangerous for athletes to be running around if they're not well-conditioned and used to playing under these conditions."
Since starting their summer camp series Wednesday, Morelli and his staff have made it their top priority to get their players acclimated to performing in the hot weather climate, putting an emphasis on conditioning and being weather smart first, rather than working on skill sets following a 1-8 campaign last season.
"Obviously we'd like to jump right into the playbook and get going immediately, but heat acclimation is a must for our program," Morelli said. "It's about being safe. There isn't a coach out here that doesn't want to take care of their players.
The next four days will give us an idea of where we stand conditioning wise and helps us protect our players."
With their camp program through Saturday, the Eagles will run an hour of straight conditioning through multiple stations, as well as individual offensive and defensive position drills to help get the players used to the team's everyday drills that target specific movements for their positions.
Avoid health risks
"We feel that this time is needed to get our kids prepared for the long season coming up," Morelli said. "With the team featuring several two-way starters this season, we must make sure that they're in the best shape possible to avoid injury and health risks down the line."
Football is not the only program at Boulder City High School that is taking the extra mile this summer, as cross-country head coach Canaan Petersen echoes Morelli's belief on the need for athletes to be well-conditioned in these weather conditions.
"These kids grew up here, in these blistering hot summers every year and still we feel the need to get them prepared physically because of the dangers this heat presents," Petersen said.
Detailing heat acclimation as a two-way street between himself and his players, Petersen stated that it's on his athletes to prepare themselves not only with extra conditioning during slightly cooler temperatures in the morning but staying properly hydrated throughout the process.
"The heat of Southern Nevada affects everything about cross-country," Petersen said. "We, as coaches, try to make sure practices and individual runs are performed on their own time, taking place during the early morning hours and during the evening. Hydration is essential in order to perform well as an athlete in the heat so water intake is a must. The runners understand how dangerous it can be out in the heat, so between their knowledge and continual education from coaches, everybody tries to make sure safety is top priority."
Extra dose of salt
Taking her hydration to the next level, junior girls golfer Lani Potter goes beyond the normal water routine, adding a salt capsule to her refueling regimen to stay prepared during her hot afternoon meets and sharp on the golf course.
"Staying hydrated is absolutely necessary," Potter said. "It's often the difference between winning and losing. When you start to become dehydrated, your decision-making ability fades. It's very easy to make a stupid mistake that could cost you the tournament. Obviously, becoming dehydrated will lead to serious health-related issues, which is why I add a salt capsule before and during my rounds, because you sweat a ton and your body loses a lot of salt."
Replacing lost water and salt in this weather climate isn't enough to stay full healthy and function properly, as Dr. Larry Smith, a chiropractic physician and board-certified adult/geriatric nurse practitioner, notes that the loss of electrolytes is becoming a serious issue.
"As your body sweats you're not only losing water, but your losing electrolytes," Smith said. "Everyone thinks that water is all you need during summer activities to prevent dehydration, but this couldn't be further from the truth. I tell my patients that they need to be consuming drinks with electrolytes in them, whether it be from sports drinks or juices, in order to restore their body properly. Not attending to loss of electrolytes can lead to irregular or altered heart beats, which could lead to further health complications."
Right attire
Besides from staying well-conditioned and hydrated, proper clothing in the summertime is a must for athletes. While you would think wearing the least amount of clothing possible during a hot summer day would be most beneficial, Smith stated that most cases of dehydration come from the body losing heat after contact with direct radiation from the sun.
"I know it sounds crazy, but wearing long sleeves in the summertime is very important because it helps protect your skin from the sun," Smith said. "This doesn't mean you have to wear a jacket in the heat, but a light, long-sleeve shirt is as beneficial to the body as wearing a hat is protecting you head during the extreme heat."
The same principles apply to all outdoor activities during the summer, including hiking, biking, swimming and boating.
Through conditioning, staying hydrated and limiting body exposure to the sun, athletes and outdoor enthusiasts can avoid serious risks to their health and remain safe while active in our desert heat.
Contact Robert Vendettoli at BCRsports@gmail.com.