Rout over Western bolsters homecoming festivities
September 19, 2018 - 4:49 pm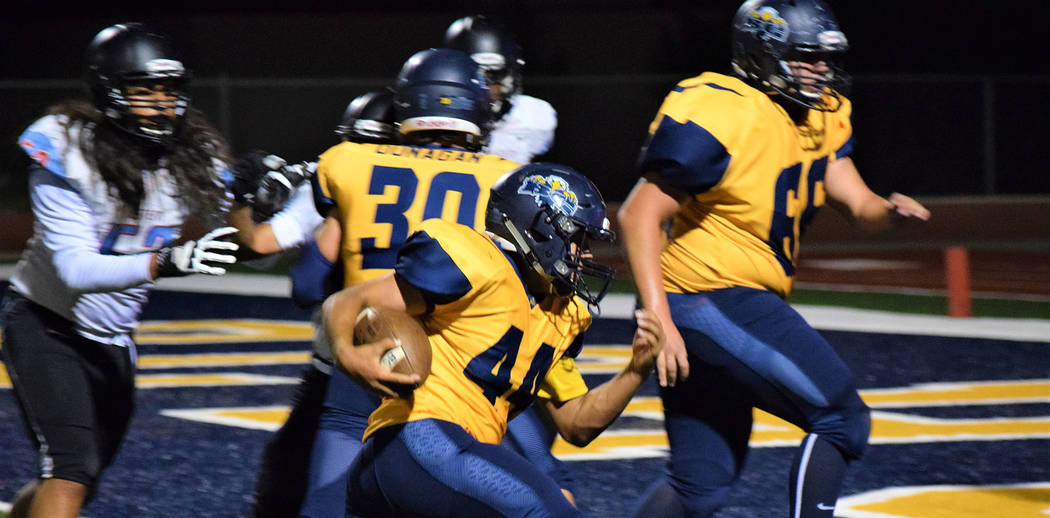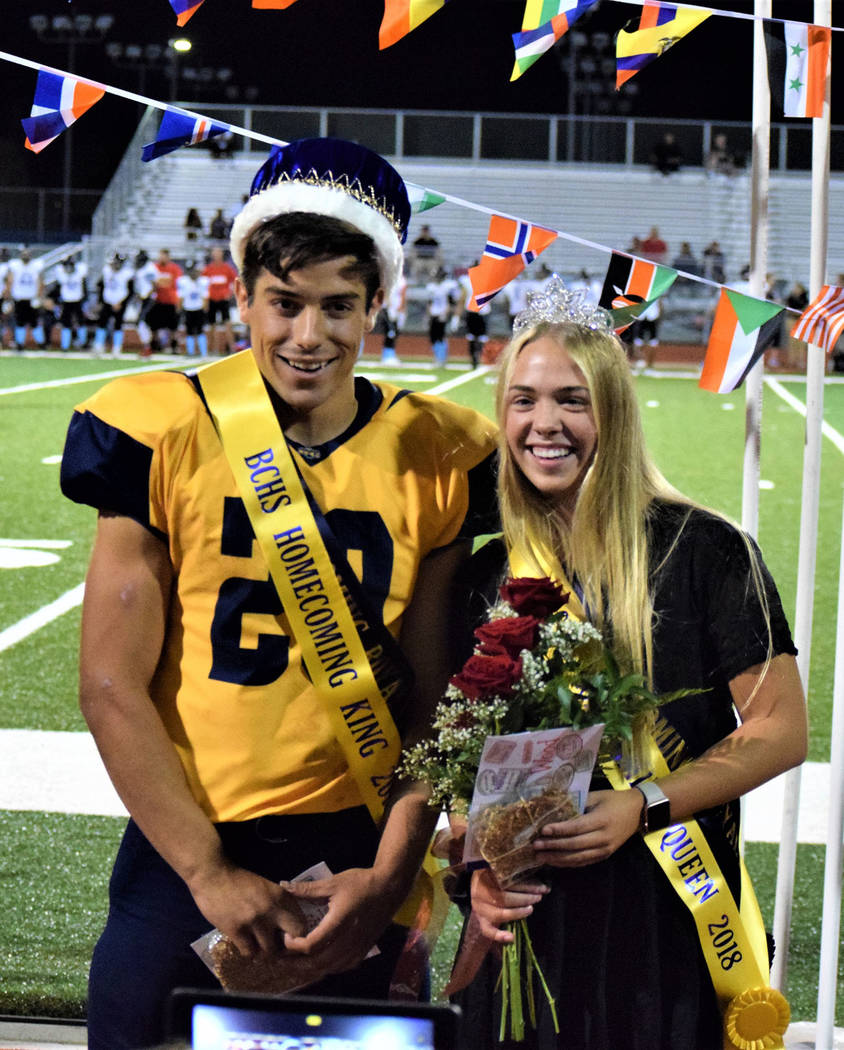 Homecoming festivities weren't the only celebration Friday night at Boulder City High School as the Eagles football team provided plenty of fireworks in its 41-3 blowout victory over Western.
It was the first time the Eagles have won their homecoming game since 2012.
"I thought the boys played really well," head coach Chris Morelli said. "As a coach, homecoming drives you crazy because the focus might not always be there from your players, but they did a nice job of staying away from the distractions and played football."
The Eagles gave a packed crowd plenty to cheer for, scoring four touchdowns in the first quarter to start the celebration early.
Finding his way to the end zone on several occasions, senior running back Thorsten Balmer scored on runs of 10, 5 and 3 yards to start the game, followed by a 21-yard passing touchdown from junior quarterback Parker Reynolds to senior Jimmy Dunagan late in the first quarter.
"I thought offensively we played really sound as a team," Morelli said. "Balmer did Balmer things obviously, but the team as a whole, our offensive line, we were all in sync. We moved the ball really well."
Carrying 16 times for a game-high 169 yards and four touchdowns, Balmer ended his night early after being named homecoming king. He scored the Eagles' last touchdown on a 14-yard run on their first possession of the third quarter.
"Winning my senior year homecoming game was very special for me and all of the other seniors," Balmer said. "We've gone all of our high school football careers without a homecoming win, so winning our last one was unforgettable."
Gaining 364 yards of total offense, senior running back Gino Carroll also scored a touchdown, plunging his way for a 3-yard score late in the second half.
Carroll generated 55 rushing yards off eight carries, while sophomore backup quarterback Matt Felsenfeld finished the game for the Eagles with 50 yards on the ground off seven carries.
Not needing to do a lot through the air because of their potent rushing attack, Reynolds finished 3-for-7 on the night passing for 70 yards, while sophomore receiver Trey Davis caught two passes for 49 yards.
Fueling a defensive effort that only allowed 110 yards, Dunagan generated eight tackles and a sack.
The Eagles face their biggest game of the season tonight, looking to make it four consecutive wins when they host rival Virgin Valley on Thursday Night Lights provided by myLVTV.
Contact Robert Vendettoli at BCRsports@gmail.com.
Upcoming games
Today, Sept. 20, vs. Virgin Valley, 7 p.m. varsity (Thursday Night Lights)
Friday, Sept. 21, vs. Virgin Valley, 4 p.m. freshmen