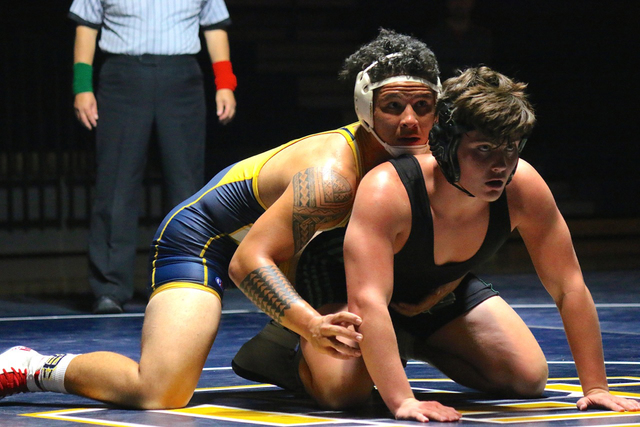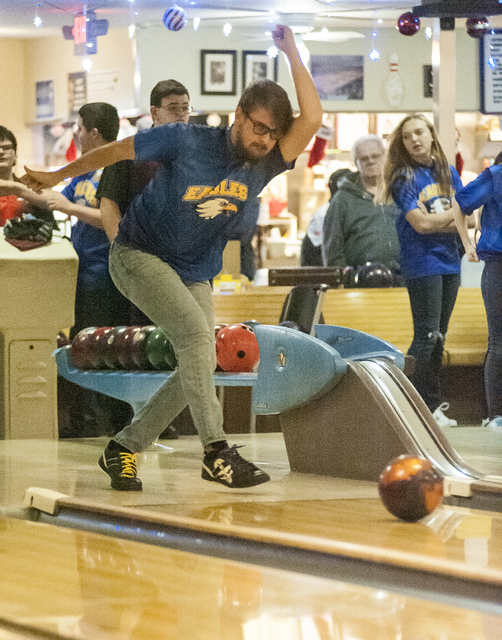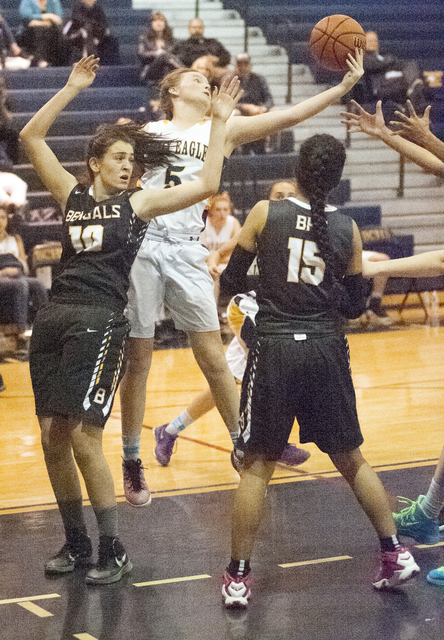 Wrestling
The Boulder City High School wrestling program started its season off strong with a 6-0 record, defeating 4A programs Palo Verde and Liberty Dec. 1, along with 3A rivals Virgin Valley, Pahrump Valley and Chaparral and 2A program Laughlin during a home meet Saturday.
"6-0 on the week — I thought we did a great job as a team," assistant coach Allen Haines said. "The guys came out and responded well. Now we need to take this momentum and get comfortable with being on the road. We have trips to California and Utah coming up that will help us adjust and get us out of our comfort zone."
Earning wrestler of the week for the Eagles' program, senior 170-pound wrestler Bryan Foster garnered a 6-0 record, but was nominated for his competitive spirit more than his athletic achievement, after overcoming a grueling match in which Foster said he almost gave up.
"It's a great honor to be named wrestler of the week for the first time," Foster said. "I liked my performance from this past week, the fact that even when I wanted to quit mentally, I dug deep and made it through the match with a victory. I still have a lot of areas to improve upon, but this is a nice start for me."
Also generating 6-0 records over the week were seniors Devin Fox (220 pounds) and Dillon Viera (160 pounds), juniors Octavian Trumbo (152 pounds) and Garrett Leavitt (113 pounds) and sophomore Mike Kaposta (275 pounds).
Picking up 5-1 records for the Eagles were senior Jimmy Brown (132 pounds), juniors Zane Dennington (120 pounds) and D.J. Reese (126 pounds), sophomore Ryan Vanario (195 pounds) and freshman Curtis Brown (106 pounds), while junior John Oliver (145 pounds) compiled a 4-1 record and freshman Ladd Cox (138 pounds) finished 3-2.
The Eagles will resume their season on Friday when they travel to California for the La Costa Canyon Duals.
Girls basketball
Following Tuesday's 49-21 victory over Bonanza, the Boulder City High School girls basketball program enters the week at 3-3.
Using an all-around effort to defeat the Bengals, senior forward Julia Worrall led the way with 11 points, while junior forward Jerra Hinson and freshman guard Madisan Manns added 8 and 7 points, respectively.
Combining to go 2-2 in the Lake Mead Holiday Classic, the Lady Eagles defeated Calvary Christian (California) 57-11 and Clark 47-41, while losing to 2A programs Calvary Chapel 31-21 and Lincoln County 45-37.
Standouts performances include Manns and senior guard Alea Lehr scoring 15 and 11, respectively, against Clark, freshman guard Keely Alexander scoring 10 points against Lincoln County, and Manns and freshman Ellie Howard scoring 15 and 12 points, respectively, against Calvary Christian.
Off for the week with a chance to regroup, the Lady Eagles will resume their season Monday on the road at 4A opponent Basic.
Bowling
Both Boulder City High School bowling programs split a pair of league contests recently, concluding the week 1-1.
For the boys, the Eagles were able to edge their way past Southeast Career Technical Academy 1,880-1,795 on Nov. 30, behind the strong play of senior Ed Rassuchine, who led the way with an overall score of 539. Finding success against the Roadrunners, sophomore Sam Holt finished as the Eagles' second-highest bowler with a score of 476, while seniors Samu Jancuk and Connor Armstrong both finished with scores of 433.
Later dropping Monday's contest to Chaparral 2,059-1,789, the Eagles weren't able to keep up with the Cowboys' high scoring, despite a 519 point effort from Rassuchine.
The Lady Eagles weren't able to hold off the Roadrunners, falling 1,814-1,577, but later defeated the Cowboys 1,629-1,046.
Leading the way for the girls, senior Abigail Harling bowled a 478 against the Roadrunners, with freshman Christine Smith bowling a 415. Against the Cowboys, senior Alexis Cable broke 500, while Harling scored 426 on the day.
Staying consistent, junior Bailey Bennett-Jordan bowled 358 in both games, while Smith bowled 345 against the Cowboys.
Contact Robert Vendettoli at BCRsports@gmail.com.
Upcoming games
Girls Basketball
■ Tuesday, at Basic, 3:30 p.m. junior varsity, 5 p.m. varsity
■ Wednesday, vs. Pahrump Valley, 3:30 p.m. junior varsity, 5 p.m. varsity
Bowling
■ Today, vs. Somerset Academy at Texas Station, 3 p.m.
■ Monday, vs. Del Sol at Wildfire, 3 p.m.
■ Wednesday, vs. Somerset Academy-SkyPointe Campus at Texas Station, 3 p.m.
Wrestling
■ Friday-Saturday, La Costa Canyon Duals in Carlsbad, California
■ Saturday, at Chaparral, Cowboys Junior Varsity Duals, TBA