Roundup: Volleyball team starts postseason play with easy win
November 1, 2017 - 2:52 pm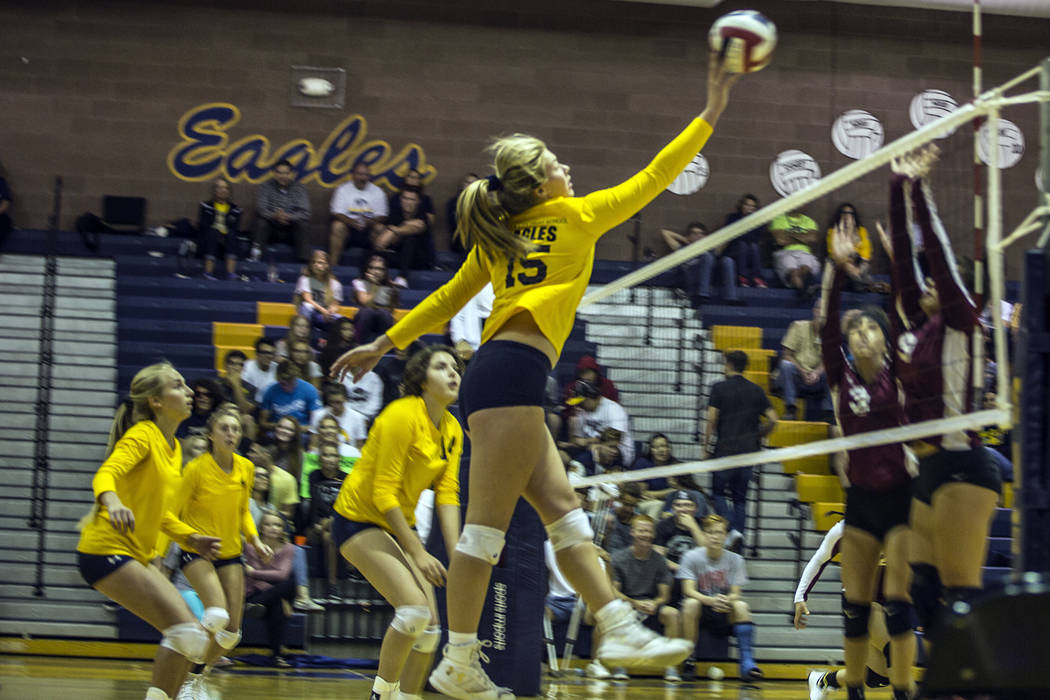 Boulder City High School girls volleyball team got through its first postseason test with ease Tuesday at tournament host Pahrump Valley, completing a 3-0 sweep against Mojave.
Dominating with steady ball movement, the Lady Eagles (24-15) cruised to a 25-20, 25-15, 25-10 victory over the Rattlers, combining for 34 assists on the night.
Recording a double-double on the night, senior Maggie Roe led the Lady Eagles' effort with a game-high 19 kills along with 15 assists. Entering her last postseason with the Lady Eagles, Roe showed early that she's determined to step up in big game situations.
"I definitely love the intensity of tough competition, it makes me play ten times more aggressive," Roe said. "Tonight was a good victory for our team. We talked a lot on the court, which helped us keep our play up."
Roe also had a pair of serving aces and blocked shots each.
Dishing out a game-high 19 assists of her own, freshman Ava Wright routinely found Roe and freshman Kamry Bailey throughout the night to fuel the Lady Eagles' victory.
Tallying 10 kills, Bailey also had five serving aces. A beneficiary of Wright's and Roe's unselfishness with the ball, junior Setia Cox also had her best game of the season with seven kills.
Riding the momentum from their 3-0 senior night victory over Del Sol on Oct. 25, the Lady Eagles hope to continue their winning ways tonight against Pahrump Valley in the 3A Southern Region semifinals.
Against the Dragons, Roe tallied 19 kills and eight assists, while Bailey generated six kills and aces apiece with five digs.
Wright finished with 12 assists, while sophomore Raegan Herr finished with six assists.
Girls soccer
Boulder City High School girls soccer program ended its season on a high note Oct. 26, routing visiting Chaparral 6-0 on senior night.
Erupting for five goals in the second half against the Cowboys, seniors Jaydin Darling and Taylor Tenney ended their prep careers with their best games of the season, each scoring two goals, while senior Rebecca Smith scored one.
Leading the Lady Eagles' youth movement, sophomore Trinity Oeland scored a second-half goal, while sophomore goalie Erin Taggard kept the Cowboys out of the net.
Senior Sydney Manns dished out two assists in the offensive showcase.
Contact Robert Vendettoli at BCRsports@gmail.com.
Upcoming games
Volleyball
Today – Saturday, Nov. 4, regionals at Sunrise Mountain, TBA
Nov. 10 and 11, state championships at Faith Lutheran, TBA