Roundup: Volleyball star Roe named to Phenom watch list
January 4, 2017 - 2:17 pm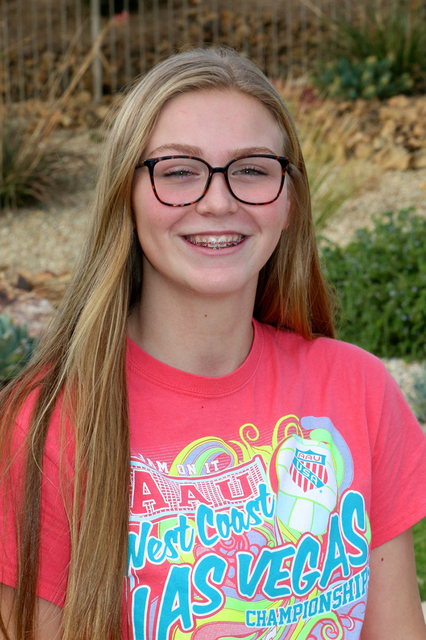 Boulder City High School junior girls volleyball star Maggie Roe was selected to the American Volleyball Coaches Association Phenom Watch List for the second consecutive season, highlighting the country's brightest high school athletes.
"This was a great experience for her," head coach Cherise Hinman said. "Many East Coast and Midwestern schools have made contact. (She) hopes to concrete her collegiate plan late this spring."
Traveling to Columbus, Ohio, from Dec. 14-18, Roe not only got watch the NCAA semifinals and national championship matches but got to showcase her talents in front of several collegiate evaluators.
"Overall, it was a fun experience," Roe said. "I got to play with some great players and watch some amazing games."
Known nationally for her hitting accuracy, Roe was a 3A Nevada All-State selection this past season after leading the state with 457 kills while finishing 10th in the country with a hitting percentage of .551.
An all-around player for the Lady Eagles, the team's co-captain also led the way in digs (333), serving aces (89) and blocked shots (85).
Cross-country
Coming off a fifth-place finish at the 3A state championship meet in November, Boulder City High School boys cross country star senior Tyler Campbell was named a Nevada All-State honorable mention selection.
Putting together an amazing season, Campbell generated a pair of first-place finishes at the Boulder City meet Sept. 14 with a time of 18 minutes, 15 seconds, and at the Southern Nevada Division finals on Oct. 15 with a time of 17:24.4.
Setting a person best at the 3A Southern Region meet Oct. 28 with a time of 16:29.7, Campbell concluded his prep career with a time of 16:32 at the 3A State meet Nov. 5.
Campbell finished in the top 10 in all eight of his 3A races, while finishing 22nd during the Palo Verde meet Sept. 3 and 19th at the Falcon Invitational at Foothill High School Sept. 24. Both events were laden with 4A state qualifiers.
"It was really cool to see my name in the Las Vegas Review-Journal," Campbell said. "I was honored to be listed alongside so many names that I know belong to amazing runners and athletes."
Contact Robert Vendettoli at BCRsports@gmail.com.
Bowling
Tuesday, vs. Southeast Career Technical Academy at Wildfire, 3 p.m.
Wrestling
Friday, at Pahranagat Valley Invitational in Alamo, TBA
Tuesday, vs. Moapa Valley, 5 p.m. junior varsity; 6 p.m. varsity
Flag Football
Friday, at Southeast Career Technical Academy, 2:30 p.m. junior varsity; 3 p.m. varsity
Tuesday, vs. Del Sol, 3:30 p.m. junior varsity; 4:30 p.m. varsity