Roundup: Tough opponents bring tough losses for boys basketball team
December 14, 2016 - 2:42 pm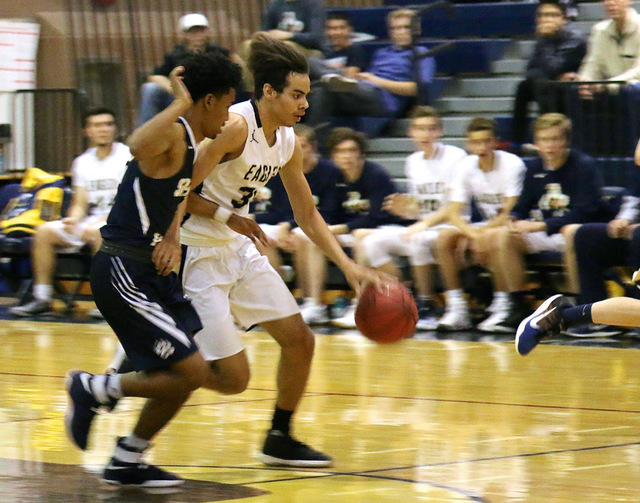 The Boulder City High School boys basketball program dropped to 3-5 this week, losing to 4A programs Spring Valley on Dec. 7 and to Basic on Monday.
"When you play tougher competition, losses can be expected," head coach John Balistere said. "The boys have shown a lot of heart this season and have gotten better with each game. I like where we're heading."
Closing out their preseason schedule of 4A programs with the Wolves on Monday, the Eagles nearly pulled off an upset on the road, before Basic's De'Shawn Eagles drained a 13-foot buzzer beater to hand the Eagles a 42-41 loss.
"My heart really feels for these guys after this one," Balistere said. "We fought our way back in the second half and had a chance to close it out. It's a good sign moving forward though, that were capable of beating good teams."
Trailing 26-10 at halftime, the Eagles rallied in the second half, continuing not only to spread the ball around offensively, but upping their performance and intensity on the defensive end dramatically.
Junior guard Carson Balistere led the way offensively with 13 points, while senior forward Justus Green scored 9.
Finding balance behind their two stars, sophomore Karson Bailey scored 6 points, while juniors Billy Ferrence, Bailey Gossard and Zach Trone each scored 4 points. Junior Clayton Pendleton scored 3 points.
Not fairing so well during their 69-53 loss to Spring Valley, Bailey scored 16 points, while Green had an all-around performance of 10 points, seven rebounds and four assists.
The Eagles will resume play Friday at home against Sunrise Mountain.
Girls basketball
The Boulder City High School girls basketball program dropped to 3-4 this week, losing to 4A program Basic on Monday.
Losing in a nail-bitter, the Lady Eagles weren't able to contain the Wolves in the fourth quarter, getting outscored 14-5.
"We are a very young team; we need to trust each other more on both sides of the floor," said head coach Paul Dosch. "We need to play with more toughness and be more competitive. It's a work in progress. This is the most coachable team I've had in four years."
After averaging 47.5 point per game through their last four contests, the Lady Eagles suffered through an off-shooting night, connecting on only six field goal attempts, while shooting 11-of-23 from the free-throw line.
Senior forward Julia Worrall scored a game-high 8 points, while freshman guard Madisan Manns scored 5 points. Freshman forward Ellie Howard scored 4 points, while junior forward Jerra Hinson and senior guard Alea Lehr scored 3 and 2 points, respectively.
The Lady Eagles will resume play Friday at home against Sunrise Mountain.
Bowling
Boulder City High School's bowling programs trended in different directions Monday against Del Sol at the Wildfire, with the Lady Eagles picking up a win against the Dragons, while the boys were not able to overcome their up-and-coming opponent.
"Both programs are kind of heading in different directions, but we're confident come season's end that both teams will be where we want them to be," head coach Rodney Ball said. "The girls are currently hitting the groove and are playing well ahead of where we thought they'd be, which is a positive sign. The boys have shown promise as well; we'll get everything rolling soon."
Dominating their way past the Dragons 1,807-1105, the Lady Eagles were led by freshman Christine Smith, who topped all scores with 492 points, including a high of 201 in her second game.
Seniors Abigail Harling and Alexis Cable found their grooves, scoring 478 and 464, respectively, while junior Bailey Bennett Jordan paced the team with a score of 372.
Having a fine outing for the boys, senior Ed Rassuchine rolled a 572, including a high of 236 his first game, despite a 2,317-1,827 loss to the Dragons.
Senior Samu Jancuk and sophomore Sam Holt bowled 442 and 417, respectively, while senior Connor Armstrong bowled 290 in a pair of games and sophomore Connor Dykstra bowled 106 in one game.
Contact Robert Vendettoli at BCRsports@gmail.com.