Roundup: Tennis teams end league play undefeated
September 27, 2017 - 2:41 pm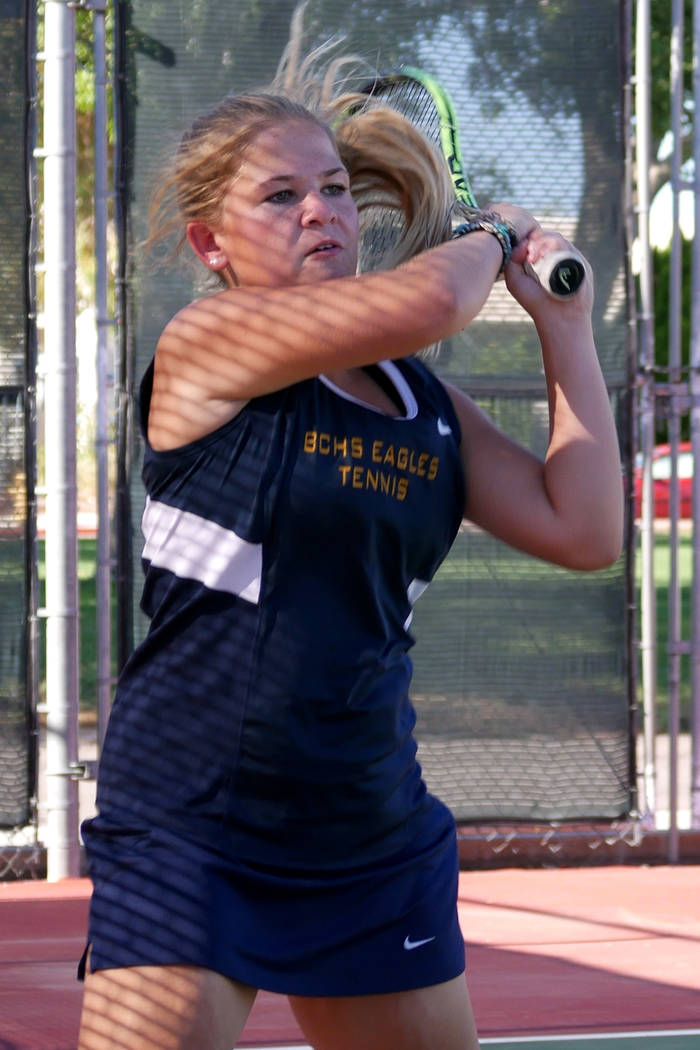 Charging past Chaparral on Tuesday, both Boulder City High School tennis programs completed their league slates with 10-0 records.
"I'm so proud of how this team has performed," girls head coach Jami Pappas said. "The girls have worked hard this year. I have been tough on them and they have all stepped up and will continue to put their game face on and be present in every match."
Cruising past the Cowboys 14-4, the Lady Eagles were led by a 2-0 effort from senior singles competitor Jillian Gents, followed by 1-0 efforts from junior Olivia Goodfellow and sophomores Tegan Pappas and Olivia Mikkelson.
In doubles play, sophomore Katelyn Fox won a match each with juniors Natalie Bowman and Heather Patterson.
The Lady Eagles also defeated Moapa Valley on Monday 12-6.
Dominating Chaparral 18-0 Tuesday, the boys haven't let off the throttle this season also defeating Moapa Valley 17-1 on Monday.
Well-rounded as a whole, seniors Andre Pappas and Sam O'Berto finished 2-0 in singles, along with sophomore Connor Mikkelson.
Generating wins as well, sophomore Breton Erlanger finished 1-0.
In doubles competition, the tandems of junior Karson Bailey and senior Tanner Montgomery, senior Clayton Pendleton and sophomore Ty Pendleton and sophomores Boen Huxford and Preston Jorgensen all finished 2-0.
Waiting for postseason play to begin, a recap of the Eagles' Wednesday match against Desert Pines will appear in next week's issue.
Boys soccer
Knotted at 1-1 apiece, sophomore Benson Deml took control of the game with a second-half goal, helping Boulder City High School boys soccer edge rival Moapa Valley 2-1.
"We played really well today," head coach Chad Smith said. "We started the game with a take-no-prisoners attitude and coupled that with the skill. We're hopeful to take this same energy into the remainder of our games this season."
Scoring the Eagles' first goal, sophomore Mason Hood was assisted by freshman Julian Balmer. Playing more aggressively the Eagles got 11 shots on the goal Tuesday.
Junior Caden Mendiola led the way with nine steals, while senior Alex Krausman added eight steals. Protecting the net, freshman Bret Stewart had six saves.
Hoping to keep their winning momentum alive, the Eagles will travel to Del Sol today and Chaparral on Monday, followed by a home game against Somerset-Sky Pointe on Tuesday.
Girls soccer
Unable to hang with rival Moapa Valley on Tuesday, Boulder City High School girls soccer fell 2-1.
Falling to fourth place in the 3A Sunrise Standings with a tiebreaker loss to the Pirates, the Lady Eagles (3-4-1) were shutout in the first half 1-0, before sophomore Madison Manns evened the score with an unassisted second-half goal.
Her team-leading eighth goal of the season, the Lady Eagles were unable to match the scoring production of Moapa Valley, which garnered a goal each from Kilee Fisher and Christie Eriksen.
Hoping to stay in contention for a postseason berth, the Lady Eagles will host Del Sol today and Chaparral on Monday, followed by a road game at Somerset-Sky Pointe on Tuesday.
Contact Robert Vendettoli at BCRsports@gmail.com.
Upcoming games
Boys and Girls Tennis
Today, Sept. 28, vs. Desert Pines, 3 p.m.
Tuesday, Oct. 3, – Oct. 7, team regionals, TBA
Girls Golf
Today, Sept. 28, vs. Moapa at CasaBlanca, 11 a.m.
Tuesday, Oct. 3, league match at Las Vegas National, 1:30 p.m.
Wednesday, Oct. 4, vs. Pahrump at Mountain Falls, 12:30 p.m.
Girls Soccer
Today, Sept. 28, vs. Del Sol, 3:30 p.m. varsity, 5 p.m. junior varsity
Monday, Oct. 2, vs. Chaparral, 3 p.m. junior varsity, 4:30 p.m. varsity
Boys Soccer
Today, Sept. 28, at Del Sol, 3:30 p.m. varsity, 5 p.m. junior varsity
Monday, Oct. 2, at Chaparral, 3 p.m. junior varsity, 4:30 p.m. varsity