Roundup: Strong pitching can't save Eagles baseball team; swimmers continue win streak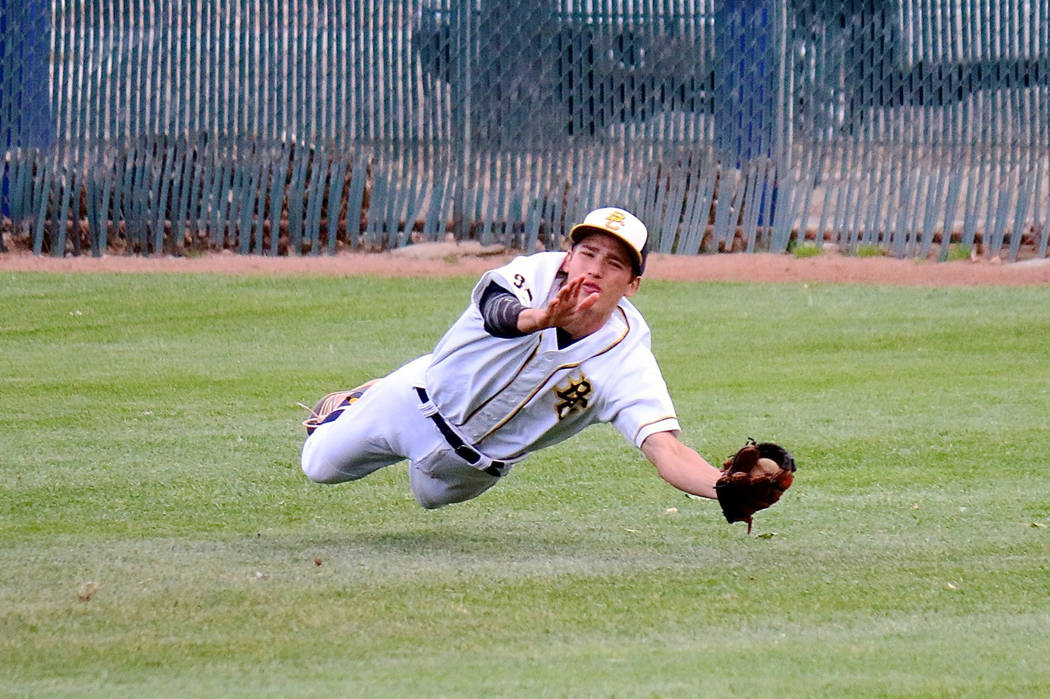 Moapa Valley baseball stunned Boulder City on Tuesday, defeating the Eagles 2-1 despite a gem from senior pitcher Jake Hubel, who allowed only two hits.
Chase Hadley powered the Pirates to the upset victory, knocking in Colby Longman for the winning run in the fifth inning.
"Jacob pitched a hell of a game," head coach Bobby Reese said. "It's just unfortunate we couldn't score some runs for him. We had guys on base; we just didn't execute when it mattered most. Hopefully we will learn from this and do what we can to improve going forward."
On top of his game Tuesday, Hubel threw a complete game with eight strike outs. His lone walk on Moapa Valley hitter Anthony Cornwall proved costly after the Pirates senior stole two bases and scored on an error for the game's first run.
Junior D.J. Reese (2-for-3) had the lone run batted in for the Eagles, knocking in senior Kodey Rahr in the fourth inning.
Playing up to their ability in their league opener against Southeast Career Technical Academy on Friday, the Eagles exploded for five runs in the fourth inning to escape with a 6-2 victory.
Finding their groove at the plate, junior Nolan Herr and sophomore Shaun Jones both knocked in a pair of runs in the fourth inning, while senior Aaron Kehoe finished 2-for-2 at the plate.
Gaining another strong pitching performance from Rhett Armstrong, the junior struck out five batters, while allowing four hits.
On March 30, the Eagles defeated Desert Pines 6-5.
Facing a tough challenger in Chaparral today at home, coach Reese promised that the boys, who opened the season as the division favorite, wouldn't take that designation lightly after Tuesday's upset.
"We know that we can get beat by anyone on our side this season," Reese said. "Everyone has improved this year; we certainly are not taking our opponents lightly."
Swimming
Senior Ben Missel powered Boulder City High School's boys swim program over Sierra Vista 140-134 on Saturday at Heritage Park, edging out Desmond Flor in the 50-yard freestyle.
Neck and neck with the 4A Mountain Lions throughout the day, Missel's first-place 6-point finish proved to be the difference, pulling ahead of Flor (25.27) with a time of 25 seconds.
"Before the race, I was just hoping to get some points for my team," Missel said. "I didn't notice how close the race was till the very end when I saw him on my breath and we were equal to each other, so I gave it everything I had and didn't breath for the rest of the race."
Senior Braden Klouse (200-yard freestyle and 100-yard butterfly) and sophomore A.J. Pouch (100-yard breaststroke and 200-yard individual medley) each won their events.
"We all knew this was going to be a serious fight," Pouch said. "It's an exceptionally rewarding win with everyone stepping up to the block and making it happen."
Pulling away from the Mountain Lions 226-74, the Lady Eagles had no trouble with their higher-class opponent, sweeping all 11 events on Saturday.
Seniors Montana Lloyd (50-yard freestyle and 500-yard 500-yard freestyle) and Abby Sauerbrei (100-yard backstroke and 100-yard freestyle) each placed first in their events, along with sophomore Rose Pouch (100-yard butterfly and 200-yard freestyle).
Senior Mandy Gebhart (200-yard individual medley) and sophomore Aimee Garcia (100-yard breaststroke) also earned first-place finishes.
With both programs 3-0 on the season, the Eagles will be tested today against 4A program Shadow Ridge at the Henderson multigenerational center.
Boys Golf
Boulder City High School's boys golf program picked up a big win on Tuesday against 4A program Green Valley, defeating the Gators 220-248 at Legacy Golf Club.
"It was a good team win today," head coach Andy Schaper said. "We are getting closer to having a couple scores in the 30s for nine holes and 70s for 18 holes."
Leading the way for the Eagles, senior Kyler Atkinson and junior Jackson Wright each tied for second with a score of 40 on the par-36 course, only two strokes behind Green Valley leader Ty Klabacka.
Also putting together one of his best performances of the season, senior Cade Neilson finished third with a score of 45, matching a season-best nine strokes over par.
"The team is starting to make less big numbers throughout the rounds," Schaper said. "They have been working hard to eliminate the mistakes following each match. It's great to see their hard work paying off."
The Eagles, 5-0 for the season, will resume league play today at Boulder Creek. Having already comfortably won two league matches in March, the Eagles look to continue their success with rival Virgin Valley as their closest threat.
Boys Volleyball
Preston Jorgensen advanced Boulder City High School's boys freshman volleyball team to 8-2 on the season, sealing a 25-15, 25-16 victory Friday against Legacy with a game-ending kill.
Never trailing the Longhorns, Jorgensen led the way offensively with a game-high six kills, along with four digs defensively.
"Preston's play almost seems to come naturally and as he continues to improve, we expect and will see great play from him," head coach Joshua Fisher said. "This was evident on the match point against Legacy when he could have just made an easy point but chose to hammer the ball across court for the win. Coach Rachelle Huxford and I knew he was going to get after that kill and he did. He is very much a joy to work with."
Forming a formidable duo with Boen Huxford, the latter was equally impressive Friday, leading the Eagles with seven assists and three kills offensively, with four digs.
"Boen has very soft hands and he is smart, which makes for a great setter," Fisher said. "He leads in a special way to rally his teammates and backs it up with his play, especially serving."
Leading the way defensively, Dylan Mullins had seven digs with three kills and two assists, while Austin Morris tallied three digs, three kills, two assists and two serving aces.
Braeden Soileau concluded the winning effort with five assists and three serving aces.
Preparing for their toughest matchup of the season Friday at Liberty, the Eagles will first travel to Valley on Thursday, where they'll look to build upon their early season success.
Contact Robert Vendettoli at BCRsports@gmail.com.
Upcoming Events
Baseball
Today, vs. Chaparral, 3:30 p.m. home varsity, away junior varsity
Friday, vs. Sierra Vista, 3:30 p.m. home varsity, away junior varsity
Monday, vs. Legacy (Grizzly Invitational) 11:30 a.m.
Monday, at Spring Valley (Grizzly Invitational), 2 p.m.
Tuesday, at Bonanza (Grizzly Invitational), 11:30 a.m.
Wednesday, vs. Moapa Valley (Grizzly Invitational), 9 a.m.
Boys Golf
Today, league match, at Boulder Creek, 1 p.m.
Swimming
Today, vs. Shadow Ridge, at Heritage in Henderson, 4:15 p.m.
Boys Volleyball
Today, at Valley, 5 p.m., freshman
Friday, at Liberty, 5 p.m., freshman