Roundup: Softball team remain undefeated after 11-2 victory over Moapa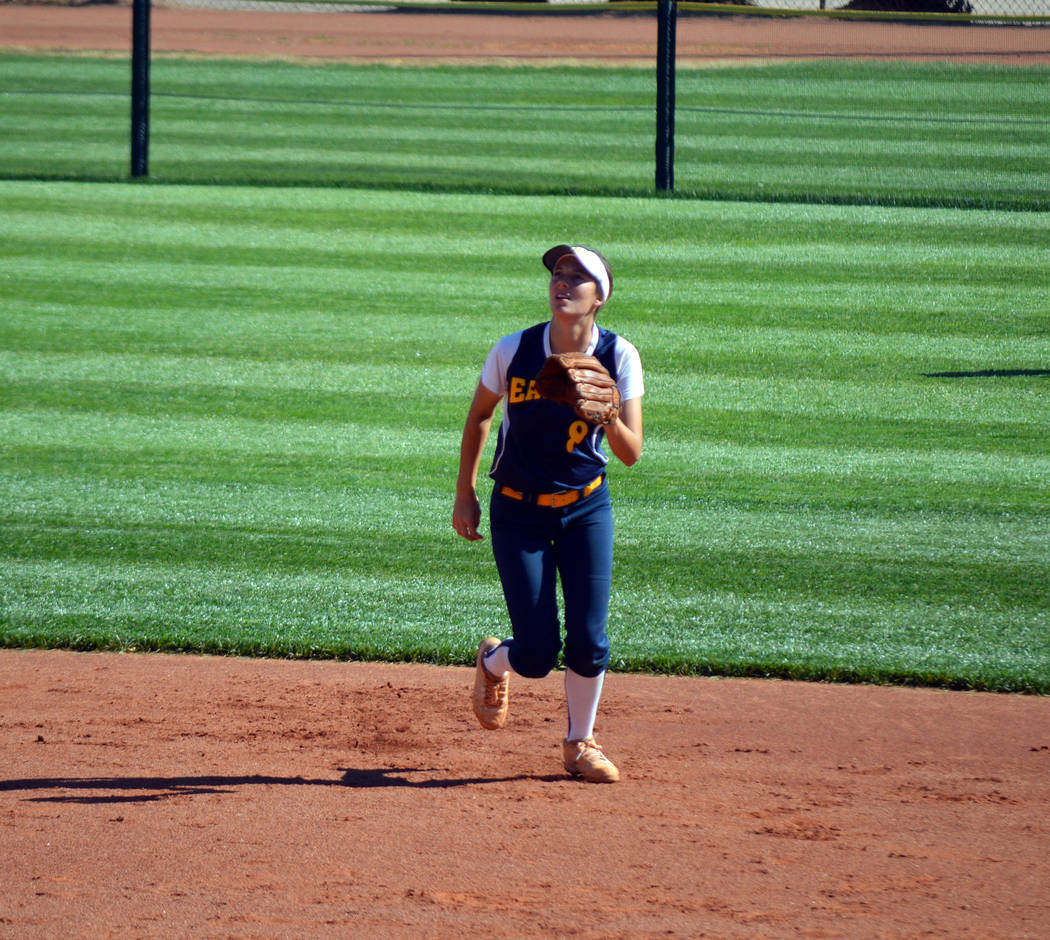 Advancing to 7-0 in league play, Boulder City High School's softball program disposed of rival Moapa Valley 11-2 on Tuesday in a matchup of the top two teams in the 3A Sunrise League standings.
Routing the second-place Pirates, the Lady Eagles drove in four runs in the second and three runs in the third inning to capture their 18th victory of the season.
"This was a big win for us," junior Bailey Bennett-Jordan said. "There's always a great atmosphere when you play your rival. Our team really got up for this game."
Sparking the Lady Eagles' victory, sophomore Marlena Mills batted 3-for-4 with a game-high five runs batted in, highlighted by a three-run home run in the third inning.
Providing consistent base runners all day, junior Jordan Moorhead batted 4-for-5 with two RBIs, while Bennett-Jordan batted 2-for-4 with an RBI.
Picking up her 14th victory of the season, Bennett-Jordan pitched a complete game, allowing two runs on five hits while striking out six batters. Against Virgin Valley on April 19, Bennett-Jordan allowed two runs on five hits with two strikeouts in a 17-2 victory.
Mills sparked the winning effort with another five RBI game, her fourth of the season. She leads all players with 40 RBIs on the season.
Juniors Lily Osman (1-for-4 with a four-run home run) and Jerra Hinson (2-for-3, two RBIs) also had solid outings at the plate.
Heading into the final stretch of the regular season, the Lady Eagles will travel to Chaparral today, followed by a home game against 4A opponent Legacy. They'll wrap up league play on Monday on the road at Del Sol, followed by a Wednesday home game against Virgin Valley.
Swimming
Putting on a dominant display on Saturday at Henderson Multigenerational Pool, both Boulder City High School swimming programs cruised past 3A opponent Desert Pines.
Coming off a pair of 4A matchups, the Lady Eagles swept each event against the Jaguars to win 186-37, despite swimming without seniors star Mandy Gebhart, Montana Lloyd and Abby Sauerbrei and sophomores Aimee Garcia and Rose Pouch.
Getting their time to shine, sophomore Annika Freiburger (500-yard freestyle and 200-yard individual medley) and freshman Audrey Selinger (100-yard freestyle and 50-yard freestyle) each won their events, while seniors Abby Harling (100-yard backstroke) and Alexis Stebbens (100-yard breaststroke) placed first in their individual events.
Stebbens' heat was the Lady Eagles' closest, edging out Desert Pines' Anna Snavely (1:21.55) with a time of 1:21.01.
Senior Sarah Estes swept both of her events (100-yard butterfly and 200-yard freestyle).
Rebounding from an April 6 loss to Shadow Ridge, the Eagles defeated the Jaguars 153-53, with star sophomores Paco Cuevas and A.J. Pouch.
A star in his own right this season, senior Braden Klouse picked up the slack, placing first in the 100-yard freestyle and 200-yard freestyle, with times of 51.42 seconds and 1:55.84, respectively.
Winning eight of 11 events against the Jaguars, juniors Andre Pappas and Robbie Leavitt finished first in the 50-yard freestyle and 100-yard breaststroke. Sophomore Leavitt also placed first in the 100-yard backstroke with a time of 1:13.62.
Stepping back up in competition this weekend, the Eagles will face off against 4A opponent Rancho on Saturday at Heritage in Henderson.
Boys Volleyball
Bouncing back strong from Friday's loss to Del Sol, the Boulder City High School boys freshman volleyball program found success on Tuesday against Mojave 25-21, 25-19.
Playing more of a team game against the Rattlers after a 22-25, 25-14, 13-15 defeat from Del Sol, the Eagles turned one of their best practices of the season on Monday into one of their best games on Tuesday.
"Mojave has some talented athletes that we took out of their system to control the match," head coach Joshua Fisher said. "We had a great practice yesterday, reiterating our philosophy of "ohana" and playing as a family, whether we win a point or lose a point. We are very proud of our efforts this season."
Gaining contributions from each of their starters, Preston Jorgensen led the way offensively with a game-high five kills and two serving aces, while Dylan Mullins passed five assists with two kills.
Boen Huxford paced the team offensively with four assists and three kills.
Contact Robert Vendettoli at BCRsports@gmail.com.
Upcoming events
Softball
Today, vs. Chaparral, 3:30 p.m. away varsity, home junior varsity
Friday, vs. Legacy, 3:30 p.m. home varsity, away junior varsity.
Monday, vs. Del Sol, 3:30 p.m. away varsity, home junior varsity
Wednesday, vs. Virgin Valley, 3:30 p.m. home varsity, away junior varsity
Boys Golf
Monday, vs. Moapa Valley, at Falcon Ridge, 9 a.m.
Swimming
Saturday, vs. Rancho, at Heritage, 8 a.m.
Boys Volleyball
Thursday, at Valley, 5 p.m., freshman
Saturday, Las Vegas B Finale, at Las Vegas, TBA, freshman