Roundup: Mikkelson earns state tennis title, helps Lady Eagles place second
October 25, 2017 - 3:07 pm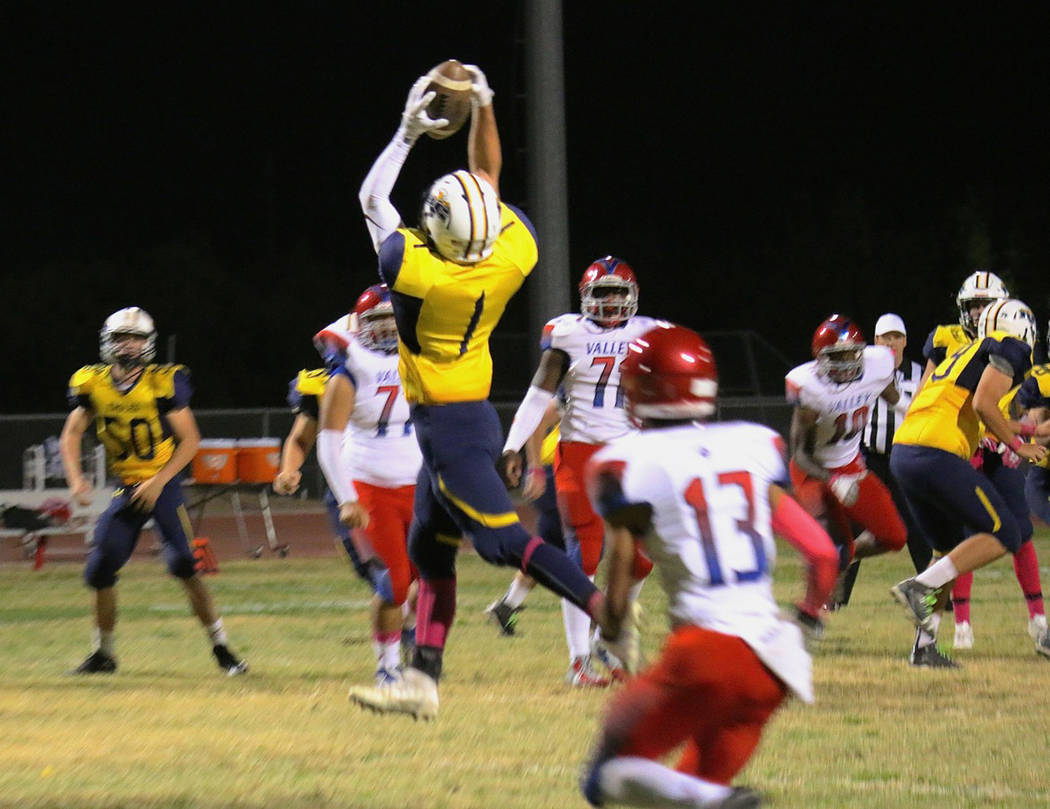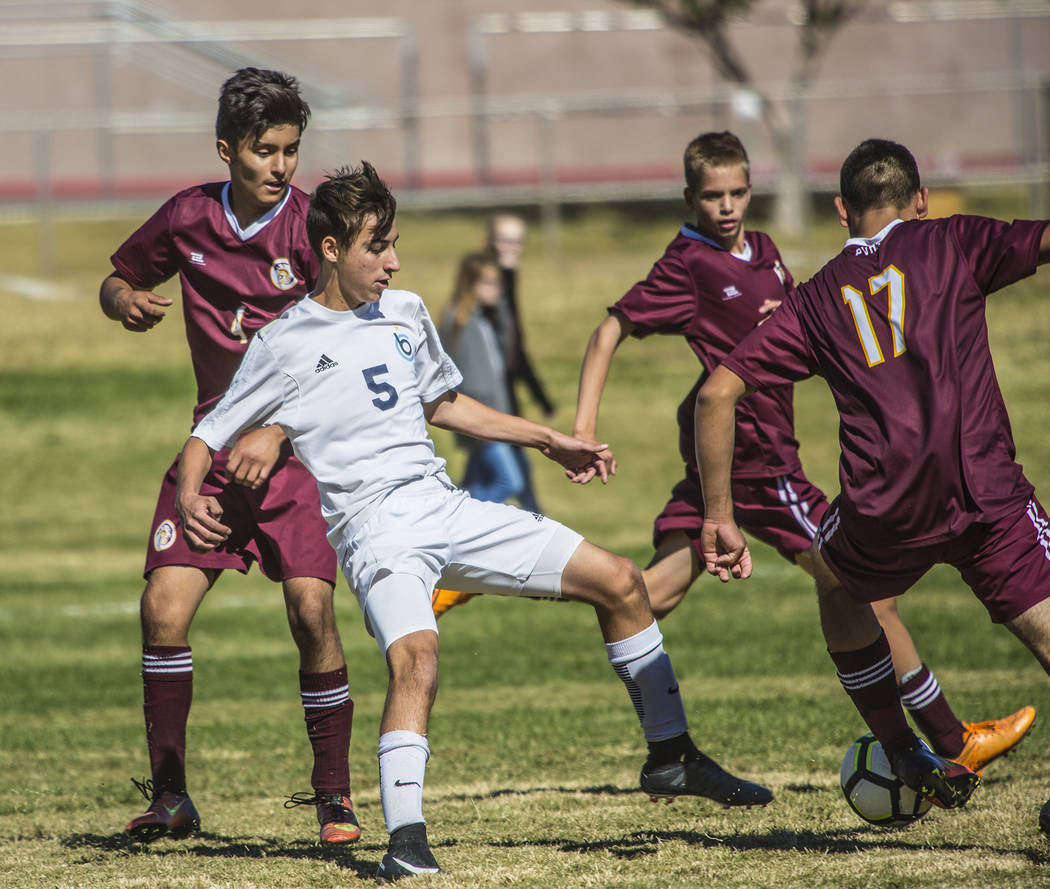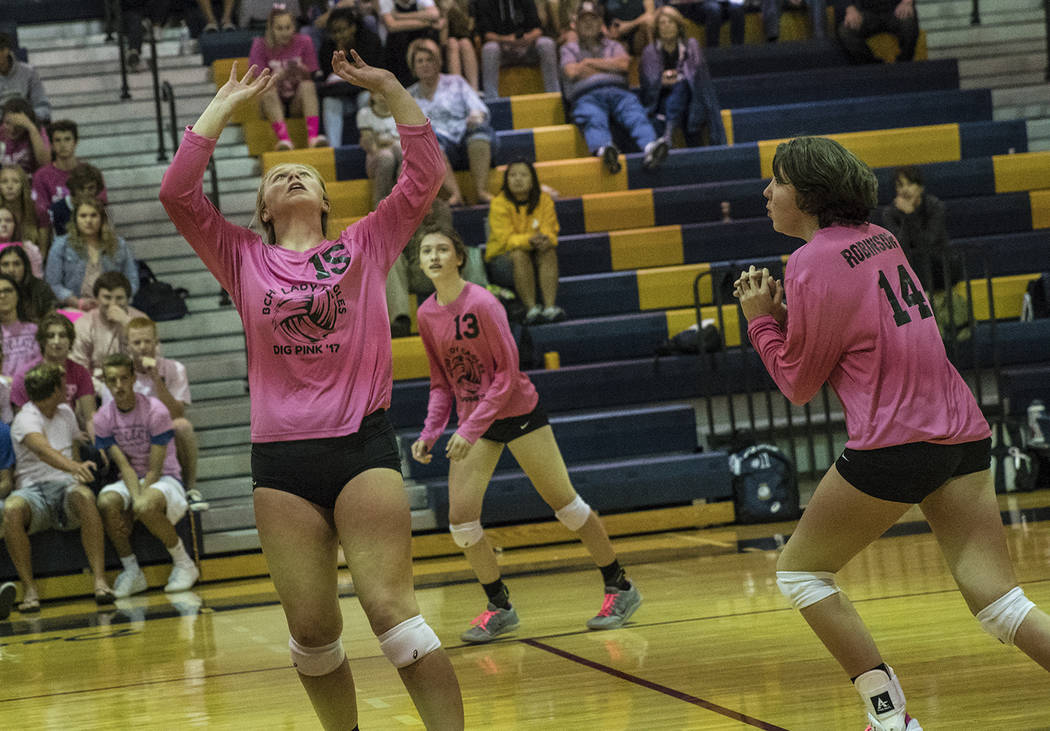 Finishing their season 17-3, Boulder City High School girls tennis finished as 3A state champion runner-ups on Friday, falling to The Meadows 15-3 at Darling Tennis Center for the Mustangs' third consecutive state championship.
"Facing Meadows was the best kind of play we could get," head coach Jami Pappas said. "In the first round of play against Meadows the scores for the doubles teams were 4-6, 4-6 and 5–7. Believe me when I tell you we held our own against them. I truly believe had the scores been reversed and we had won the first go around the outcome would have been completely different."
Gaining state championship experience, sophomore singles player Olivia Mikkelson finished her outing against the Mustangs 2-1, while the doubles tandem of senior Jillian Gentz and junior Heather Patterson finished 1-0.
Carrying her state game momentum into individual play, Mikkelson captured the 3A girls singles title Saturday, defeating The Meadows to singles player Lindsay Hofflander 6-3, 6-1.
"Winning state was definitely the goal from the beginning," Mikkelson said. "When it finally came together, it was a huge relief. I worked hard for this moment and wanted it not only for myself, but for Boulder City."
Also competing Saturday during individual play, the doubles tandem of junior Natalie Bowman and sophomore Katelyn Fox lost in the quarterfinals 6-6, 6-1 to eventual 3A state champions Peyton Barsel and Grace Nemec from The Meadows.
"I'm very proud of all of my girls," Pappas said. "Olivia Mikkelson is an enormous player and it was an absolute pleasure to be out there with her. As for Bowman and Fox, they came on strong like I've not seen all year in the last three weeks. They beat a Meadows team to take the fifth-place spot to begin with. In my book for a first-year doubles pair that has never played together, there is great potential in the future for that group. We will be working like crazy next year to continue to improve."
Girls volleyball
Putting together a dramatic come-from-behind 30-28 fourth-set victory on the road against rival Moapa Valley, Boulder City High School girls volleyball pushed the top-ranked Pirates to their limits before falling in five sets 18-25, 25-22, 20-25, 30-28, 8-15.
The only team in league play to push the Pirates to a deciding fifth set, the Lady Eagles (22-15) enter the postseason as the 3A Sunrise No. two seed, with confidence on their side.
"Going down to the wire with Moapa Valley definitely gives us confidence moving forward," senior Maggie Roe said. "We still need to work on the little things, but I think the girls are more confident than ever."
Hoping to rallying the Lady Eagles, Roe went above and beyond Monday night, recording a triple-double with a team-high 19 kills and 17 assists, along with 12 digs defensively. Crashing the nets relentlessly, Roe also had a game-high five blocks.
Matching Roe's intensity, freshman Kamry Bailey recorded a double-double with 15 digs and 12 kills, while freshman Maddie Wood generated five serving aces.
Recording a double-double as well against Southeast Career Technical Academy on Oct. 19, Roe led the Lady Eagles to a 3-0 victory with 12 assists and 11 digs, routing the Roadrunners 25-18, 25-14, 25-10.
Recording eight kills, seven aces and two blocks as well against the Roadrunners, Roe was assisted by 14 digs and 10 kills from Bailey and 15 assists and four aces from freshman Ava Wright.
Against Southeast Career Technical Academy, sophomore Raegan Herr generated six kills and a block, while junior Setia Cox tallied four kills and two digs. Senior Hannah Miller recorded five digs and three aces.
Results from Wednesday's senior night against Del Sol will appear in next week's issue.
Football
Ahead 26-12 at halftime, Boulder City High School football let a two-touchdown lead slip away Friday night against visiting Valley, falling 33-32.
Capitalizing early in the first quarter with a defensive safety on a blocked punt and a fumble recovery touchdown by senior Damian Shannon on a second blocked punt, the Eagles (3-5) held momentum early in the first half, before 4A Valley charged late to pull off the upset.
"We looked really good in the first half," head coach Chris Morelli said. "(There were) too many boneheaded mistakes defensively though that constantly shot us in the foot. We let Valley get back in the ballgame and eventually win; we're better than that. Hopefully we can execute better during our season finale."
Firing on all cylinders offensively, junior running back Thorston Balmer ran the ball with authority, rushing for a game-high 179 yards and two touchdowns on 26 carries, providing the Eagles with touchdown scores in the first and third quarters.
Complementing his running mate, junior quarterback Shaun Jones completed 8-of-16 for 118 yards and a 11-yard second-quarter touchdown strike to senior Diego Leavitt.
Leavitt finished the night with three catches for 45 yards, while senior Briggs Huxford caught three passes for 58 yards.
Hoping to finish the season with a victory after missing out on a winning season, the Eagles will travel to 4A Eldorado tonight for their season finale.
Cross-country
Finishing in second place Saturday at Basic High School in the Southern Division finals, sophomore Audrey Selinger led the way for Boulder City High School girls cross-country.
Finishing with an overall team score of 57, the Lady Eagles finished behind only Southeast Career Technical Academy (27) behind Selinger's time of 21:32 and senior Camille Torgesen's sixth-place finish with a time of 22:06..
"Audrey raced extremely well, as did nearly the whole team," head coach Staci Selinger said. "Most of the girls had personal bests today and we beat the teams that we wanted to beat. That gives us some extra confidence going into regionals next week."
Freshman Sophie Dickerman finished 12th out of 34 competitors, while juniors Geri Wachtel (25:18) and Brynlee Campbell (25:24) finished 20th and 21st, respectively.
Also performing well Saturday, the boys edged out rival Virgin Valley (88) for a top three finish, scoring 86 team points.
Placing three runners in the top 16 out of 35 competitors, freshman Ethan Porter led the Eagles with a 13th-place finish with a time of 19:03, while juniors Justice Tilman and Elias Woodbury finished 15th and 16th, respectively, with times of 19:19 and 19:30.
In the middle of the pack, sophomore Rome Peregrino finished 20th with a time of 20:32, while senior Kevin Trygstad finished 24th with a time of 21:09.
Freshman Joseph Hardy (22:33) and Seth Woodbury (22:39) finished 29th and 30th.
Looking for another high placing this postseason, both Eagles programs will focus their attention to Friday's 3A regional championship at Veteran's Memorial Park.
Boys soccer
Ending Saturday's senior night on a high note, Boulder City High School boys soccer tied 2-2 with rival Pahrump Valley.
Scoring unassisted goals in each half, freshman Julian Balmer scored in the first half, followed by senior Robbie Leavitt in the second half.
Concluding their season Tuesday with a 7-2 road loss to top-ranked Del Sol, senior Alex Krausman scored a first-half goal assisted by freshman Jacob Legat. Leavitt added a second-half goal from the left corner.
The Eagles (5-10-2) were defeated by Chaparral 6-0 on Oct. 19.
Girls soccer
Snapping a four-game skid, Boulder City High School girls soccer defeated Del Sol 2-0 on Tuesday.
Previously dropping their Oct. 18 contest to rival Moapa Valley 3-1, senior Taylor Tenney and sophomore Makenna Arboreen made sure the Lady Eagles (5-8-1) came out in top, each scoring goals in the first half.
Both unassisted goals, Tenney stroke first around the 11 minute mark, shortly followed by Arboreen minutes later.
Falling to the rival Pirates, sophomore Madison Manns scored a first half goal assisted by senior Sydney Manns.
Results from their senior night against Chaparral on Wednesday will appear in next week's issue.
Contact Robert Vendettoli at BCRsports@gmail.com.
Upcoming events
■ Football
Today, Oct. 26, at Eldorado, 7 p.m. junior varsity
■ Volleyball
Tuesday, Saturday, Nov. 4, regionals at Sunrise Mountain, TBA
■ Cross-Country
Friday, Oct. 27, 3A Southern Region meet, Veterans' Memorial Park, 9 a.m.
■ Girls Soccer
Today, Oct. 26, vs. Chaparral, 3 p.m. varsity; 4:30 p.m. junior varsity
Wednesday, Nov. 1, Saturday, Nov. 4, regionals at Bettye Wilson Soccer Complex, 7353 Eugene Ave., TBA
■ Boys Soccer
Thursday, Nov. 2-4, regionals at Bettye Wilson Soccer Complex, 7353 Eugene Ave., TBA