Roundup: Little League All-Stars head to championship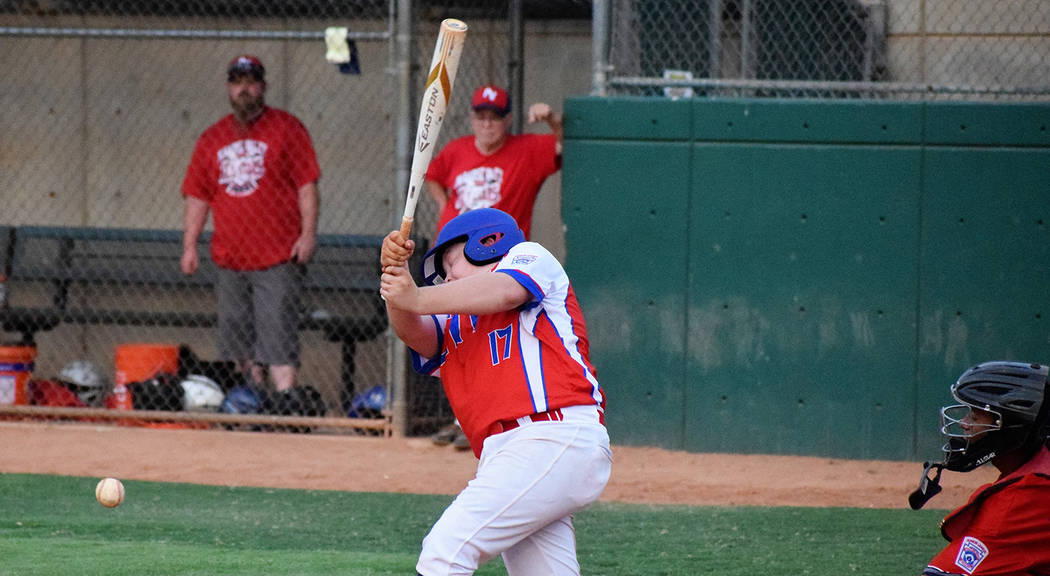 Boulder City Little League Junior All-Stars won their first two games of the Division II district tournament, placing them in the championship game tonight, July 12.
"I'm really impressed with the team," head coach Clint Spencer said. "Our lineup has been solid through the first two games. Everyone is having solid at bats and generating runs. We're putting guys on bases and being aggressive."
An offensive juggernaut, Boulder City defeated Paradise Valley 20-0 on Monday, July 9, at Arroyo Grande and Henderson 12-1 on Tuesday, July 10.
Only needing nine hits against Paradise to mercy rule them in four innings, the Eagles' base running was strong, with 14 swiped bags.
Chase Calvez and Hunter Moore lead the way with three stolen bases each while, Jeremy Spencer, Dylan Spencer and Brayden Cook each swiped two bases.
Offensively R.J. Kilar finished 2-for-3 at the plate with a home run, double and three runs batted in. Earning the win as well, Kilar threw two scoreless innings where he struck out four batters.
Connor Solberg finished 1-for-2 with a two-run double, while Caleb Brown finished 1-for-2 with a triple.
Staying aggressive in game two against Henderson, Jeremy Spencer and Calvez each stole a pair of bases, while Calvez picked up the win after four innings where he struck out 11 batters and allowed one run.
"Chase was really solid on the bump for us against Henderson," Clint Spencer said. "Our key right now is pitching, especially keeping our pitch counts low and not having to use our bullpen as much. He did a nice job of controlling the game and allowing us to only use one reliever."
Providing solid run support Calvez, Kilar, Brown each finished 2-for-3 with an RBI apiece.
Dylan Spencer (1-for-3) and Izec Easter (1-for-2) each hit doubles against Henderson.
Majors
Despite an 0-3 record in the Division II district tournament at Arroyo Grande, Boulder City Little League Majors All-Stars put forth a valiant effort.
Boulder City lost to Green Valley 20-13 on July 5, to Legacy 10-8 on Friday, July 6, and to Paseo Verde 12-2 on Saturday, July 7.
"Although we come from the smallest league in the district we have battled hard in each game," said head coach Patrick Stewart. "This team never gives up and with our power we are always in the game. On several occasions we have had some big innings to get back into a game that looked out of reach."
Dodger Smith (3-for-4, three RBIs) and Cameron Calvez (2-for-4, four RBIs) each hit two home runs against Green Valley, while Ian Aldridge (2-for-2, three RBIs) hit his first career home run.
More of the same against Legacy in game two, Calvez (1-for-3, four RBIs) and Smith (1-for-2) each hit a home run.
Bruce Woodbury finished 3-for-4 against Legacy, while Charlie Stewart finished 2-for-5 with a double against Green Valley.
Parker Owens hit a two-run double against Paseo Verde for Boulder City's only runs in game three.
"This year's team hit for average and power," Patrick Stewart said. "This group of boys will be fun to watch as they move up to Juniors and then to high school. They will continue the great baseball legacy Boulder City has developed."
9-11-year-olds
Finishing with an 0-4 record in the Little League Division II District tournament, Boulder City Maximum Effort 9-11 finished its season on a high note July 10 at Arroyo Grande despite a 13-5 loss to Legacy.
Getting shutout its first three games against Paseo Verde (15-0), Henderson (19-0) and Green Valley (10-0), Boulder City's bats came alive in its tournament finale.
Generating seven hits, Landon Goodhue finished 3-for-4 at the plate with a run batted in. Also getting a hit each were Sam Bonar, Gavin Flake and Aubrey Kilar.
"Win or lose this team has had a great experience and should be able to take all what was taught to them in a short amount of time and apply that to their baseball careers," head coach Mike Flake said. "The coaching staff has been great with Brandon Barrow and Dan Kirby and with assistance from Keith Boyle and Ed Barrow. As a manager it has been an honor and pleasure to be able to coach with this staff and most importantly help these young men and women with their baseball careers."
Grothe earns gold, silver medals
Zane Grothe, a Boulder City High School class of 2010 graduate, took home a pair of gold and silver medals at the 2018 USA TYR Pro Swim Series Columbus event July 5-8 at the McCorkle Aquatic Pavilion in Columbus, Ohio.
Swimming for Mission Viejo, Grothe battled with Wolfpack Elite swimmer Anton Oerskov for the top spot throughout three of his four events.
Getting the best of Oerskov twice, Grothe placed first in the 400-meter freestyle (3:48.69) and 800-meter freestyle (7:55.22).
Oerskov placed second in both events with times of 3:49.52 and 7:57.30 respectively.
Falling behind Oerskov (15:07.40) in the 1500-meter, Grothe finished second with a time of 15:29.68.
Grothe also finished second in 200-meter freestyle with time of 1:48.83, trailing Mission Viejo teammate Blake Pieroni (1:48.08).