Roundup: Lady Eagles turn interceptions into victory
February 7, 2018 - 2:40 pm
Updated February 9, 2018 - 10:02 am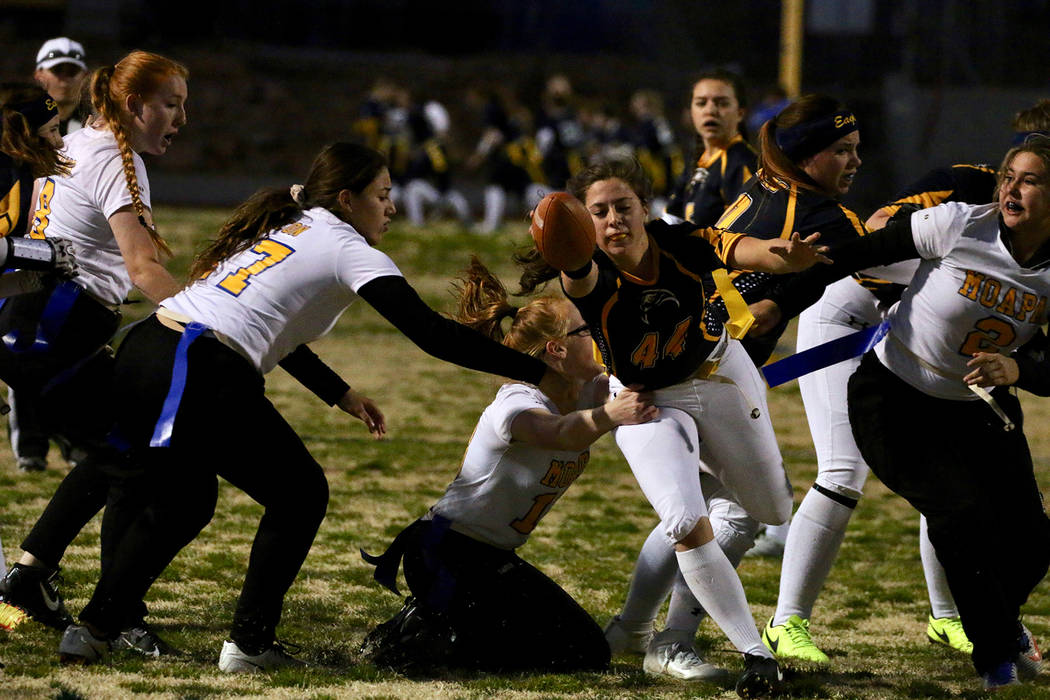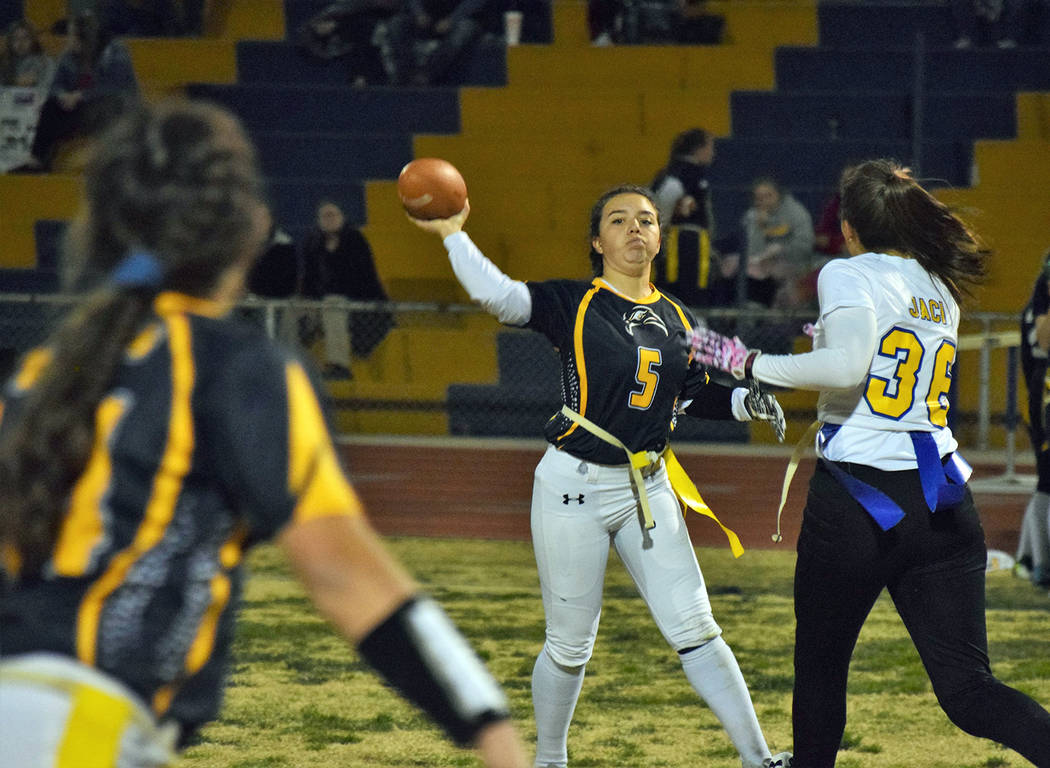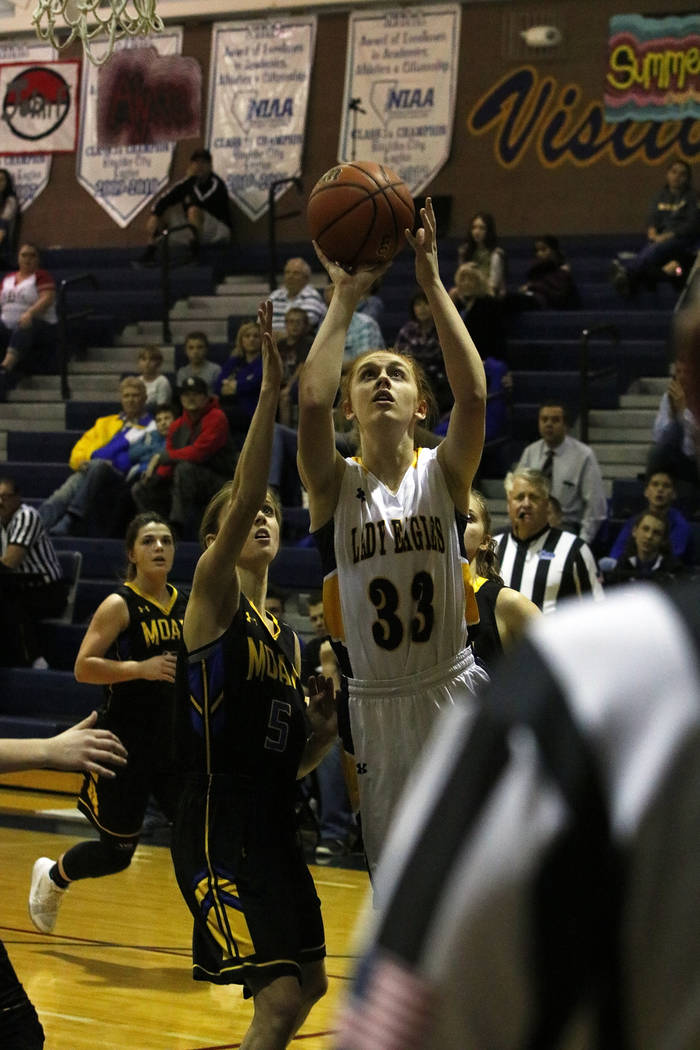 Boulder City High School's flag football team forced seven interceptions Tuesday against rival Moapa Valley, hanging on for a hard-fought 18-12 victory.
Pulling down four interceptions, junior Ryann Reese provided the Lady Eagles with defensive play-making ability, shutting down the Pirates' high-flying aerial assault.
Seniors Nikki Meleo and Hannah Barth and freshman Kamry Bailey hauled in an interception apiece.
The turnovers really sealed the game for us," head coach Kevin Ruth said. "Moapa has a good quarterback and two great receivers, so we pressed them and played man coverage throughout the game. We tried to make them beat us through the air and girls made plays defensively to make up for our still-catching-up offense."
Meleo returned her lone interception 54 yards for a touchdown, adding to her 6-yard rushing touchdown in the fourth quarter. She finished the game with 85 rushing yards on 11 carries, while sophomore quarterback Makaela Perkins finished 11-of-23 behind center for 98 passing yards.
Providing a better effort against the Pirates after a 33-6 loss to rival Virgin Valley on Monday, the Lady Eagles will try to ride their momentum into today's season finale against Chaparral.
Bowling
Boulder City High School girls bowling team defeated Cheyenne 1,564-1,342 on Monday at The Orleans, advancing to the second round of the Class 3A Southern Region tournament.
Bowling a high game of 466, senior Bailey Bennett-Jordan led the Lady Eagles past the Desert Shield, along with sophomore Christine Smith, who bowled 444.
Rounding out the girls' efforts, senior Camille Torgesen bowled 362, while junior Samantha Wagner bowled 292.
"We did good for the first round, but we all know we're gonna have to step it up if we want to defend our state championship," Bennett-Jordan said.
In individual tournament play, Bennett-Jordan finished 11th with a score of 409.
While the Lady Eagles are still in the championship hunt, the boys program is one-and-done this postseason after falling to Cheyenne 2,054-1,726.
Keeping it close after game one with a deficit of only 600-593, the Eagles weren't able to rally.
Ending his phenomenal freshman season on a high note, Jamison Kaboli bowled 625 Tuesday, while junior Sam Holt bowled 459.
In individual tournament play, Kaboli finished sixth with a score of 482.
Results from the Lady Eagles' regional semifinals matchup with The Meadows on Monday will appear in next week's issue.
Girls basketball
Sophomore forward Ellie Howard had a career night Tuesday for Boulder City High School girls basketball, despite a 59-45 loss to league leader Moapa Valley.
Howard took advantage of her 6-foot height against of the Pirates, which regularly play five smaller guards. She scored 22 points for the Lady Eagles. Hanging tough with the Pirates despite the double-digit loss, Boulder City cut the lead down to 4 to 6 points throughout the second half. Managing to keep the game closer than the score suggested, Moapa Valley's consistent 3-point shooting with 11 makes was too much to handle.
Working the ball inside heavily throughout the duration of the game, junior forwards Setia Cox and Hannah Estes scored 8 and 6 points, respectively. Sophomore guard Keely Alexander scored 7 points.
Riding a four-game win streak before Tuesday's loss, the Lady Eagles defeated Southeast Career Technical Academy 53-29 on Feb. 1.
Jumping out to a 21-5 first-quarter lead, Estes and Howard both scored 12 points, while Alexander scored 11 points. Sophomore guard Madison Manns scored 9 points against the Roadrunners.
Boulder City will conclude the regular season tonight at Del Sol.
Contact Robert Vendettoli at BCRsports@gmail.com.
Flag Football
Today, Feb. 8, at Chaparral, 3:30 p.m. junior varsity; 4:30 p.m. varsity
Thursday, Feb. 15, southern regional and state, at Cimmaron-Memorial, 6 p.m., if qualified
Tuesday, Feb. 20, semifinals, at Cimmaron-Memorial, 6 p.m., if qualified
Thursday, Feb. 22, championship, at Cimmaron-Memorial, 4 p.m., if qualified
Girls Basketball
Today, Feb. 8, at Del Sol, 3:30 p.m. junior varsity; 5 p.m. varsity
Tuesday, Feb. 13, regionals, at TBA, 6 p.m.
Thursday, Feb. 15, semifinals, at Del Sol, 2 or 4 p.m., if qualified
Saturday, Feb. 17, finals, at Del Sol, 4 p.m., if qualified
Bowling
Friday, Feb. 9, team finals at Orleans Bowling Center, 2:30 p.m.