Roundup: Lady Eagles take fifth in state cross-country tourney
November 7, 2018 - 4:05 pm
Updated November 8, 2018 - 9:03 am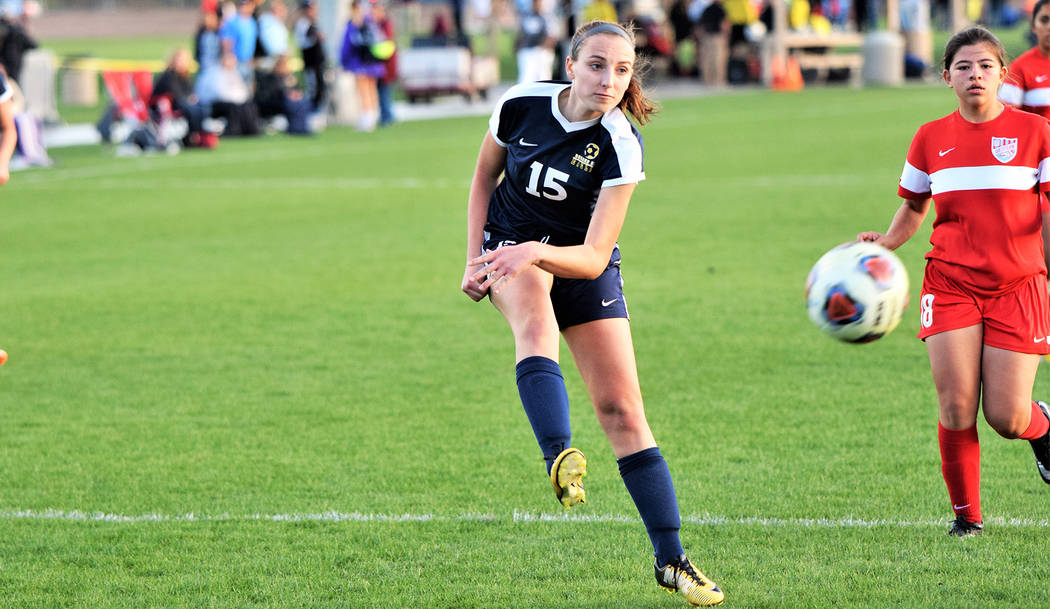 Keeping pace with expectations, Boulder City High School girls cross-country team finished in fifth place Saturday, Nov. 3, in the 3A state meet at Veterans' Memorial Park.
Competing in a field of six teams, the top three programs from Southern and Northern Nevada, the Lady Eagles finished as the second region team with a score of (129) edging past Valley (134).
Northern challenger Spring Creek took first place with a team score of 28, while rival Moapa Valley (98) placed third.
"All six of the qualifying teams finished in the order we were all ranked in," head coach Staci Selinger said. "I'm happy that we held our place at state."
Freshman Mary Henderson led the way for the Lady Eagles with a 24th-place finish, crossing the line with a time of 22:15.
Junior Audrey Selinger finished 29th with a time of 22:57.4; sophomore Sophie Dickerman finished 32nd with a time of 23:39.3. Senior Alyssa Williams finished 38th with a time of 24:05.
"Overall, the girls performed very well," Staci Selinger said. "Four of our girls ran faster than the previous week at regionals. The other two were battling an illness and shin splints but still managed to race well enough."
Junior Sarah Oberweis (25:54.3) and sophomore Madison Stone (27:51.7) finished 52nd and 53rd, respectively.
This was the team's fifth consecutive appearance in the 3A state meet and with a strong returning core, Boulder City will looks likely to make it sixth straight years.
"Moving forward, I have my core of Mary, Audrey and Sophie returning next season and we have an incoming freshman or two with talent to look forward to," Staci Selinger said. "The girls are always looking for more runners so I think we'll come back next season with a strong team. They are a great group of girls and this season has been one of my favorites. I'm excited about the future."
Individually, sophomore Ethan Porter was the lone Eagle to compete in the boys race. He came in 32nd place with a time of 18:54.4.
Girls soccer
Boulder City High School girls soccer team dropped its first-round playoff matchup 3-0 to Western on Oct. 31.
"I thought the girls held their own against a very good Western team," said head coach Arnold Oeland. "Being mostly a younger team, the seat at the big table was a bit much for them, but I look forward to same players hitting the ground running next year."
Trailing 2-0 after the first half, the Lady Eagles' defense buckled down in the second half.
Playing more physically in the second half with their season on the line, juniors Makena Arboreen and Madison Manns generated a few shots each on the goal but were unable to capitalize.
Arboreen finished the season with a team-high 15 goals and six assists, while Manns finished with eighth goals and four assists.
The future looks promising for the Lady Eagles with sophomore Sophia Legat (eight goals) and junior Trinity Oeland (three goals, seven assists) set to return as well.
Making the postseason this year on the last day of the season, coach Oeland said he expects a lot out of next year's group.
"Next year, I expect my younger squad to be much more experienced," he said. "The team building will be fantastic. We will have a top squad with experience and it will fare well for Boulder City."
Contact Robert Vendettoli at BCRsports@gmail.com.