Roundup: Lady Eagles start flag football season with wins over Liberty
December 6, 2017 - 4:07 pm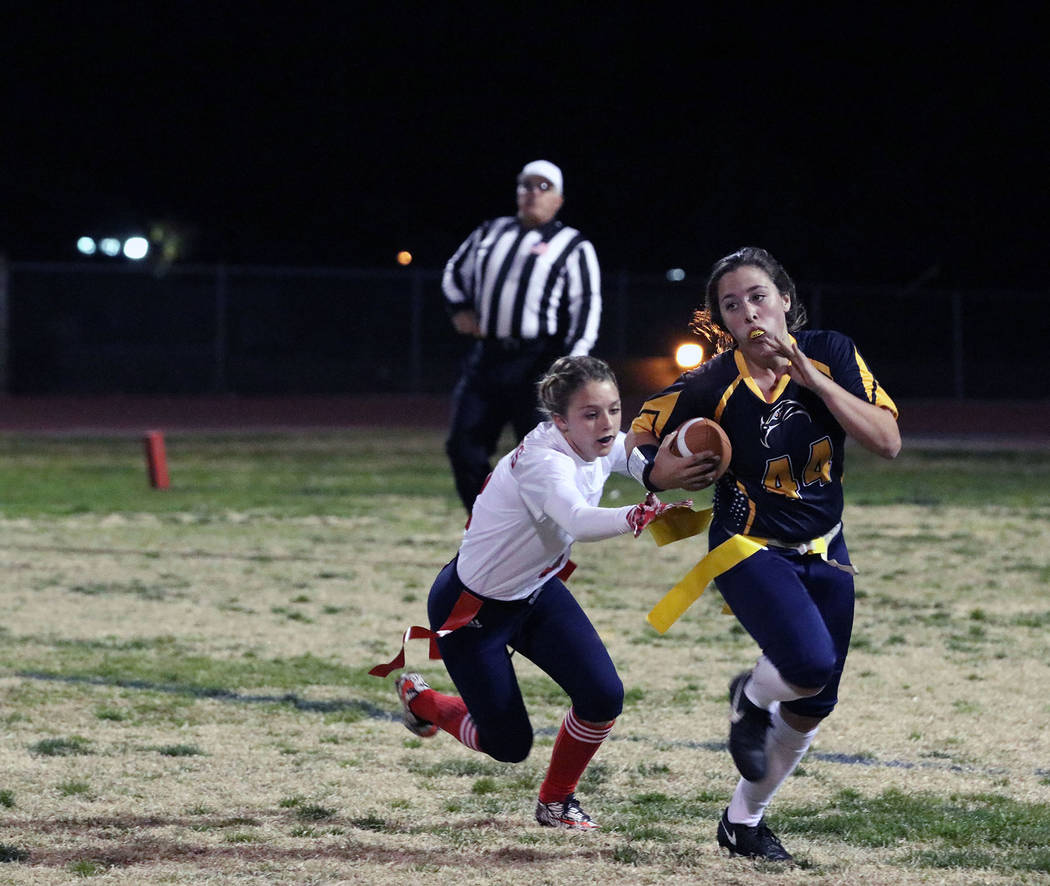 Putting the Lady Eagles on her back, senior dual-threat quarterback Nicole Valle scored on a 1-yard touchdown plunge in the second half to give Boulder City High School flag football a 12-7 road win over Liberty on Tuesday.
Starting the season 2-0 with both victories coming against Liberty, Valle connected on 10 of her 17 pass attempts for 99 yards and an interception, but found a way to bring the Lady Eagles back from a 7-6 deficit with her feet.
"I'm definitely proud of the way the girls battled today," head coach Kevin Ruth said. "We gave up a late touchdown and could have just gave up, but the offense kept fighting for yards. They earned this victory."
Connecting on three passes each to juniors Ryann Reese (36 yards) and Elizabeth Taggard (26 yards), the offense moved the ball just enough to stay perfect against their 4A opponent.
Finding the end zone in the first quarter, Reese scored on a 15-yard touchdown run. She finished with six carries for 41 yards.
A newcomer this season who has already been relied upon heavily, Reese also had success in the Lady Eagles' 20-0 home opener against the Patriots on Nov. 29, hauling in a pair of touchdown passes from Valle.
Catching five passes for 84 yards, Reese also rushed for 25 yards on six carries. Defensively the rising junior also recorded a sack.
"I still have a lot to learn about the game, but I'm enjoying the new challenge after switching over from basketball," Reese said. "So far Nicole and I have been able to have some success. We know each other's tendencies already so hopefully we will go far together this season."
Finding more success passing in game one, Valle completed 9-of-12 for 140 yards and two touchdowns, while rushing for 26 yards on four carries.
Senior running back Nikki Meleo led the Lady Eagles in rushing on opening night with 153 yards on 16 carries, while junior Trinity Phelps rushed for 10 yards and a touchdown on two carries.
Meleo led the Lady Eagles defensively with nine tackles, while senior Hannah Barth recorded five tackles.
Looking to stay in the win column, the Lady Eagles will host Sunrise Mountain on Monday, before traveling to 4A Legacy on Wednesday.
Bowling
Boulder City High School girls bowling team (3-0) continued its hot start to the season Monday at Boulder Bowl, taking down Del Sol 1,437-1,221.
Senior Bailey Bennett-Jordan led the Lady Eagles in scoring, bowling a 453, and was particularly hot in her second game with a score of 162.
Following the senior leader, freshman Sarah Bernstein bowled a 399, followed by seniors Camille Torgesen (343) and Samantha Wagner (242).
"We know we need to win as many matches as possible to get a good playoff seed," Bennett-Jordan said. "I'm happy with the way the team has played so far. We always have room for improvement, but this is a great start."
Even without Bennett-Jordan for their tune-up match against Sky Pointe on Nov. 30, the Lady Eagles cruised to a 1,229-154 victory.
Sophomore Christine Smith led all bowlers with a score of 376, while Torgesen bowled a 313.
The boys (1-2) also found success against Sky Pointe 1,423-405, before falling to Del Sol 1,859-1,548.
Putting together a quality match, junior Sam Holt bowled 447, followed by sophomore Connor Dykstra with a score of 357.
Despite a high score of 529 against Del Sol, Holt was unable to lead the Eagles past the Dragons.
Still building momentum throughout the early potion of the season, freshman Jamison Kaboli bowled a 491, while Dykstra bowled a 271.
Facing Southeast Career Technical Academy on Tuesday, both programs will travel to Wildfire.
Girls soccer
Boulder City High School senior girls soccer players Taylor Tenney and Sydney Manns were selected to play in the Southern Nevada senior high school all-star game Wednesday, Dec. 6, at UNLV's Peter Johann Soccer Field.
Choosing from a field comprised of 3A and 4A soccer players, the duo was selected after being nominated by their head coach Duncan Stark.
"They are two of the senior players whom I nominated and the selection committee chose them to represent our school," Stark said. "This is quite an honor for them as there are so many seniors from many schools who were not selected."
Scoring three goals this season for the Lady Eagles, Tenney, who is undecided whether she wants to pursue soccer or dance at the collegiate level, said she is excited for the opportunity.
"I'm so excited that I got the opportunity to be in this all star game," she said. "I have always wanted to play college soccer and being able to play on the UNLV field. This will give me a first look at what it will be like when I go off to college in a few months."
Playing alongside the Lady Eagles' goal scorer, Manns finished second on the team this past season with four assists. Given one more chance to play together, the duo is excited to participate.
"Sydney is one of my best friends and getting to play with her one last time is going to really bring us together," Tenney said. "It'll be nice to have my best friend with me on a team with many other girls we've never met. I'm glad that this means that we have one more game in our senior soccer season."
Girls basketball
Despite an opening-game loss to 4A Clark 42-29, Boulder City High School girls basketball was able to rebound in the Lake Mead Holiday Classic with a pair of wins.
Defeating Lake Mead 55-23 on Friday, Dec. 1, and Calvary Chapel 48-34 on Saturday, Dec. 2, the Lady Eagles closed out the tournament with a 2-1 record to gain confidence heading into league play.
Led by junior forward Hannah Estes, who made the all-tournament team, the Lady Eagles' offense looked much improved from their opening-night woes, consistently moving the ball around for open shots.
Breaking out with a season-high 15 points against Calvary Chapel, Estes scored 11 points against Lake Mead and 6 points against Clark.
Helping out against Lake Mead, sophomore Madison Manns scored 11 points, while sophomore Keely Alexander scored 8 points and freshman Kailie Fisher scored 7 points.
Against Calvary Chapel, Manns scored 9 points, while Alexander scored 8 points.
The Lady Eagles will travel to Valley on Friday, Sunrise Mountain on Monday and Sky Pointe on Tuesday.
Contact Robert Vendettoli at BCRsports@gmail.com.
Flag Football
Monday, Dec. 11, vs. Sunrise Mountain, 4 p.m. junior varsity; 5 p.m. junior varsity
Wednesday, Dec. 13, at Legacy, 3:30 p.m. junior varsity; 4:30 p.m. varsity
Girls Basketball
Friday, Dec. 8, at Valley, 3:30 p.m. junior varsity; 5 p.m. varsity
Monday, Dec. 11, at Sunrise Mountain, 3:30 p.m junior varsity; 5 p.m. varsity
Tuesday, Dec. 12, at Sky Pointe, 3:30 p.m junior varsity; 5 p.m. varsity
Bowling
Tuesday, Dec. 12, vs. Southeast Career Technical Academy at Wildfire, 3 p.m.