Roundup: Lady Eagles rebound with 40-29 home victory
January 17, 2018 - 3:17 pm
Updated January 23, 2018 - 8:44 am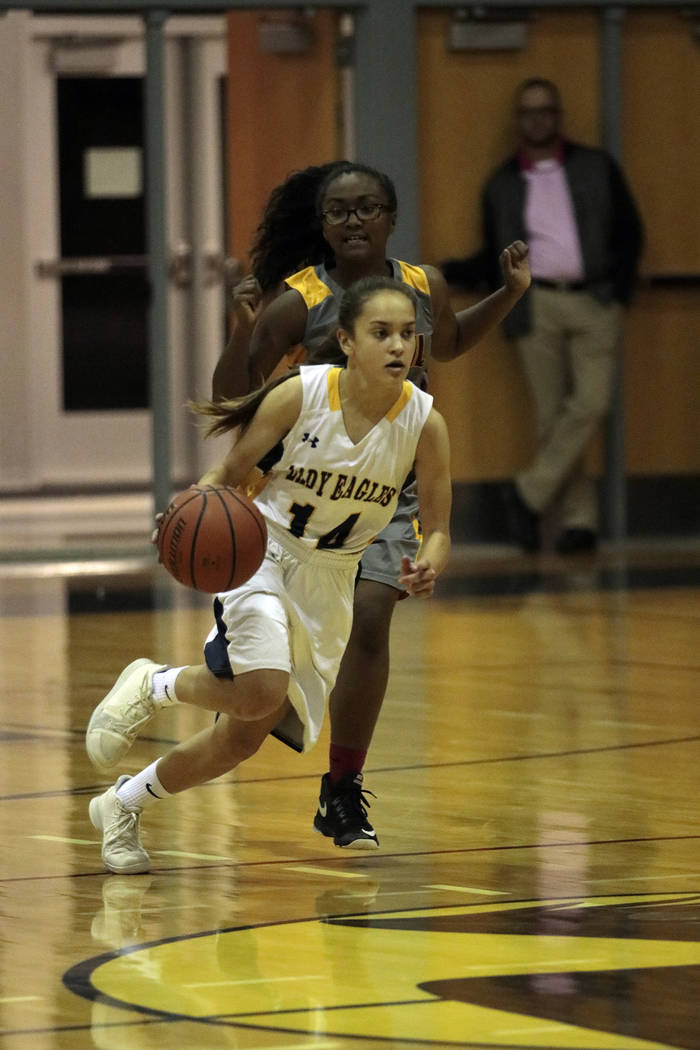 Rebounding from a 61-32 Jan. 12 loss to rival Moapa Valley on the road, Boulder City High School girls basketball got back in the win column Tuesday with a 40-29 home victory against Del Sol.
"I thought the girls played well," head coach Kirk Estes said. "We were without one of our starters tonight, so the girls really rallied to pull this one out. It was a good team win and we'll keep trying to improve now that we're midway through the season."
Playing without junior forward Hannah Estes due to an illness, sophomore forward Ellie Howard and senior forward Jerra Hinson each stepped up, scoring 8 and 7 points, respectively, against the Dragons.
Controlling the game from the opening tip, the Lady Eagles drove to a 21-13 advantage at halftime, behind 11 points from sophomore guard Keely Alexander and 8 points from junior forward Setia Cox.
Staying sharp in the second half, the Lady Eagles opened with a 11-5 third-quarter advantage, while shooting a respectable 42.5 percentage from the floor (17-of-40) throughout the game.
Against Moapa Valley on Jan. 12, sophomore guard Madison Manns led the way with 10 points, while Cox and Howard each scored 6 points.
Hosting Chaparral tonight, the Lady Eagles will try to pick up another league victory, before hosting 4A Clark on Monday in a nonleague contest.
Wrestling
Participating in the Panther Invitational in Alamo, Nevada, on Jan. 12, Boulder City High School wrestling rolled to a first-place team finish, edging out rival Pahrump Valley (174 points) with an overall score of 233.
Placing five first-place finishers, senior Garrett Leavitt (126 pounds), sophomore Aiden Fradella (138), junior Jimmy Dunagan (160), senior Adam Clary (182) and junior Mike Kaposta (285), the Eagles earned a confidence boost heading into the final stretch of the regular season.
"I honestly think this tournament couldn't have come at a better time," Leavitt said. "Not really from a competition standpoint because we've been going out of town a lot and faced a lot of great opponents, but really from a confidence-boost standpoint. We're at the back end of a grueling season and guys are starting to tire and wear out. It was nice to see a lot of guys have success and feel good about themselves."
Juniors Hayden Moore (145) James Ewell (195) and Ryan Vanario (220) and sophomores Curtis Brown (106) and Ladd Cox (152) all placed second.
Finishing fourth in the varsity-laden tournament that also featured rival Moapa Valley and 4A Valley, Boulder City junior varsity earned a team score of 76 behind a first-place effort from senior Wyatt Harling (220) and second-place finish from sophomore Cade Cowley. Senior Robert Pavlowski (285) finished in third place.
Taking down the starting Vanario in the 220-pound weight class, Harling provided his best performance of the season, while Cowley gave a valiant effort against Dunagan in the 160-pound final.
Traveling to Del Sol tonight, the Eagles will hit the road again tomorrow, traveling to Arizona for the Salpointe Catholic Duals. The Eagles will conclude their regular season with home matchup Tuesday against Chaparral, followed by a road meet Wednesday at Moapa Valley.
Bowling
Boulder City High School girls bowling routed Del Sol 1,338-726 on Jan. 11, behind a strong performance from senior Bailey Bennett-Jordan at Wildfire.
Bowling a game-high 404, Bennett-Jordan was joined by sophomore Christine Smith, who bowled a 371 to take down the Dragons.
Bowling all three games for the Lady Eagles, senior Camille Torgesen bowled 261, while freshman Sarah Bernstein bowled 200 in a pair of games.
Senior Samantha Wagner bowled 100 in the third game for the Lady Eagles after relieving Bernstein.
Falling to Del Sol 2,112-1,510, freshman Jamison Kaboli led the boys with a score of 456, while sophomore Connor Dykstra bowled 316.
Prepping for a rematch with rival Southeast Career Technical Academy, the Eagles will host the Roadrunners on Monday at Boulder Bowl.
Results from the Eagles/ road matchup on Wednesday against Somerset Academy-Sky Pointe will be in next week's issue.
Contact Robert Vendettoli at BCRsports@gmail.com.
Girls Basketball
Today, vs. Chaparral, 3:30 p.m. junior varsity; 5 p.m. varsity
Monday, vs. Clark, 5 p.m. junior varsity; 6:30 p.m. varsity
Wrestling
Today, at Del Sol, 5 p.m., junior varsity; 6 p.m. varsity
Friday and Saturday, Salpointe Catholic Duals in Arizona, 3 p.m.
Tuesday, vs. Chaparral, 5 p.m. junior varsity; 6 p.m. varsity
Wednesday, at Moapa Valley, 5 p.m. junior varsity; 6 p.m. varsity
Bowling
Monday, vs. Southeast Career Technical Academy at Boulder Bowl, 3 p.m.
Wednesday, vs. Chaparral at Sam's Town, 3 p.m.