Roundup: Lady Eagles flag football team solid behind Tenney
February 1, 2017 - 2:35 pm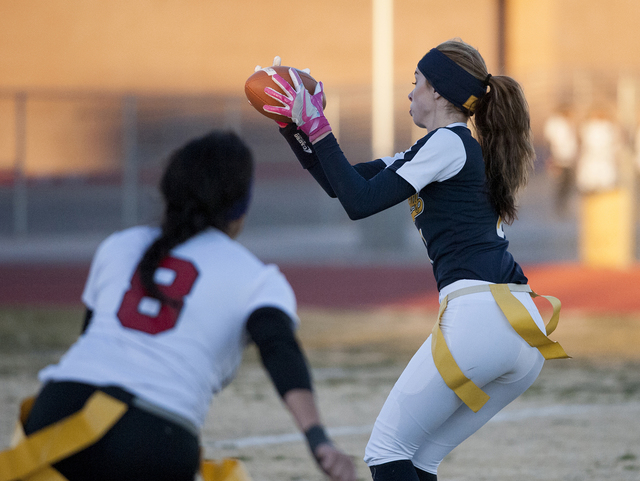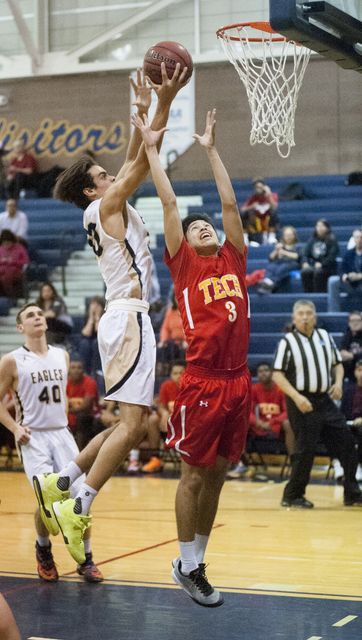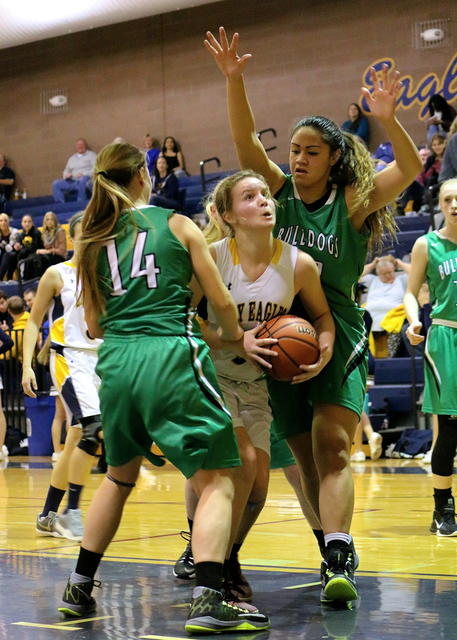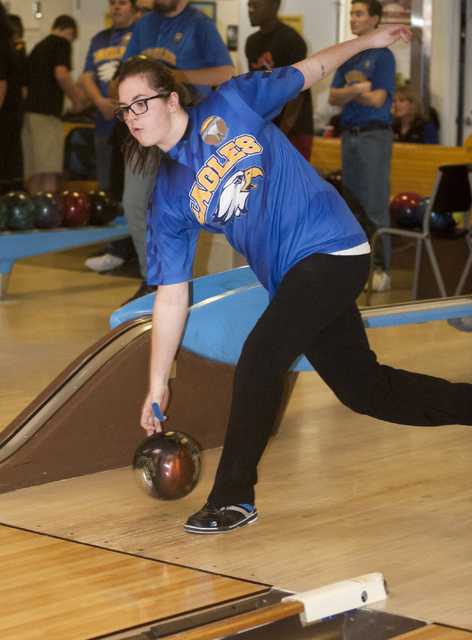 Turning into a true playmaker, Boulder City High School junior quarterback Taylor Tenney sealed the Lady Eagles' 19-12 victory over Southeast Career Technical on Tuesday with a 9-yard touchdown run with less than four minutes to play.
"As each game passes, Taylor becomes more polished as a player," head coach Chris Morelli said. "Not only making plays with her feet, now she's starting to become a real passing threat. She made a couple throws Tuesday that blew me away. I'm looking forward to the future with her under center."
Accounting for all three of the Lady Eagles' touchdowns, Tenney completed 10-of-13 against the Roadrunners for 85 yards and two touchdowns, while rushing for 63 yards and a score on nine carries.
Garnering a key interception as well on defense, Tenney totaled four tackles, while senior Kenadee Bailey recorded 12 tackles and a sack. The pass rusher abilities of juniors Daisey Hodgkin (three tackles, two sacks) and Nikki Meleo (three tackles), played a crucial role in the Lady Eagles' successful defensive game plan.
"More than just accumulating stats, both Daisey and Nikki set the tone for our defense," Morelli said. "Disrupting the passer, opening lanes for other tacklers, their play was crucial for us tonight."
Playing a key role in the Lady Eagles' revenge victory over the Roadrunners after dropping their previous contest 12-7 on Jan. 6, the return of senior running back Alexis Pohe (32 rushing yards and 32 receiving yards) provided a spark to the offense.
"I tried to work her back slowly on Tuesday, but when she was out there, she was certainly electric," Morelli said. "Having been without her for our first stretch of league games, we're certainly excited to get her back healthy. She adds a new dimension to our offense."
Also providing a spark on offense, senior Emily Mull caught five passes for 56 yards and a touchdown, while senior Aimee Finn caught three passes for 9 yards and a touchdown.
With the victory, the Lady Eagles have moved into second place in the 3A Sunrise standings, behind Virgin Valley, which defeated Boulder City 26-13 on Jan. 25. They'll face Del Sol today on the road, followed by a road contest against Moapa Valley on Monday.
Boys basketball
Using a 41-25 first half run, the Boulder City High School boys basketball program picked up a crucial 72-59 victory over Southeast Career Technical Academy on Tuesday, moving into a fourth-place tie with the Roadrunners in the 3A Sunrise standings.
"It was a really good win for us; defensively our guys did a great job of following our game plan and never let their shooters get comfortable," head coach John Balistere said. "We did a great job of sharing the ball on the offensive end and valuing the possession. I'm just so proud of our guys' toughness."
Out-muscling the Roadrunners, the Eagles got 15 points each from juniors Carson Balistere and Tanner Montgomery, while sophomore Karson Bailey scored 14 points.
Getting a thunderous dunk from their star senior, Justus Green scored 11 points, while junior Clayton Pendleton scored 9 points.
Pulling out a full effort against Pahrump Valley on Friday, the Eagles soared to a 62-46 victory behind 16 points from Green, 15 points from Bailey and 14 points from Balistere. Junior Billy Ferrence scored 10 points and Pendleton scored 7 points.
Looking to get back to the postseason after a two-year layoff, the Eagles will host Del Sol tonight, followed by a home game against Chaparral on Wednesday.
Girls basketball
Using a 24-7 fourth-quarter effort, the Boulder City High School girls basketball picked up a come-from-behind victory 49-37 over Southeast Career Technical Academy on Tuesday.
Normally a below 60 percent free-throw shooting team, the Lady Eagles connected on 18-of-22 (81.8 percent) attempts from the charity stripe to edge out the Roadrunners for third place in the 3A Sunrise standings.
Getting contributions from the front and backcourt, freshman guard Madison Manns led the way with 12 points, while senior forward Julia Worrall and sophomore forward Hannah Estes scored 9 points each. Freshman guard Keely Alexander and senior guard Alea Lehr scored 8 and 6 points, respectively.
On Jan. 25, the girls played against Virgin Valley and lost to the Bulldogs 40-27. Worrall, Estes and sophomore Setia Cox each scored 6 points.
Fighting for a playoff berth after missing out last season, the Lady Eagles will host Del Sol tonight, followed by Chaparral on Wednesday.
Bowling
Ending their respective regular seasons with victories on Jan. 25 against Del Sol, both bowling programs from Boulder City High School are rolling into the postseason with a full head of confidence.
"I really like the composure of each group heading into the postseason," head coach Rodney Ball said. "Both teams have really turned it around since the beginning of the season. I'm hopeful to continue to power through our next couple of matches."
Finishing the season ranked first in the 3A Sunrise standing, the Eagles pulled out a 2,092-1,991 victory over the Dragons behind a game-high 599 points from senior Connor Armstrong.
Looming right behind, senior Ed Rassuchine bowled a 573, while senior Samu Jancuk bowled a 510. Sophomore Sam Holt bowled a 470.
Cruising to a more dominant victory over the Dragons, the second-place Lady Eagles picked up more than just a 1,831-1,322 win, giving themselves confidence and a higher seed heading into the postseason.
"Having been the only team to beat first-place finisher SECTA this season, the girls really have a lot of confidence right now," Ball said. "It really showed on Wednesday and I'm hoping it can continue. If we can get the girls to bowl like this every match, we might just make the playoff interesting."
Bowling a game-high 526, senior Abigail Harling has been on fire as of late, while the trio of senior Alexis Cable (433), junior Bailey Bennett-Jordan (428) and freshman Christine Smith (444) have all stayed hot throughout the season.
Playing for another chance at state, the Eagles have an opening-round playoff match against Mojave on Monday at The Orleans, while the Lady Eagles will take on Mojave on Tuesday.
Bowling in the individual bracket first today, all four girls have qualified, while only Rassuchine qualified for the boys. Results of the individual bracket will appear in our next issue.
Contact Robert Vendettoli at BCRsports@gmail.com.
Upcoming Events
Boys Basketball
Today, vs. Del Sol, 3:30 p.m. junior varsity; 6:30 p.m. varsity
Wednesday, vs. Chaparral, 3:30 p.m. junior varsity; 6:30 p.m. varsity
Girls Basketball
Today, vs. Del Sol, 3:30 p.m. junior varsity, 5 p.m. varsity
Wednesday, vs. Chaparral, 3:30 p.m. junior varsity, 5 p.m. varsity
Bowling
Today-Wednesday, NIAA state championships, at The Orleans, TBA
Flag Football
Today, at Del Sol, 3:30 p.m. junior varsity; 4:30 p.m. varsity
Monday, at Moapa Valley, 3:30 p.m. junior varsity; 4:30 p.m. varsity
Wednesday, vs. Chaparral, 3:30 p.m. junior varsity; 4:30 p.m. varsity