Roundup: Lady Eagles flag football rebound after tough loss
December 13, 2017 - 3:09 pm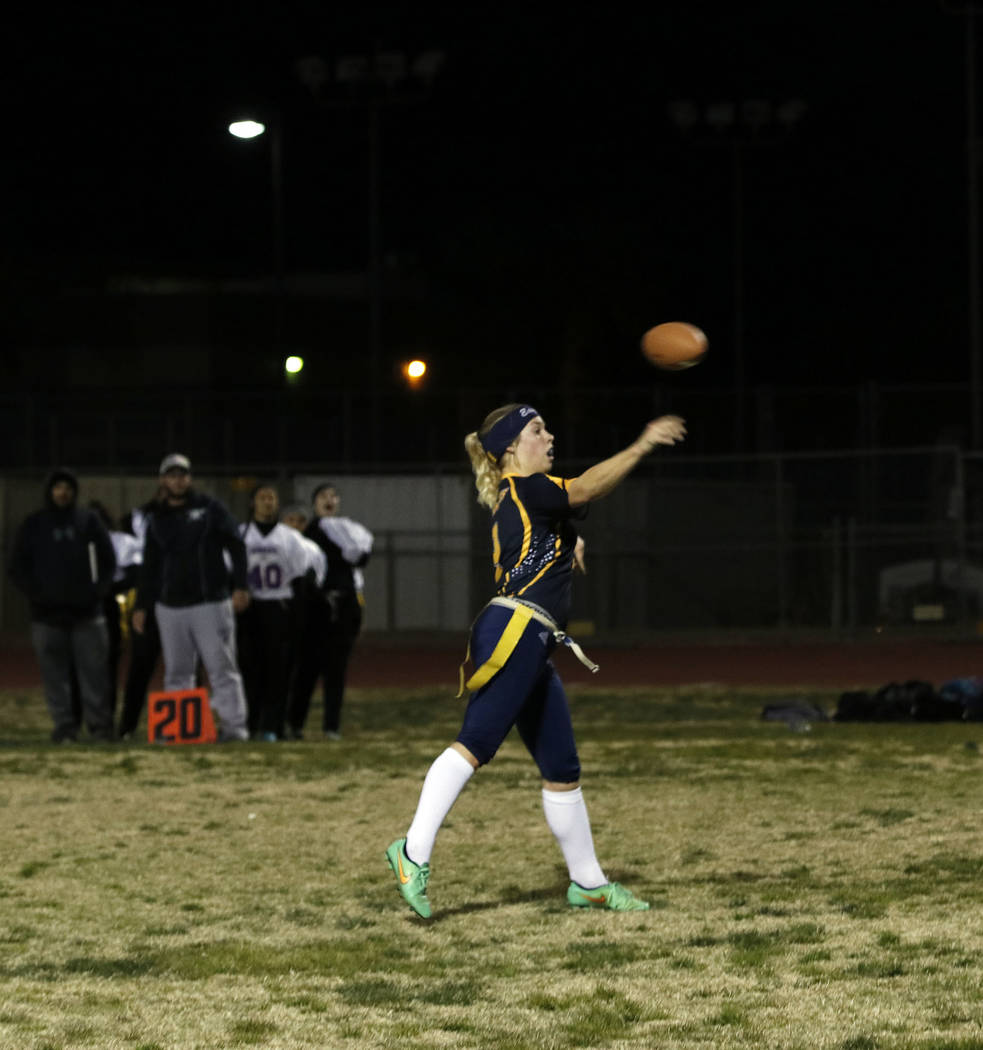 Bouncing back after a tough 26-0 loss to 4A Bonanza on Dec. 6, Boulder City High School flag football routed Sunrise Mountain on Monday 26-6.
"I thought we played well considering our huge loss against Bonanza," junior Ryann Reese said. "I'm glad we rebounded and it didn't scare us to play the way I know we can."
Carrying the Lady Eagles on Monday, senior Nikki Meleo rushed for 102 yards and two touchdowns on 12 carries, while senior dual-threat quarterback Nicole Valle rushed for 26 yards and a touchdown on six carries.
Reese generated 40 yards on the ground on four carries.
Trying to remain balanced, Valle connected on 10-of-21 passing for 85 yards, including a 5-yard touchdown to junior Haley Jackson.
On defense, Malia Davis captured three interceptions, while junior Bailey Willis pulled down one.
Playing 4A Legacy on Wednesday, Dec. 13, results will appear in next week's issue.
Bowling
Suffering their first loss of the season to Southeast Career Technical Academy on Tuesday 2,057-1,472, Boulder City High School girls bowling found out just how far they still have to come if they want to repeat as 3A state champions.
"You have to give all the credit to them," senior Bailey Bennett-Jordan said. "They were at their home bowling alley and on top of their game. We play them again in January at Boulder Bowl, so hopefully we can come away with a better result."
A particularly off day for the Lady Eagles, Bennett-Jordan was on her game against the Roadrunners, scoring a team-high 458.
Sophomore Christine Smith bowled a 377, while senior Camille Torgesen bowled 342. Freshman Sarah Bernstein bowled a 295.
Finding themselves in a similar boat against the Roadrunners, the boys suffered a 2,373-1,526 defeat.
Freshman Jamison Kaboli was the Eagles' top scorer with a 510, while junior Sam Holt bowled a 414.
Hopeful to rebound today at Sam's Town, both programs will face Chaparral.
Girls basketball
Riding a six-game winning streak, Boulder City High School girls basketball team came away with three double-digit victories this week, including Monday's 50-26 rout of Sunrise Mountain.
Exploding against the Miners with a 24-4 second-quarter run, sophomore guards Madison Manns and Keely Alexander led the way with 17 and 10 points, respectively, while sophomore forward Ellie Howard scored 8 points.
Manns broke out in the second quarter with an 8-point effort.
Defeating Chaparral 55-42 on Dec. 6 for their first league victory of the season, Manns and Alexander fueled the winning effort with 16 and 12 points, respectively.
Junior Hannah Estes scored 8 points, while Howard added 6 points.
In a 43-36 victory over 4A Valley on Friday, Dec. 8, Estes scored a game-high 11 points, while Manns and Alexander each scored 7 points.
Senior Jerra Hinson and junior Setia Cox each added 6 points against the Vikings.
The Lady Eagles defeated Sky Pointe 46-4 on Tuesday, Dec. 12.
Hoping to keep pace in the 3A Sunrise League standings, the Lady Eagles will host rival Virgin Valley tonight.
Contact Robert Vendettoli at BCRsports@gmail.com.
Girls Basketball
Today, Dec. 14, vs. Virgin Valley, 3:30 p.m. junior varsity; 5 p.m. varsity
Dec. 27-30, Gator Winter Classic at Green Valley, TBA
Bowling
Today, Dec. 14, vs. Chaparral at Sam's Town, 3 p.m.