Roundup: Lady Eagles falter
January 31, 2018 - 3:39 pm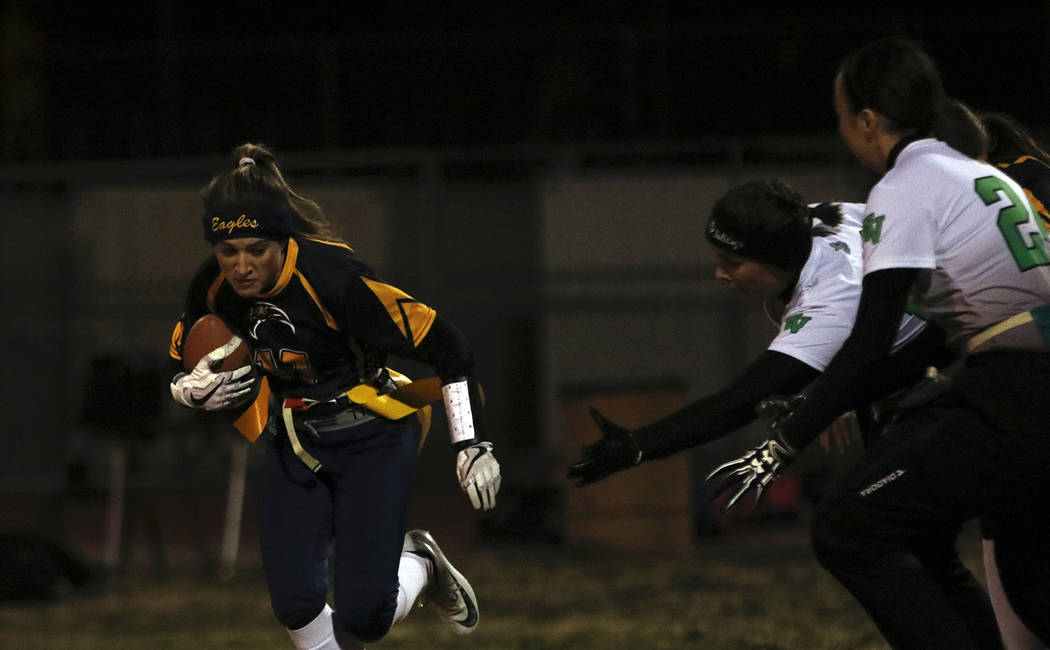 Southeast Career Technical Academy quarterback Taylor Ritayik led a come-from-behind victory over Boulder City High School in flag football on Tuesday, throwing a pair of touchdowns in the last five minutes of the fourth quarter to sink the Lady Eagles 12-6.
Unable to hold on to their fourth-quarter lead, the Lady Eagles' offense stalled throughout the day against the Roadrunners, managing only 182 yards of total offense.
Junior playmaker Ryann Reese rushed 7 yards for the Lady Eagles' only score, but the team failed to convert on the extra point.
Rushing for 32 yards on six carries, Reese also made four tackles.
Generating an interception on defense with five tackles while catching six passes for 87 yards on offense, freshman Kamry Bailey continues to be a positive addition.
Turnovers plagued Boulder City, which threw three interceptions, one by sophomore Makeala Perkins and two by senior Nicole Valle.
Perkins finished the day 6-for-13 with 98 passing yards, while Valle finished 2-for-8 with 48 passing yards.
In a 33-0 loss to Virgin Valley on Jan. 25, Reese led the Lady Eagles with 32 rushing yards on five carries, while Bailey hauled in an interception.
The Lady Eagles will travel to Virgin Valley on Monday, followed by a home game against Moapa Valley on Tuesday.
Results from the Lady Eagles' Wednesday game against Del Sol will appear in next week's issue.
Bowling
Bowling a career-high 229 on Jan. 24 against Chaparral, Boulder City High School senior Bailey Bennett-Jordan was in the zone during the Lady Eagles' 1,491-1,312 victory at Sam's Town.
Bowling a game-high 558 in the Lady Eagles' last regular-season matchup, Bennett-Jordan said she is hopeful she can keep her hot hand going into regionals.
"I've been working really hard, so it's nice to see it pay off," Bennett-Jordan said. "I was just having a good game, and that continued to give me confidence each time I stepped up to bowl. It was a lot of fun. Hopefully, I can bowl like this at our next match."
Sophomore Christine Smith bowled 342, while junior Samantha Wagner bowled 292. Senior Camille Torgesen bowled 249.
Having a career day himself, freshman Jamison Kaboli broke 200 twice, bowling 247 and 200, despite a 2,170-1,796 loss to Chaparral.
Kaboli finished with a score of 630, while junior Sam Holt followed with a score of 507.
The Lady Eagles will resume play Monday in their first-round playoff matchup against Cheyenne at The Orleans, while the boys will take on Cheyenne on Tuesday.
Wrestling
Nearly sweeping their way past rival Moapa Valley on Jan. 24, Boulder City High School wrestling is now focusing its attention on regionals.
"We are extremely focused on what lies ahead and ready to wrestle one match at a time," senior 132-pound wrestler D.J. Reese said. "We don't care who our opponent is or what school they are from. We are just there to do our thing and give it the best we can."
Picking up a victory against Moapa Valley, Reese was joined by seniors Garrett Leavitt (120 pounds), Adam Clary (182 pounds) and Wyatt Harling (220 pounds).
Also picking up victories against the Pirates in a near-perfect outing for the Eagles were juniors Hayden Moore (138 pounds), Jimmy Dunagan (152 pounds) and Ryan Vanario (195 pounds) and sophomores Curtis Brown (106 pounds), Jason Krumm (126 pounds), Ladd Cox (145 pounds) and Cade Cowley (160 pounds).
Excited for one last run at team and individual state titles, Reese said he feels ready after finishing as a state runner-up last season.
"I am very excited to see what I'm made of this postseason," he said. "I've put the work in over the years and did everything I can to prepare, so let's just see how it goes."
Also hoping for another chance at state, Leavitt and Vanario each placed third last season in their weight classes, while Dunagan placed fourth.
The Eagles as a team finished in third place with 124 points, behind northern challengers Spring Creek (135) and Churchill County (132).
The Class 3A Southern Regional meet will be held Friday at Western High School.
Flag Football
Tuesday, Feb. 6, vs. Moapa, 3:30 p.m. junior varsity; 4:30 p.m. varsity
Wrestling
Friday and Saturday, Feb. 2 and 3, regionals, regionals at Western High School, 3 p.m.
Bowling
Today-Friday, Feb. 1 and 2, individual finals at Gold Coast
Monday -Friday, Feb. 5-9, team finals at Orleans Bowling Center